Your Top Product Picks of 2021 (North America)
As the pandemic entered its second year, we all faced new challenges. So what helped you weather the COVID storm over the past year? Here are the top ten products (in descending order) that you and your peers chose the most to add to your technology toolbox.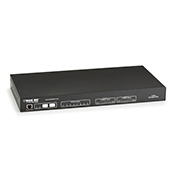 10. Outlet Managed PDU
Securely meter and manage AC-powered rackmount equipment via SSL, SSH, SNMP, web browser, telnet, external modem, or local terminal. The Outlet Managed PDU can monitor power to your equipment, and automatically notify you when changes in current levels, temperature, circuit breaker status, or other factors exceed user-defined threshold values.
Learn more.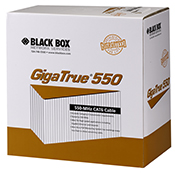 9. GigaTrue® CAT6 Bulk Riser Cable
This 23-AWG ETL-verified solid bulk cable is tested to 550 MHz to ensure it provides optimal network performance. Perfect for CAT6 PVC riser applications, it supports digital video, 100-Mbps TP-PMD, and 155-Mbps ATM networks. No more guessing how much cable is left on the spool, the cable arrives in a convenient, easy-to-measure pull-box, and it's guaranteed for life.
Learn more.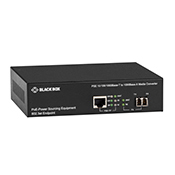 8. LPS500 PoE Media Converter
No power outlet? No problem? This handy PoE media converter powers PoE devices over the same CATx link used for data communication. It transparently connects copper cabling to multimode fiber as an economical way to extend Ethernet communications well beyond the 100-meter CATx limit. Install PoE-compatible security cameras and wireless access points in areas without any nearby power outlets while reducing your overall power consumption, too.
Learn more.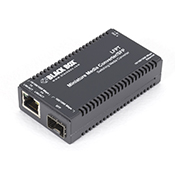 7. MultiPower Miniature Gigabit Ethernet Media Converters
This MultiPower Miniature Media Converter links 10-, 100-, or 1000-Mbps segments to 100 or 1000 Mbps fiber cabling. With a singlemode SFP, the media converter supports distances of to 40 kilometers (24.8 mi.) or even 80 kilometers (49.7 mi.). Power the converter through the external AC power supply, an optional USB Power Adapter, or an optional rackmount PowerTray.
Learn more.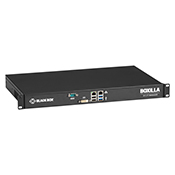 6. Boxilla
Boxilla is a KVM system management platform that can manage small, medium, and large installations that have thousands of endpoints. It provides a centralized, easy-to-use command center for full monitoring and control of your entire system, across the enterprise. Without leaving your seat, you can control user access, monitor device status, and address potential problems before they happen. Ensure security with authentication and access control. View a security interface dashboard for reporting and real-time alerts.
Learn more.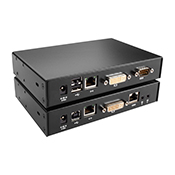 5. Emerald SE
Emerald SE provides users with a seamless desktop experience anywhere on a TCP/IP network while the hardware is housed in a corporate data center or in the cloud. Emerald SE performance gives you easy deployment on standard corporate networks and even across WANs. The solution enables the same experience of a desktop PC even for media-rich applications, like video and photo editing.
Learn more about Emerald SE Receiver or Transmitter.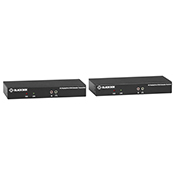 4. KVM Extender
This high-performance KVM DisplayPort Extender over CATx enables you to access your critical computing hardware that is stored in a secure and temperature-controlled environment far away from your workstation. It can transmit either two 1920 x 1200 video streams or one higher resolution video stream, digital and audio, analog audio, High-Speed USB 2.0, and USB 2.0 signals.
Learn more.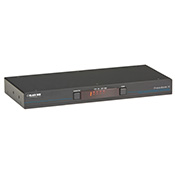 3. Freedom II KM
With the Black Box Freedom II KM (keyboard and mouse) Switches, you can control operations across four or eight computers by simply moving your mouse from screen to screen. This saves desktop space and improves operator response time. Use Freedom as a stand-alone KM switch or add it to your KVM matrix switching system to optimize workflows in control rooms, command centers, or 911 call centers.
Learn more.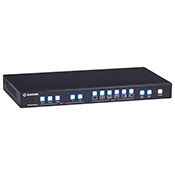 2. Quad MultiViewer
Ideal for conference rooms, control rooms, and classrooms, the Quad Multiviewer gives you an incredibly easy way to simultaneously view four video sources on one display in real-time with no frame dropping. Simply connect the video sources, such as laptops, DVRs or Ethernet switches, and the viewer intelligently converts the signal for optimal display.
Learn more.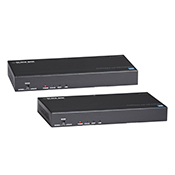 1. Video Extender
This Video Extender tops the list for good reason. It's designed for high use cases and supports DisplayPort resolutions up to Ultra HD 4K at distances of up to 100 m. With USB 2.0 devices, it can extend a keyboard, mouse, and other peripheral signals.
Learn more.
If you're interested in any of these products, call us at 1-877-877-2269. One of our technical experts will be happy to explain how these solutions can benefit your application or direct you to other products that can meet your technology needs. You can also browse the Black Box store at blackbox.com to see all of our products and shop for your end-to-end solution now.