Best Practices for HDMI AV Distribution
What is HDMI over Ethernet and How Does it Work?
HDMI over Ethernet, also called HDMI over IP, uses an existing Ethernet infrastructure to distribute HD video signals from one source to an unlimited number of screens. It can be used in many setups like point-to-point extension, one-to-many distribution, and video wall processing where video can be scaled from different grid layouts. Video signals can be switched from any source to any screen, overcoming distance limitations of traditional CATx video extenders.
What Is HDMI Distribution?
HDMI distribution is achieved by AV devices, such as extenders, switches, or matrices that accept a single input signal and distribute the same signal to multiple isolated outputs and/or destinations without ground loops or signal degradation. They are used for a number of common engineering tasks, including multiple amplification, cable television, splitting monitor and front of house mixes, and "tapping" a signal prior to sending it through effects units to preserve a "dry" signal for later experimentation.
Example Diagram: HDMI content distribution with Black Box MediaCento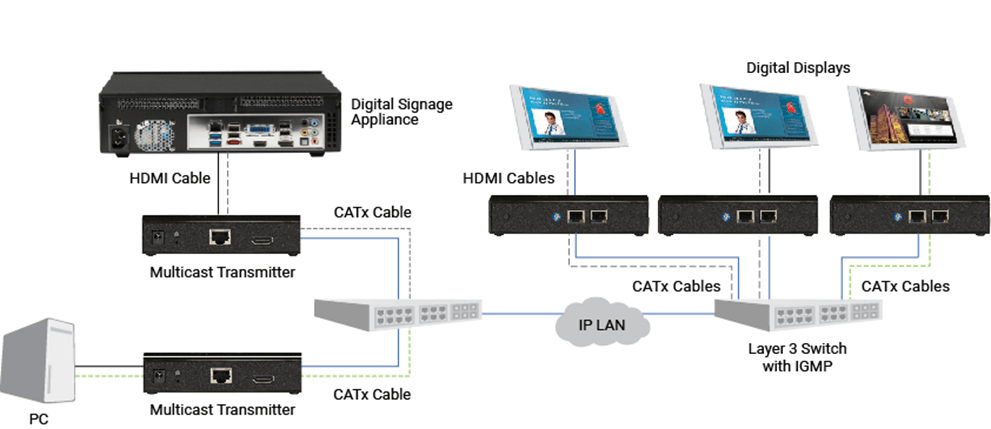 How to Extend HDMI over Long Distances
In many cases, long-distance extension (exceeding 16.4 feet [5 m]) of HDMI video signals via standard display or coax cabling is not advisable. Generally, with these cables, the shorter distance the better. Specific extender appliances supporting transmission of video, audio, sometimes also serial, RF, and USB data over copper or fiber cable solve this problem, enabling the use of backbone or horizontal wiring for long-distance extensions. These devices are a great alternative to using standard video or coax cables, which often can't be easily pulled through tight conduits and can be more difficult to terminate.
It's an additional benefit that in most buildings copper or fiber cabling is already installed to service data communications. Fiber-based extenders provide higher bandwidth and interference-free extensions at distances much farther than copper-type CATx extenders, but can be more expensive.
How to Send Video over Ethernet
Using AV/KVM extension technology to transmit lossless compressed video over optical fiber cables enables video extension of resolutions up to 4K at 60 Hz across very long distances. This method provides enough bandwidth for high-resolution DisplayPort 1.2 video signals, keyboard/mouse, USB 2.0, RS-232, and audio.
IP extension is another way to extend your video signals over long distances to an unlimited number of screens. IP-based extension allows extension of various video signals using standard (managed) Ethernet switches to support extra-long distances beyond the supported CATx cabling distances of 330 feet (100 meters). It can be used in many setups, including point-to-point extension, one-to-many distribution, and video wall processing where video can be scaled from different grid layouts. Video signals can also be switched from any source to any screen, overcoming distance limitations of traditional CATx video extenders.
High-end AV over IP systems installed in stadiums, for example, can use compression algorithms such as H.264 to send packetized data over increasingly long distances. Such compression shrinks the signal delay down to an unnoticeable two or three frames per second. This gives spectators an enhanced experience when viewing live or edited video content.
How and When to Use Ethernet over HDMI
Multi-Room Digital Signage
Multicasting HDMI distributes video and audio to any screen on a signage network. A single transmitter can deliver multimedia to hundreds of displays with no need to run dedicated video links from a back room to displays in multiple rooms. Combining matrix switching, USB, and video extension gives users an almost endless number of configurations for their applications, including touch-interactive signage displays and information and wayfinding displays in retail, healthcare, education, public offices, and more.
Video Wall Processing
An IP-based controller appliance can be used to turn any video distribution setup into an AV matrix switching or even video wall control setup that enables users to place any content from any source on any display. When multiple AV receivers are combined into a video wall, users can create presets, choose specific content zones, and control content remotely. The system's mobile support enables users to easily access and activate presets from a cell phone or tablet device.
Video Matrix Switching
A video matrix switch, also called a crosspoint switch, is a type of switch that connects multiple inputs to multiple outputs and can be configured to combine supported types and numbers of inputs (e.g. HDMI content players) and outputs (screens). Each input on the switch can be routed to any output source or receiver, or the same input can be routed to all outputs, or any combination in between. For example, an 8 x 8 matrix switch can route 8 inputs to 8 outputs. This eliminates the need to manually move cables to display video from different sources on different screens. In a video matrix switching setup, you can switch multiple digital or analog sources to multiple digital displays in any combination. HDMI signals can be amplified and easily routed from several video sources (e.g. PCs, DVD players, tablets) to various display devices (e.g. LCDs, projectors, etc.) and speakers.
HDMI Products
HDMI Splitters

HDMI splitters divide HDMI signals to be displayed on multiple screens and can also be used to distribute audio separate from video channels. This allows accurate, reliable digital video reproduction without distortion and attenuation. Split audio channels can be required in any environment where speakers or PAs are installed independently from any visual output, for example in a shopping malls or on a school campus.

Black Box® HDMI Splitters with audio split an HDMI source between multiple outputs simultaneously without signal loss.

HDMI Converters & Scalers

HDMI converters convert digital HDMI signals to analog VGA, SDI, or component video (or vice versa) signals with either digital audio or analog stereo audio. The devices provide a cost-effective solution to connect legacy, non-digital displays to newer digital HDMI or DVI sources.

Discover how Black Box HDMI Converters and Scalers offer instant conversions from digital HDMI to analog Component/Composite video with either analog stereo audio or SPDIF digital audio. With these converters, analog video receivers such as TVs or external TV receivers can be readily connected to HDMI sources such as DVD players or video game consoles.

HDMI Adapters

With HDMI adapters you can easily connect HDMI input devices with DisplayPort, DVI, and VGA displays, or vice versa. Black Box adapters feature premium support for high-bandwidth video formats.

HDMI KVM Extenders over CATx or Fiber

KVM extenders play an important role in overcoming bandwidth and distance limitations of VGA, HDMI, and DVI, as well as PS/2 and USB cables. Classic (direct-connect) KVM extenders transmit video signals via fiber or CATx over long distances (CATx up to 330 feet [100 m], fiber up to 6.2 miles [10 kilometers]).

Black Box HDMI KVM extenders extend video signals up to 4K60, USB 2.0, audio, and serial RS-232.

HDMI over Ethernet Extenders

IP extension is a way to extend your application over long distances. The technology is flexible, future-proof, and gives you the option of using either CATx or fiber optic cabling, depending how far you want to go and which signals have to be transmitted. IP-based extenders usually send data over 330 ft. (100 m) segments, but you can extend farther by using Ethernet switches as repeaters. If fiber cables are used, signals can be extended up to 10 miles (16 km).

Black Box offers HDMI over-IP extenders that enable you to transmit HDMI video and audio over an Ethernet network to a virtually unlimited number of screens as far as your network reaches. Extend audio/video from one source to a single screen (unicast) or distribute (multicast) the same content to multiple screens.

HDMI to IP Encoders and Decoders/HDMI to IP Streamers

While HDMI to IP encoders convert HDMI video and analog audio input signals to H.264 for streaming over an IP network connection, HDMI to IP decoders decrypt the compressed IP data stream to display it on a remote output device. These devices are also referred to as IP streamers when used with specific codecs.
Factors to Consider When Implementing a Video Distribution Project
Designing a video distribution project is hard work and entails a lot of planning.
What kind of video is being extended?
How many sources and outputs have to be connected?
What video quality and resolutions will be required, and can EDID information be delivered?
Is audio embedded in the video signal or not?
Black Box helps companies design, integrate, and maintain reliable AV and KVM solutions for broadcasting, post-production, stadiums & arenas, medical, air traffic control, oil & gas, government & military, and utility industries. Leave the tech to us and our comprehensive technology solutions will deliver secure connections, fast-response times, real-time collaboration, and more.
Video Distribution
AV
AV over IP
TPS