Black Box to Showcase Solutions for Unified Customer Experiences at CCW 2023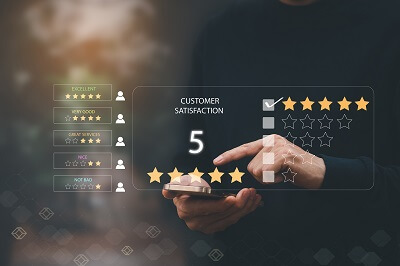 DALLAS, June 1, 2023 — At Customer Contact Week (CCW) 2023, June 19-22 in Las Vegas, Black Box (booth 21) will showcase world-class CX solutions and consulting services that help contact centers dramatically improve the customer experience (CX), reduce costs, and ensure optimal ROI from CX technology investments. The company will feature cutting-edge services and solutions that help organizations deliver exceptional experiences with consistency across the customer journey.
"In today's digital world, unifying the customer experience across several channels is critical to keeping customers engaged and building brand loyalty," said Reid Puckett, vice president of CX sales at Black Box. "Facilitating a seamless omnichannel journey has become even more vital and more complex as well with the global rise of remote and hybrid work models. At CCW, our experts will be on hand to help attendees understand challenges and opportunities and where they can invest to drive optimal outcomes with minimal disruption to everyday operations. The key to a successful CX transformation centers on choosing the right platforms, applications, and a business partner that understands business outcomes and can competently deliver these integrations."
Black Box will highlight CX transformation solutions and services that empower businesses to reduce their service costs even when they offer improved experiences to their customers. For those contact centers investing in cloud migration, Black Box will address the need to accelerate both innovation and time-to-value, without disrupting day-to-day operations. On its CCW booth, the company will also show how tools and technologies, such as chatbots and conversational AI can facilitate these goals, making an impact on the bottom line while helping to optimize internal processes and CX. Black Box experts will be on hand to guide and discuss how AI-based tools can help enable exceptional customer experiences including enhanced personalization, improved response times and lower wait times.
CCW 2023 will celebrate 25 years of connecting CX industry leaders. The show is a premier platform for groundbreaking solutions, innovative ideas and best practices essential for contact center and CX executives. More information is available at
www.customercontactweek.com
.
Further information about Black Box and the company's products and services is available at
www.blackbox.com
.
# # #
About Black Box
Black Box® is a trusted IT solutions provider delivering cutting-edge technology solutions and world-class consulting services to businesses across the globe. The breadth of our global reach, continuous innovation, and depth of our expertise accelerate customer success by bringing people, ideas and technology together to solve real-world business problems. Our IT infrastructure solutions, services and products enable secure, flawless connectivity and meaningful collaboration for businesses in every major market across six continents.
To learn more, visit the Black Box website at www.blackbox.com. Follow the company on Twitter @BlackBox_ns. Black Box® and the Double Diamond logo are registered trademarks of BB Technologies Inc.
All other trademarks referenced herein are the property of their respective owners.
Link to Word Doc: www.wallstcom.com/BlackBox/230601-Black_Box-CCW_Preview.docx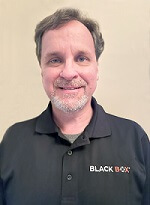 Reid Puckett, Vice President of CX Sales,
Black Box