Black Box Wins 2023 NAB Show Product of the Year Award
LAS VEGAS — April 26, 2023 — Black Box announced today that its Emerald® DESKVUE is a winner in the 2023 NAB Show Product of the Year Awards, Hardware Infrastructure category. This official awards program recognizes some of the most significant and promising new products and technologies showcased by exhibitors at NAB Show.
Offering a completely new concept in KVM-over-IP, the Black Box Emerald DESKVUE eliminates the traditional one-to-one relationship with a transmitter or virtual system and allows users to create a personalized workspace where they can simultaneously view and interact with up to 16 different systems. Users can now tailor their workspace as best suits their needs by connecting a single keyboard, mouse, USB 3/2 devices, audio, and up to four 4K monitors (one of which can be a 5K monitor).
Emerald DESKVUE connects to physical systems via Emerald transmitters; VMs using RDP, PCoIP, PCoIP ultra, and H.264/265 sources; and Virtual Network Computing (VNC). All systems can be positioned across the screens as freely movable windows. Interacting with each system is as simple as moving the mouse onto the window. This model enables the user to maintain complete situational awareness and full control within easy reach.
NAB Show Product of the Year Award Winners were selected by a panel of industry experts in 15 categories and announced in a live awards ceremony at NAB Show on April 18. To be eligible for an award, nominated products had to come from companies exhibiting at the 2023 NAB Show and be delivered within the 2023 calendar year.
"We're thrilled to be the recipient of a NAB Show Product of the Year Award and for the recognition it offers for Emerald DESKVUE. The 2023 NAB Show debut of Emerald DESKVUE allowed us to demonstrate how it truly does enable a new level of customization, responsiveness, and efficiency in working with numerous systems," said John Hickey, senior director of R&D and KVM Systems at Black Box.
"During our centennial year, NAB continues to recognize the products that are transforming how content is being created, connected and capitalized throughout the broadcast, media and entertainment industry," said Eric Trabb, senior vice president and chief customer success officer at NAB. "Congratulations to Black Box for winning the 2023 NAB Show Product of the Year Award in recognition of Emerald DESKVUE®, a product that has demonstrated its ability to help storytellers face the challenges of the present and future by revolutionizing a critical stage of the content lifecycle."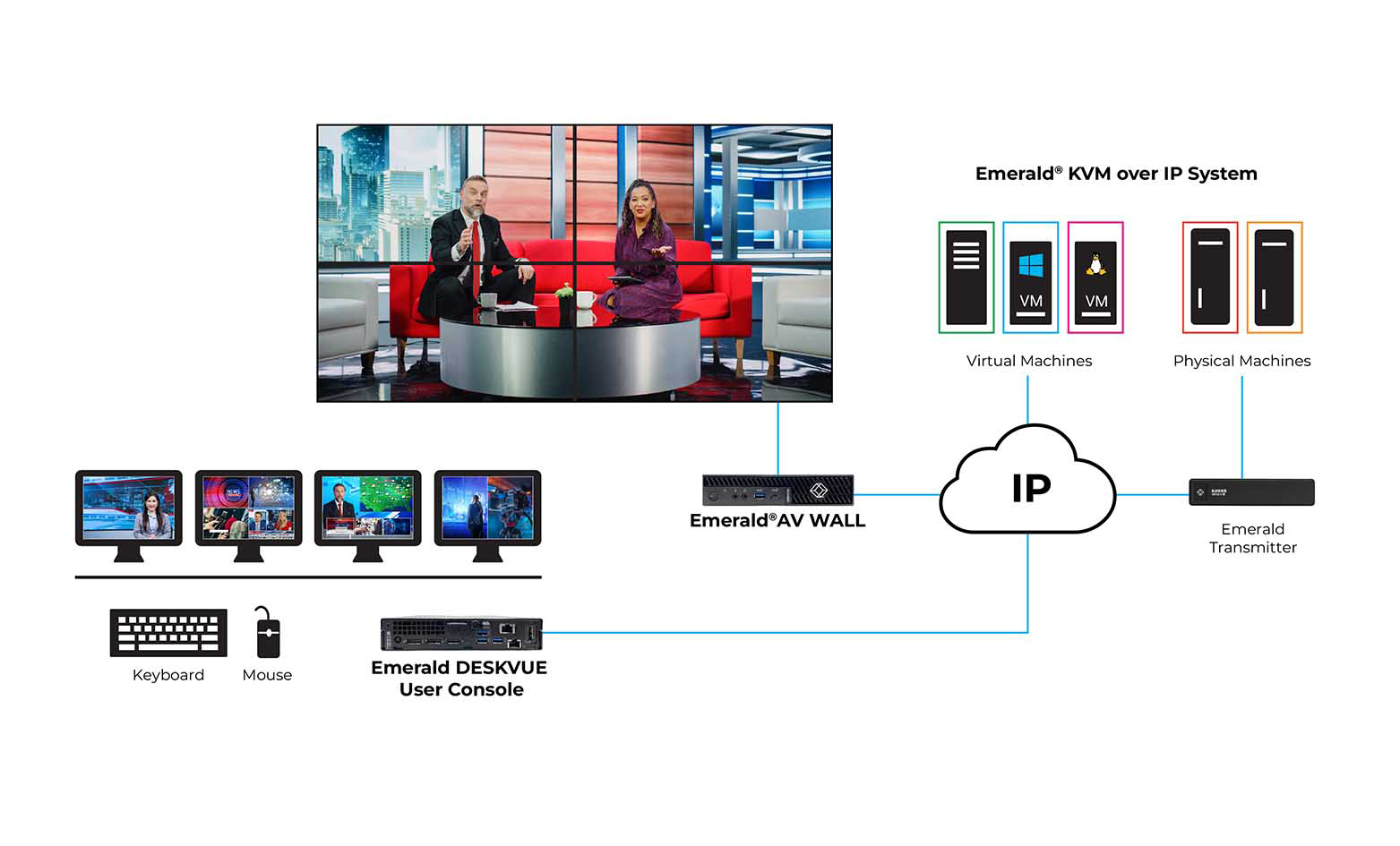 Emerald DESKVUE® Application Diagram
# # #
About Black Box
Black Box® is a trusted IT solutions provider delivering cutting-edge technology solutions and world-class consulting services to businesses across the globe. The breadth of our global reach, continuous innovation, and depth of our expertise accelerates customer success by bringing people, ideas and technology together to solve real-world business problems. Our IT infrastructure solutions, services and products enable secure, flawless connectivity and meaningful collaboration for businesses in every major market across six continents.
To learn more, visit the Black Box website www.blackbox.com/deskvue. Follow the company on Twitter @BlackBox_ns. Black Box® and the Double Diamond logo are registered trademarks of BB Technologies, Inc.
All other trademarks referenced herein are the property of their respective owners.
About NAB Show
NAB Show, held April 15-19, 2023, in Las Vegas, is celebrating its centennial year as the preeminent conference and exhibition driving the evolution of broadcast, media, and entertainment. It is the ultimate marketplace for next-generation technology inspiring superior audio and video experiences. From creation to consumption, across multiple platforms, NAB Show is where global visionaries convene to bring content to life in new and exciting ways. More information is available at www.nabshow.com.
About NAB
The National Association of Broadcasters is the premier advocacy association for America's broadcasters. NAB advances radio and television interests in legislative, regulatory, and public affairs. Through advocacy, education, and innovation, NAB enables broadcasters to best serve their communities, strengthen their businesses and seize new opportunities in the digital age. More information is available at www.nab.org.
Link to Word Doc: www.wallstcom.com/BlackBox/230426-Black_Box-POTY-Juniper_Networks.docx
Black Box Contact:
Melissa Bradley
Black Box
Tel: +1 724 873 7013
Email: Melissa.Bradley@blackbox.com
Agency Contact:
Carolyn Archambault
Wall Street Communications
Phone: +1 801 266 0077
Email: carolyn@wallstcom.com