Shannon Brewing Co. Transforms Operations and Customer Experiences With Next-Gen AVoIT Solutions From Black Box
PITTSBURGH — May 26, 2022 — Black Box, a leading IT solutions provider that delivers cutting-edge technology solutions and consulting services to businesses worldwide, today announced that Shannon Brewing Co. is using next-generation AVoIT technology from Black Box to enhance the customer experience and improve operational efficiency at its taproom and brewery in Keller, Texas. With an AVoIT solution designed, integrated and installed by Black Box, Shannon Brewing Co. has created a distinct atmosphere, streamlined operations and built efficiencies to stay competitive while maintaining a strong commitment to the art, unique flavour and tradition of the brewer's craft.
"In partnering with Black Box, we were able to concentrate on both sides of our business: the entertainment side, or the taproom, and the manufacturing side, which is our brewery," said Shannon Carter, proprietor at Shannon Brewing Co. "The AV system we put into the taproom is amazing, and the amount of control we now have over content is remarkable. It's an incredible tool for us to engage with customers and build loyalty. Then, in the brewery, we've gained a whole new level of peace of mind with our new remote monitoring capabilities, having that data right there on our phones and being able to see — any time, day or night — that the business is humming along correctly, effortlessly, efficiently."
To support flexible visualisation in the taproom, the Black Box MCX network AV distribution and management system pairs with the company's iCompel® digital signage system to allow the Shannon Brewing Co. team to display sports and entertainment on the big screens along with visual information about the beer on tap, pub grub on the menu, upcoming events, advertising, education and more. Back in the brewery, the Black Box Alertwerks product enables environmental monitoring, as well as process monitoring for key brewery processes, capturing and presenting a wide variety of parameters on a single dashboard that can be accessed locally or remotely through a web interface. Full details of the solution architecture for the Shannon Brewing Co. AVoIT integration are online at https://www.blackbox.com/en-us/campaigns/shannon-brewing-company.
"Shannon Brewing Co. is a special operation, brewing award-winning beer that guests can enjoy at the company's one-of-a-kind brewhouse," said CJ Ballejos, vice president of sales at Black Box. "Our work with Shannon is a great example of how Black Box can partner with breweries and wineries to implement AVoIT solutions that deliver a wonderful quality product for customers while boosting the efficiency of overall business operations."
For more information about Shannon Brewing Company please visit https://shannonbrewing.com. Further information about Black Box and its full product portfolio is available at www.blackbox.com.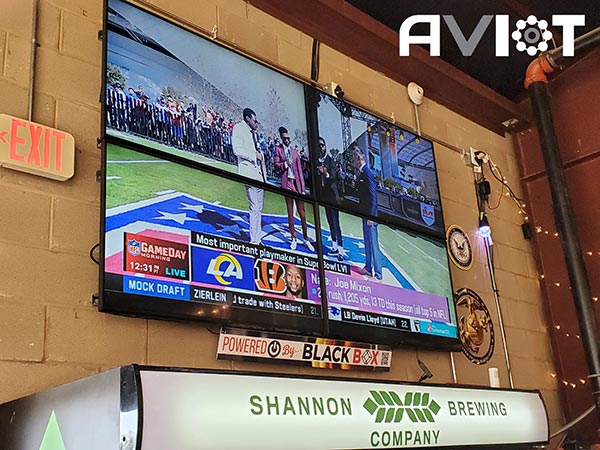 Shannon Brewing Company Video Wall
# # #
About Black Box
Black Box® is a trusted IT solutions provider delivering cutting-edge technology solutions and world-class consulting services to businesses across the globe. The breadth of our global reach, continuous innovation, and depth of our expertise accelerate customer success by bringing people, ideas, and technology together to solve real-world business problems. Our IT infrastructure solutions, services, and products enable secure, flawless connectivity and meaningful collaboration for businesses in every major market across six continents.
To learn more, visit the Black Box website at www.blackbox.com. Follow the company on Twitter @BlackBox_ns. Black Box® and the Double Diamond logo are registered trademarks of BB Technologies, Inc.
All other trademarks referenced herein are the property of their respective owners.
Link to Word Doc: www.wallstcom.com/BlackBox/220526-Black_Box-Shannon_Brewing_Company.docx
Link to Images: www.wallstcom.com/BlackBox/Black_Box-SVC_Video_Wall.zip
Image Caption: Shannon Brewing Company & Black Box Images
Black Box Media Contact
Stephanie VanDerBunt
Marketing Communications Manager AV
Phone: + 724 873 8035
Email: Stephanie.VanDerBunt@BlackBox.com
Agency Contact
Carolyn Archambault
Wall Street Communications
Phone: +1 801 266 0077
Email: carolyn@wallstcom.com