Black Box at IBC2022 (Amsterdam, Netherlands)
Black Box at IBC2022: Industry-Leading KVM-Over-IP Solutions for Broadcast, Gaming, and Entertainment

Whether you are in Broadcast, Radio, Gaming, or live events, there is a demand for intuitive, simple, and flexible collaboration and visualization tools. The latest developments in IP-based KVM and AV solutions define these requirements as the ultimate goal. Our innovative solutions are distinguished by an extremely tiny bandwidth usage, industry-leading security, and reliability that contribute to more nimble IP-based operations, putting content in the forefront without compromise.
In Hall 8 on booth F42, Black Box will debut for the European market three new additions to the company's award-winning Emerald® KVM-over-IP platform offering exceptional user experiences with anywhere, anytime remote access.
Get your free IBC ticket using code IBC5165
---
BLACK BOX Showcase at IBC2022
The Black Box Emerald® GE leverages cutting-edge PC-over-IP (PCoIP®) Ultra and RDP technology to enable multiple users to collaborate simultaneously on a virtual machine (VM) just as they would a physical system. With extremely low bandwidth requirements, the system supports remote access through both local and wide area networks (LANs and WANs). Pairing seamlessly with the Emerald KVM-over-IP platform, Emerald GE supports VM sharing while ensuring a secure, high-definition, and highly responsive computing experience empowering broadcasters to work together more efficiently in remote production scenarios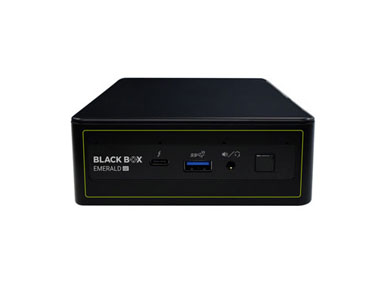 ---
IBC DEBUT: Black Box Emerald® VUE 4K Multiviewer
The Emerald® VUE 4K multiviewer unites KVM switching with quad multiviewing to enable simultaneous monitoring of four DisplayPort video sources across two screens at exceptional 4K60 image quality. The system is ideal for production environments where space is limited, as it allows users to arrange windows freely on the screen or in preconfigured screen layouts such as full-screen, quad-view, or picture-in-picture (PiP). Real-time switching between sources via keyboard, API, or GPIO, or mouse switching gives producers, engineers, and editors convenient control over the production process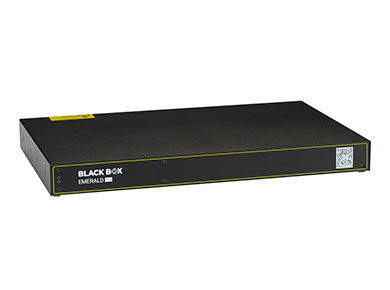 ---
PREVIEW: Emerald DESKVUE
Emerald DESKVUE allows a glimpse into KVM of the near future. Black Box will demonstrate a complete new way for users to create their own individual workspace. Emerald DESKVUE allows a user to access up to 16 different systems simultaneously – these could be computers, servers, or virtual machines. All systems are displayed as individual windows on up to four 4K or curved (5K) monitors. Users can arrange these windows in any way and thus create a comfortable and easy-to-use workspace tailored to their individual tasks including USB 3/2/1 and audio connectivity. Switching the systems happens automatically in the background as the users perform their tasks, removing any requirement for manual switching commands or even noticing the system change.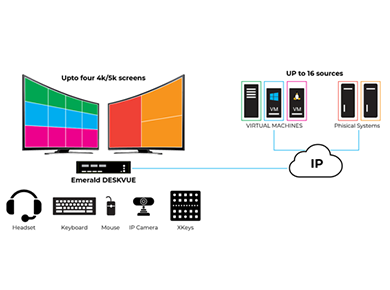 ---
Black Box will showcase these new products along with its award-winning IP-based solutions perfectly tailored to the requirements of the Broadcast, Radio, Media, and Entertainment community.
---
The Black Box Emerald® KVM-over-IP platform serves as an infinitely scalable universal access system, giving users the flexibility to connect to both physical and virtual machines, along with anywhere, anytime IP access over an existing IP-network, WAN, or even the Internet. Advanced security and a market-leading tiny bandwidth consumption allow new ways to configure the studio infrastructure with maximum expandability incorporating remote users, remote productions, and distributed control rooms. Interoperability between 4K and HD video, and one-touch control room setups, combined with a high degree of automation through Emerald's APIs, gives users valuable flexibility and ease of use. Emerald manages signals and format types to deliver content with an innovative look and feel, preserving the existing IT equipment while controlling and monitoring through Boxilla`s intuitive and appealing KVM management dashboard.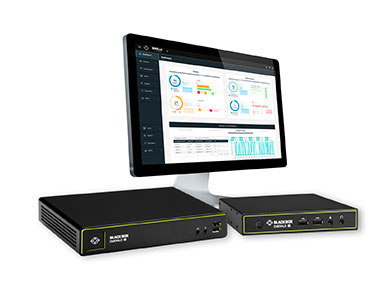 ---
MCX provides exceptional spectator experiences in eSports, live events, and themed Entertainment. The AV over IP multimedia distribution and management system provides best-in-class source-to-screen latency (less than 18 microseconds), combined with USB-C/2.0 connectivity and Power over Ethernet, providing a modern matrix switching and distribution architecture for fast design and implementation. MCX can instantly distribute signals to a variety of screens and a video wall with next to no latency. MCX also allows AV and data payloads to live on the same network and considerably lowers overall costs, too.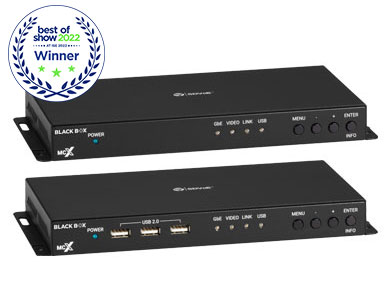 ---
Black Box Quote
"Even as the industry evolves and expands, Black Box has a solution for every challenge. Whether it's the ongoing migration to IP workflows and virtualization or the continuing embrace of media in new markets, you'll find Black Box solutions that bring essential flexibility and efficiency to the table. We look forward to showcasing those solutions at IBC2022 — and to seeing friends and colleagues on the show floor once again."
John Hickey, Senior Director of R&D and KVM Systems at Black Box