What Is Machine Vision Technology?
Machine vision is an image-based automatic inspection process. This technology uses cameras, computers, software, and other hardware to provide automated, picture-based material inspection and analysis. That is why it is often used in assembly-line applications. Machine vision is an indispensable tool for quality assurance, sorting, and material handling in every industry, including electronics, food processing, pharmaceuticals, packaging, automotive, etc.
Machine vision has matured rapidly in recent years and is now becoming an essential technology in manufacturing to increase quality and profitability. USB 3.x, with a throughput up to 20-Gbps and the ability to send power and data over the same line, has greatly contributed to this growth.
How Is Machine Vision Used in Business?
Businesses use machine vision to improve quality control, inspection, safety, accuracy, and more.
Most businesses that create products on assembly lines use machine vision. It is an economical way for them to make sure sub-spec products are rejected. Machine vision can even detect what part of the assembly line is causing errors so they can be repaired quickly. It can also inspect geometry, placement, packaging, labeling, seal integrity, finish, color, pattern, bar code, and almost any other parameter.
Other businesses that commonly use machine vision to improve their processes are the drug industry, agriculture, and construction. The drug industry and other applications that must adhere to strict regulations use machine vision to review tracking numbers, components, and expiration dates. Doing this work manually is an exhausting process that is prone to human failure. Farmers add machine vision systems to their harvesting machines so the machines can pick crops without damaging anything. Before machine vision, harvesting equipment regularly ruined crops, which cost farmers money. Industrial and construction applications use machine vision at their sites to enhance safety for employees.
Machine Vision Components
Cameras, computers, software, sensors, frame grabbers, lighting, algorithms, and screens (or other outputs) are the components that make up most machine vision systems. How do all these components function together to review products on the assembly line? A machine vision system uses a small industrial camera and lights mounted near an assembly line to take pictures of products as they pass by. The software then analyzes the images to determine if various aspects of the product meet acceptable specifications. For instance, if a label is misplaced, the software will reject the product. All of these functions are performed at incredibly high speeds — fractions of a second.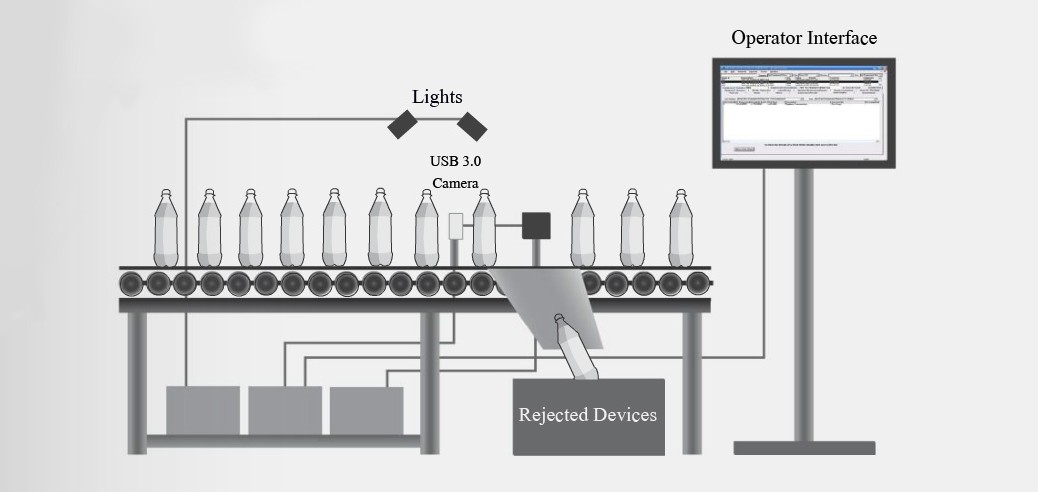 USB 3.x and Machine Vision
USB 3.x brings a number of advantages to machine vision systems. Because of its throughput up to 20-Gbps1, up to 40 times more than USB 2.0, it eliminates problems of stability and low latency for image transmission and camera control. USB 3.x enables the transmission of higher-resolution, higher-frame rate video with no loss of quality.
USB 3.x also sends data and up to 100 W of power on the same line. This is enough to power a camera without worrying about a separate power supply or power line. In addition, compared to older systems, USB 3.x is plug-and-play, making it easy to swap out cameras and other hardware, such as USB 3.x extenders, hubs, and other devices.
USB3 Vision
Because USB 3.x plays such a substantial role in machine vision, a few companies came together in 2011 to create a machine vision interface standard for USB: USB3 Vision. USB3 Vision is a protocol standard, which means the data package layout and bootstrap register are defined. It is based on the standard USB 3.0 interface you find on most computers. The USB3 Vision standard interface allows you to use USB3 Vision devices with any host device that has USB3 Vision-compliant software installed on it. This makes it simple to use machine vision devices with less common operating systems. USB3 Vision also enables most USB 3.0-based cameras to work without any integration issues. The USB3 Vision interface standard supports all USB formats.
There are many USB3 Vision-compliant products on the market today. Black Box offers a variety of USB 3.0 products that work with USB3 Vision-compliant devices. Check out our USB 3.0 Active Cable, USB 3.0 Fiber Extender, and other USB3 Vision-ready products now.
1 USB 3.0 (or USB 3.1 Gen. 1) was released in 2008 and supports speeds up to 5-Gbps. USB 3.2 was released in 2017 and defined 3 transfer modes: USB 3.2 Gen. 1 supports 5-Gbps. USB 3.2 Gen. 2 supports 10-Gbps, and USB 3.2 Gen. 2x2 supports 20-Gbps. USB 4.0 was released in 2019 and supports speeds up to 40-Gbps.