Power Over Ethernet (PoE)
What Is Power over Ethernet in Networking?
Power over Ethernet (or PoE) delivers electrical power to PoE-enabled devices using CATx network cables. Because you don't need to run electrical wiring, PoE saves money in materials and installation time. It's also flexible, especially for remote applications, since it doesn't require a nearby electrical outlet. These and other benefits have led to a sharp increase in popularity in recent years. However, the limiting factor has always been power.
How Does PoE Work?
The way it works is simple. Ethernet cable that meets CATx standards consists of four twisted pairs of cable, and PoE sends power over these pairs to PoE-enabled devices. First PoE standards use two twisted pairs to transmit data, while the remaining two pairs are used for power transmission. With the new PoE standards, power and data are both sent over all four twisted pairs.
When the same pairs are used for both power and data, the power and data transmissions don't interfere with each other. That's because electricity and data are transported at opposite ends of the frequency spectrum. Electricity has a low frequency of 60 Hz or less, and data transmissions have frequencies that can range from 10 million to 100 million Hz.
What Is the 802.3at PoE Standard?
The original IEEE 802.3af-2003 PoE standard provides up to 15.4 W of DC power on each port. The updated IEEE 802.3at-2009 PoE standard, also known as PoE+ or PoE plus, allows for up to 30 W of power to Type 2 devices. That's sufficient power for devices such as VoIP phones, wireless access points, and security cameras. But it's not enough for technology like flat screen displays, LED lighting, or retail POS terminals.
Introducing the 802.3bt PoE Standard
To meet the demand for higher power, the IEEE released a new PoE standard at the end of 2018, to significantly increase capacity. IEEE 802.3bt allows for up to 60 W to 100 W of power at the source by providing power over four pairs of wires (compared to the previous technology's ability to power over just two pairs). This increase in power allows you to use PoE for a greater range devices and applications. As an added benefit, the new standard will boost energy efficiency by minimizing power loss in the cable, potentially cutting power loss in half.
The new standard will include support for 2.5GBASE-T, 5GBASE-T and 10GBASE-T, while existing standards have a maximum speed of 1-Gbps. This new support will create intermediate data speeds between existing standards.
PoE Types and Power Levels
Previous PoE technology included PoE Type 1, also called IEEE 802.3af, and PoE Type 2, better known as 802.3at or PoE+. Both utilize 2-pair Power over Ethernet, Type 1 with a maximum of 15.4 W per port and Type 2 with a maximum of 30 W per port.
With the new 802.3bt standard come two new options: Type 3 and Type 4. Type 3 is also called 4-pair PoE, 4PPoE, PoE++, or UPoE. It provides 60 W of power per port and is ideal for video conferencing equipment, multi-radio wireless access points, PTZ cameras, and building management devices.
Type 4 (another designation is high power PoE) offers the highest power capabilities, potentially up to 100 W of DC power (71.3 W to each device), and can support flat screens and laptops. For more detailed specifications on PoE Type 4 and other types, you can refer to the following table.
| Name | IEEE Standard | Power to Powered Device (PD) | Max. Power per Port | Energized Pairs | Supported Devices |
| --- | --- | --- | --- | --- | --- |
| PoE | IEEE 802.3af | 12.95 W | 15.4 W | 2-pair | Static surveillance cameras, VoIP phones, wireless access points |
| PoE+ | IEEE 802.3at | 25.5 W | 30 W | 2-pair | PTZ cameras, video IP phones, alarm systems |
| PoE++ | IEEE 802.3bt (Type 3) | 51 W | 60 W | 4-pair | Video conferencing equipment, multi-radio wireless access points |
| PoE++ | IEEE 802.3bt (Type 4) | 71.3 W | 100 W | 4-pair | Laptops, flat screens |
PoE Applications and Benefits
Use one set of twisted-pair wires for both data and low-wattage appliances.
In addition to the applications noted above, PoE also works well for video surveillance, building management, retail video kiosks, smart signs, vending machines, and retail point-of-information systems.
Save money by eliminating the need to run electrical wiring.
Easily move an appliance with minimal disruption.
If your LAN is protected from power failure by a UPS, the PoE devices connected to your LAN are also protected from power failure.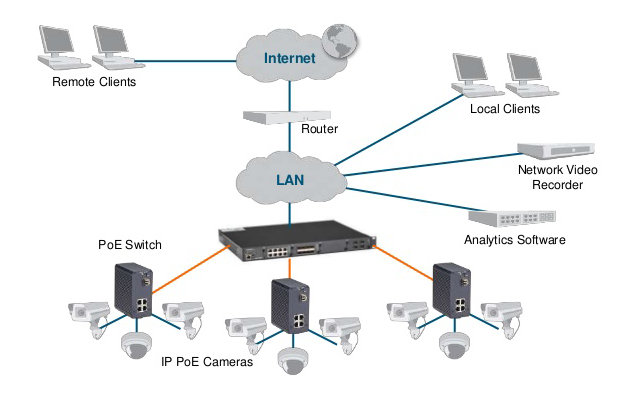 Black Box PoE Devices
Black Box offers a wide range of PoE products that allow you to take advantage of higher-power capabilities of PoE such as the following:
PoE Ethernet Switches
PoE Ethernet Switches can act as power source equipment (PSE) besides their usual functions. They inject power into the Ethernet cable to power the attached PoE-enabled devices such as wireless access points and security cameras. Find out more about PoE Ethernet Switches.
PoE Splitters
PoE Splitters receive a PoE signal with data and power. They separate data and power onto two different lines to support non-PoE devices. Find out more about PoE Splitters.
PoE Repeaters/PoE Extenders
Enable extension of PoE connections beyond the 100-meter limit to access far away PoE devices such as access points, cameras, and VoIP phones. Find out more about PoE Repeaters / Extenders.
PoE Media Converters
PoE Media Converters are the ideal way to extend your network over fiber or copper and also provide power to remote PoE devices to long-distance data links. They act as a copper to fiber converter and PSE all in one device. Find out more about PoE Media Converters.
PoE Injectors
PoE injectors carry data and power simultaneously over a single Ethernet cable. These types of Injectors power various VoIP phones, security system cameras, wireless network access points, Bluetooth® access points, and other 802.3af-compatible equipment. With it, you avoid the cost and hassle of installing AC power at remote cameras, access point, or thin client. Move equipment from room to room without costly, time-consuming rewiring. Find out more about PoE Injectors.