The Information Superhighway
Stands Still at Rush Hour
Communications in the healthcare workplace are congested. Approximately seven networked devices per person are brought inside your facility – cellphones, iPads, laptops, and wearables. Within three years, this average will increase to thirteen devices per person, and more than half will be wireless. They're all competing with your own mission-critical devices – infusion pumps, carts, scanners, and more.
Never fear. OnGo is the healthcare communications platform for the future. Designed to provide world-class communications for overcrowded systems, OnGo returns positive outcomes to patient care and lends a competitive advantage in clinician satisfaction and critical care communications.
OnGo Boldly Delivers Where Others Cannot
The truth is simple: OnGo is superior to Wi-Fi. Designed from the ground up to vastly improve network security, it provides resilient encryption and localized authentication. But that is only the beginning. Enjoy greatly expanded coverage with ranges far outside the limited reach of Wi-Fi with fewer enabling devices, both indoors and outdoors. Carrier-grade reliability allows for predictable rates and ultra-stable performance without the degrading system performance of over-taxed Wi-Fi. Connectivity is essential and OnGo accepts as many as one thousand percent more connections than existing Wi-Fi networks – all over a single network which empowers IoT technology such as PTT (push-to-talk), practically limitless broadband access, video streaming, facility control, and physical security.

Unrivaled
Capacity
Imagine the possibilities: up to eight hundred connections on a single cell and tens of thousands on a full antenna. Beyond that, utilize OnGo's superior range from each access point with dramatic improvements in mobility support and high-grade spectral efficiency. Large amounts of traffic are no longer a concern.

Vastly Improved
Coverage
Enjoy as much as one hundred times your current coverage at equivalent power levels. OnGo penetrates more than three times as many physical barriers at ranges as great as thirty kilometers with fewer antennas. Give users wireless access in distant and obstructed areas where they had none and thought it impossible to get access.


Predictable
Performance
Aside from predictable carrier rates and proven reliability, OnGo performance and capacity is unparalleled. SAS (Spectrum Access System) technology reduces interference and improves throughput, allowing 25x your current user capacity for service.

Superior
Network Security
End-to-end SIM authentication and encryption featuring localized control and maintenance of subscribers over a bulletproof architecture designed to keep data local by way of the synergy between physically installed SIM cards and the dedicated network.

IoT and OnGo –
The Perfect Match
IoT requires considerable bandwidth. OnGo interfaces perfectly with video surveillance, building automation, PTT, security functions, voice operations, facility sensors, and more. Globalized video streaming, such as wayfinding and video walls, also benefit from massive bandwidth. If devices are communicating with a local gateway, OnGo is the superior solution.
The OnGo Test Drive is simple. First, join the Black Box Mobility Workshop. You'll receive an overview of 5G and OnGo where you'll learn how each system functions, why it matters, and how your facility can benefit from leading-edge technology. After reviewing test cases, we'll partner with you in a strategy session. Together, we'll assess the applications, devices and networks operating in your facility. We're committed to honest and forthright evaluations, so you can be certain that OnGo is the right technology for your environment and needs.
Demos: Experience the Power of OnGo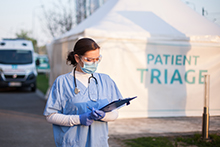 Outdoor Connectivity


Smoothly transition between buildings and areas, enjoying full continuity of workflow without dropouts. Enable efficient triaging and onboarding outside typically congested intake areas.
Increase Efficiency


Modern healthcare relies on collaboration and data security. Transmit files of any size to any department at any time securely and without regard for congested network speeds.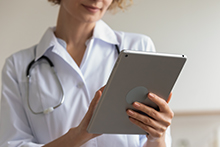 Critical Communication on Dedicated Networks
Ensure optimum performance on your network. Easily configurable network profiles provide absolute flexibility and the ability to easily prioritize network access. Allocate back-office operations to OnGo, while allowing public communications to remain on Wi-Fi.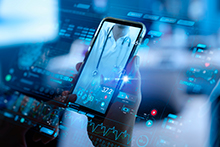 Voice Over OnGo


'Over the Top' voice apps (Voalte, PatientKeeper, Epic, PatientSafe and others) reside perfectly on your OnGo system. Move your most demanding apps (voice) away from your Wi-Fi network allowing your voice apps to benefit from dedicated bandwidth and impressive sound quality while Wi-Fi is free to function elsewhere.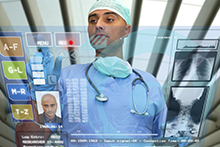 EHR Over OnGo


Rely on OnGo to move EHR data instantly and securely between authorized users. Wi-Fi creates capacity and security concerns. Move EHR access to OnGo to improve workflows and to protect sensitive and critical patient information.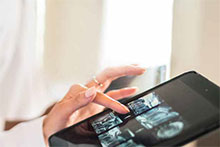 More OnGo
Demo Options
Not sure if OnGo can deliver the power you need? Here's your chance to put it through its paces in your environment with your equipment. Get hands-on experience in how OnGo will perform for you everywhere from outdoor settings to critical, dedicated healthcare traffic.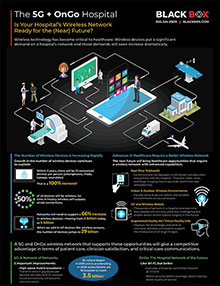 Inside the 5G + OnGo Hospital
Is your hospital's wireless network ready for the (near) future?
Within three years, there will be a 100% increase in the number of wireless devices per person.

5G subscriptions are forecasted to reach 3.5 billion by 2026.

50% of all devices will be wireless within three years.

Get the facts and figures you need in this 5G/OnGo infographic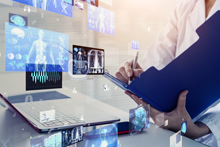 Acclaimed Research Hospital Uses OnGo to Reduce Network Congestion
Citing congestion as a primary impediment to their current network, a national research hospital partnered with Black Box to mitigate network crowding and issues with connectivity. With more than twenty thousand devices accessing the local Wi-Fi network daily, the facility now benefits from reduced network strain and a forward-thinking ability to accommodate a practically limitless number of devices in the future.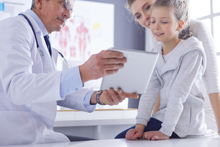 Children's Hospital Achieves Seamless Transition of Devices on Massive Campus
Covering several acres, a children's hospital emergency department suffered a common issue with networking: personnel Wi-Fi devices failed to transition between campus buildings. Black Box formulated an elegant and simple solution. By utilizing OnGo capable flash drives, the hospital can keep their existing devices while enjoying the superior security and flawless connectivity of OnGo.
Why Black Box for OnGo?
Black Box integrators can assist you with all wireless networking needs: 5G, OnGo, Wi-Fi, DAS, RTLS and more. Our experts bring human-centric technology solutions to assist you in a seamless adaptation toward today's dynamic healthcare environment and into the future. We analyze your patient and customer care requirements and suggest how technology can help meet those goals. We're committed to objective analysis and honest appraisals. By continually investing in R&D, world-class infrastructure, and bringing the best talent from across the world, we co-create pathbreaking technology solutions with our customers.
How Wireless is Building the Future of Healthcare
Wireless connectivity is taking on a critical care role in driving patient care, optimizing workflows, improving user satisfaction, and streaming workflows. Future-ready wireless now means you can nimbly adopt new technology in digital health when it's ready.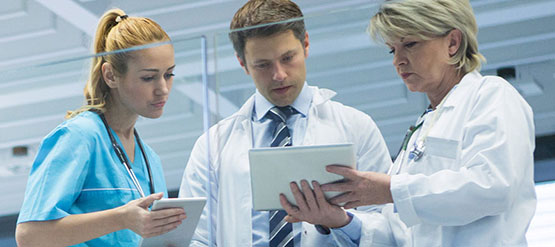 OnGo sits at the leading edge of wireless connectivity. Its magic isn't magic at all. Rather, the notable aspect of OnGo is the way the technology merges the reliability and quality of LTE signal with the low expense and ease-of-use associated with Wi-Fi.
Where Do We Start?
How do you participate in OnGo Test Drive? Contact us for a workshop.