A Brief History of KVM in Broadcast
In the past, TV broadcast technology was quite different than it is now. Here we discuss the history of KVM technology in the broadcast industry.
Before KVM, on-site camera crews filmed events, then manually carried films back to the broadcast studio to process. Today, broadcasters beam video from a live event to the broadcast control room to your living room with the help of fast broadband connections, virtual machines, and IP-based KVM matrix switching systems.

So how did we get from there to here?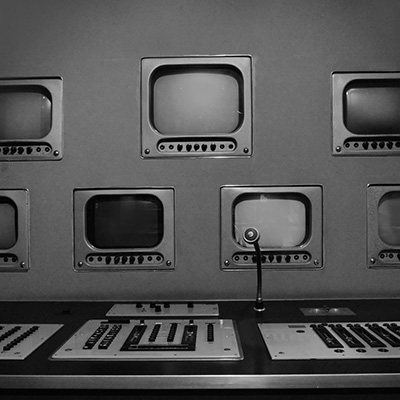 The Roaring 20s
It all started in the 1920s. Once we were beyond the global Spanish flu pandemic of the early 1920s, the first TV production was broadcast in 1927 by wire from New York to Washington, D.C.
Hey Popcorn, Hey Cotton Candy...It's All at the 1939 World's Fair
During the 1939 World's Fair in New York City, President Franklin D. Roosevelt's speech was broadcast LIVE via TV signals.
Trending in 1948: Baseball, Hotdogs, Apple Pie, and...Commercials
In 1948, the first paid TV commercial aired on TV. During the broadcast of the Dodgers vs. the Phillies game, a Bulova watch commercial proclaimed: "The world runs on Bulova time."
Back in 1952: Did You See that Touchdown?
In the year 1952, the first college bowl game (the Rose Bowl) was televised live on NBC.
Bringing Us the Moon...1969
In 1969, TV networks worked diligently to broadcast the NASA moon landing to your grandparents' living room.
Honey, I Shrunk...(not the Kids)...the Computers!
Long before the 1989 American movie was released, control rooms of the 1970s housed a lot of gauge instruments, pushbuttons, and maybe one terminal to access a big host computer that needed its own room. A hodgepodge of twinax connections and old protocols were used. This bulky equipment was the predecessor to KVM's use in the control room.
In the 1980s, IT technology changed and PCs were introduced, but migrating to using smaller PCs in the control room took a bit longer. Up to the 1990s, control rooms housed larger computers, large consoles, and cathode-ray tube (CRT) displays.
And this All Leads Up to...KVM
As computers got smaller, they appeared everywhere. Broadcasters needed a solution to manage multiple systems with single set of peripherals and technology to remotely access back-racked systems in a server room. Early KVM switches were simple devices that allowed a single keyboard, monitor, and mouse to control multiple computers. These switches were often manual, requiring the user to physically switch between computers by pressing a button or turning a dial. However, they proved to be an essential tool in managing the complex array of devices and computers needed to produce live television programming
Enter Digital KVM: 1990s
As technology advanced, so did KVM switches and extenders. In the 1990s, the introduction of digital KVM switches allowed for quicker switching between computers and devices, which was crucial for the fast-paced environment of live television production. Digital KVM switches also allowed for remote access and control, enabling broadcast operators to manage devices and computers from anywhere in the world. PCs moved out of control room to a secured area. Switching PCs was done using hotkeys.
In a typical 1990s broadcast studio, you might find CRT displays, PS/2 keyboards/mice, KVM switches, and AV equipment for VGA switching/extension. Broadcast resolutions were only up to 240p and post production/editing was still transitioning from analog to computer-based editing. KVM transmission distance was driven by the ability to send signals down a serial or copper cable – typically 50 to 100 m long.
Turn of the Century Brings Us KVM Extenders and LCDs: 2000-2010
Inthe 2000s, the introduction of high-speed data transfer, digital video interfaces, and virtualization capabilities allowed multiple users to control multiple computers simultaneously. This was a game-changer for the broadcast industry, as it allowed for more efficient and collaborative production processes.
KVM extenders also emerged in the early 2000s, providing a way to extend the reach of keyboard, video, and mouse signals over long distances. These extenders were particularly useful for remote broadcasts or for situations where multiple control rooms needed to be connected.
From 2000 to 2010, LCD displays were the norm. Typical interfaces migrated to USB instead of PS/2. VGA was still used, but DVI was starting to be more popular. Resolutions increased.
In this decade, KVM over IP became popular – but for low-performance applications. When KVM technology began to use IP communication, user terminals could send switching commands to the KVM system. An Ethernet IP-enabled touch panel, such as Black Box's ControlBridge®, enables users to manage conference room, control room, and room automation systems. High performance applications using HD video and higher network bandwidth for faster broadcast processing operated via proprietary matrix products.
4K and More: 2010-2020
From 2010 to 2020, LCD technology advanced, USB technology improved, DisplayPort™ became more common, VGA started to go away, resolutions increased to 4K60, and 5K/6K/8K was still considered new.
High-performance KVM over IP, where full-motion video and even 4K video could be delivered, grew in many market segments. Also, virtual machines (VMs) appeared and needed to be accessed in a similar manner as physical machines. Connecting physical and virtual machines seamlessly was a challenge for the broadcasting industry, but solutions that overcame these previous limitations were introduced.
In 2018, Black Box Emerald® KVM over IP was the first commercial Unified KVM over IP Extender system introduced to the market. This trendsetter revolutionized the way broadcasts are delivered to the end user. Subsequent models that support dual-head monitors followed next. Boxilla® KVM Manager gave users the ability to manage unlimited endpoints.
2023 and beyond
Today, KVM switches and extenders are highly advanced, with features such as virtualization, remote access, high-speed data transfer, and video resolution of up to 4K or even 8K. These switches and extenders allow multiple users to control multiple computers and devices simultaneously, which is essential for the complex production processes of modern live television broadcasts.
Each decade, PCs get smaller and become more power-efficient. Control rooms adopt these smaller devices, but project source images on larger displays, monitors, and video walls. Today, we are just one step away from the next evolution of KVM in broadcast.
Projections for 2020 to 2030 predict LCD technology advancing to add more smarts (sensors, color control, brightness, auto adjust), different hardware that may integrate augmented reality, ironclad cybersecurity, and advances in IoT equipment. In addition, 5K/6K/8K resolutions will become more common.
Secure remote access to support Outside Broadcasts (OB) and remote editing/working gain traction with a major step in adaption driven by CV-19. More 4K and even 8K are becoming popular. A need for flexible operation of workspaces fuels a growing use of multiviewers and other innovations such as DESKVUE. The award-winning Black Box® Emerald® DESKVUE, a completely new concept in KVM over IP, allows users to create a personalized workspace in which they can simultaneously monitor and interact with up to 16 systems — physical, virtual, and cloud-based — of their choice. Interaction using touch and other non-keyboard/mouse are a clear trend.
KVM switches and extenders have been an essential tool in the broadcast industry for many years, allowing operators to manage and control the complex array of devices and computers needed to produce live television programming. As technology continues to advance, KVM switches and extenders are likely to remain essential tools for broadcasters for many years to come.
Want to learn more about our latest KVM over IP solutions?
Talk to an expert about your broadcast application.
Broadcast
Control Rooms
KVM
TPS