Experience AV Everywhere with Black Box at InfoComm

Black Box AV solutions are innovative, unique, and tailored to a wide variety of industries and applications. From sports bars, shopping malls, and entertainment arenas, to control rooms, government entities, and corporate offices, Black Box can design and implement exactly what your space needs. Learn more about and discover how Black Box AV solutions can elevate your visualization tactics, while increasing operations, efficiency, and engagement.
Visit the Black Box team at booth #W1338 to explore our AV offerings and how we have exactly what you need to elevate your space, engage your employees, and entertain your customers. See you in June!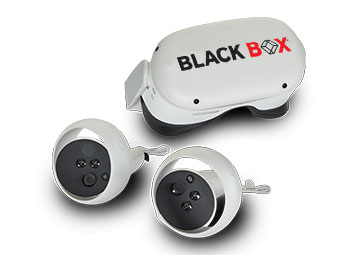 Enter to Win an Oculus Quest 2 VR Headset at Infocomm
Schedule a meeting with a Black Box expert here or during the event to be entered to win an Oculus Quest 2 Virtual Reality Headset (worth $299). Click below to schedule and enter. Winner will be drawn post-event.
Black Box Products at InfoComm
Visitors to the Black Box booth at InfoComm will be able to see first-hand the MCX G2 series ̶ the next generation of the company's MCX multimedia distribution and management system. The MCX G2 series features the performance of the original S9 and S7 series but adds several market-leading features including best-in-class source-to-screen latency (less than 18 microseconds), a video loop-through connection, USB-C and three-port USB 2.0 connectivity, and PoE capability. These features provide a more flexible solution, faster design/implementation and lower overall cost. The Black Box MCX takes advantage of SDVoE and modern 10 GbE infrastructure to allow AV and data payloads.
Rather than deploy an entirely new network, users can take advantage of the software-defined solution to leverage existing infrastructure for delivery of better-quality audio and video, which can translate to greater customer satisfaction and faster time to revenue.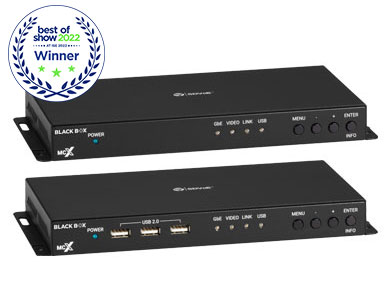 ---
At InfoComm 2022 Black Box will demonstrate how its iCompel® interactive digital signage platform with system-on-chip technology empowers users to build eye-catching signage; stream content from websites; and visualize timetables, events, wayfinding or emergency messages. Users can easily play, upload and share images, presentations, videos and audio media files on any screen. The platform supports 4K UHD/HD and simplifies creation and playout of HTML5-based content. To facilitate updates and system management, iCompel allows for remote device management and configuration and provides on-screen diagnostics and error alerts. The platform is a great solution for a sports bar but also can be used in cinemas, universities, hospitals, transport, retail, supermarkets and more.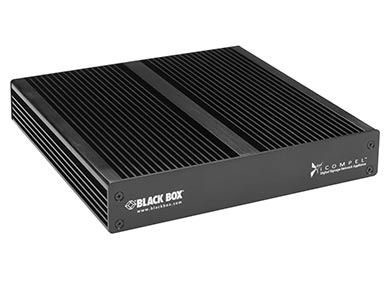 ---
With Reserva, users need never mismanage their meeting rooms again. Any user can manage meetings and conference rooms from Reserva's touchscreen with ease. This room sign allows users to book, extend, shorten and end meetings in seconds from an intuitive UI.
With advanced digital signage features, Reserva is much more than a room booking touchscreen. Inside each Reserva is an iCompel® player that allows users to integrate the room sign into their digital signage system. After integration, Reserva room signs can display important communications that benefit the user's business, such as internal messages and advertising. Reserva features multizone layout design and extensive playlist and schedule controls and users can also add their logo and a custom background to the display to boost branding. Important additional features include convenient remote device management and monitoring, superior performance, responsiveness and functionality. Reserva is also compatible with market-leading scheduling and timetable solutions for ease of integration.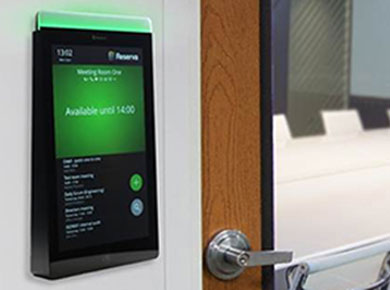 ---
Radian Flex is a fully software-based video wall processing platform that delivers future-proof flexibility and scalability for digital signage, corporate, education and mission-critical visualization applications. The intuitive software from Black Box makes it easy to display high-quality content from multiple sources across multiscreen display walls in any imaginable configuration. Users simply add, move, resize and change content on the Radian Flex interface, and those changes are reflected in real time on the target video wall, distributed visualization system, or other display devices. Radian Flex supports an unlimited number of inputs, screens and endpoints. Integrated SmartFrame technology ensures perfect picture quality and automates optimal placement of content on screen with minimal setup. The platform's robust video engine supports 4K 60fps video up to an industry-leading resolution of more than 1 billion pixels, paving the way for 8K resolution and beyond.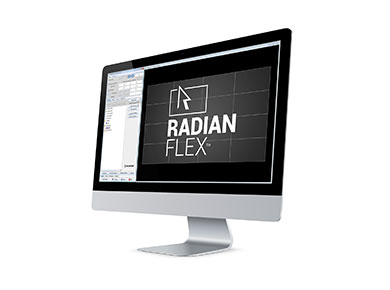 ---
ControlBridge® is a complete multisystem control panel for control rooms and any user desk. A single touch panel enables control of KVM, AV and other devices to let users conveniently switch between sources, change video settings, access video wall controllers and set room conditions. Individual presets activate complex onfiguration with the touch of a button to prepare for a new production.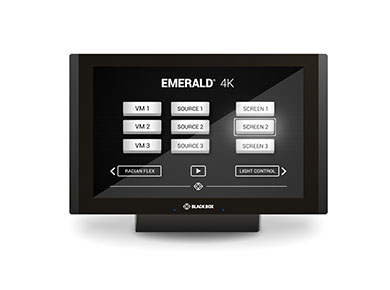 ---
AlertWerks Wired Environmental monitoring systems is a state-of-the-art- IoT solution that actively monitors the conditions within commercial buildings, factories, warehouses, server rooms, data centers, or anywhere else, you need to guard critical equipment. Loaded with intelligent sensors and monitoring gateways, AlertWerks remotely monitors conditions and protects critical IT Infrastructure against physical threats in real-time.
AlertWerks Wired offers a variety of physical and virtual sensors and monitoring gateways that can scale your operations. Combining temperature, humidity, water leak, security, and power monitoring into one solution, AlertWerks offers predictive and preventive maintenance boosting equipment reliability and infrastructure availability.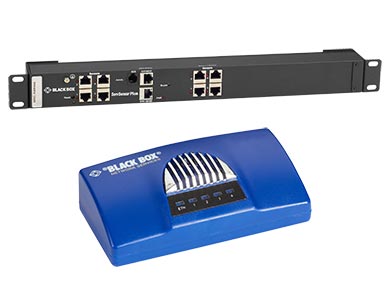 ---
Register here and use code BLA176 for your FREE exhibit hall pass.