New TIA Standard for 28-AWG Patch Cords
28-AWG patch cable is made with thinner, 28-AWG stranded copper conductors as opposed to traditional patch cables made with thicker 24- or 26-AWG conductors. It has been gaining many fans and is becoming a more popular choice, especially in high-density data centers and telecom rooms. Because of its high performance and advantages to users, it has recently been recognized in the TIA-568.2-D standard published by the Telecommunications Industry Association.
Advantages of 28-AWG Cables
Advantage 1: Space savings
With a typical diameter of only 0.161" (4.1 mm), 28-AWG cable is almost half the size of a typical 24-AWG cable at 0.22" (5.9 mm). This gives you a lot of extra space in cable managers and in pathways. The difference can be dramatic, as shown in this photo of a bundle of 28-AWG cable compared to a bundle of 24-AWG cable.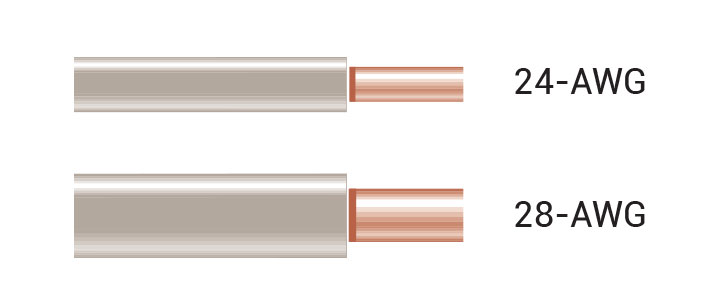 Advantage 2: Improved airflow
28-AWG cables are much thinner than traditional 24-AWG cables. They take up less space in front of patch panels and network equipment, resulting in improved air flow and cooling of equipment.
Advantage 3: Easier handling
There's more space between patched 28-AWG cables, so the cable is much easier to handle. You will find there's more space for your fingers when doing installs and MACs. Also, it's much easier to identify port assignments on equipment.
Advantage 4: Fewer cable managers
28-AWG cables are much less bulky and offer improved flexibility compared to 24-AWG cables. Because of that, you can reduce the number of horizontal cable managers you need or possibly eliminate them entirely. You will also gain up to 50% more space in vertical cable managers.
Advantage 5: Conserve rack space
You will be able to put more cables in high-density 1U or 2U patch panels, freeing up valuable rack units.
Advantage 6: Price
28-AWG cable has less copper in its conductors, so it should cost less than traditional 24- or 26-AWG cable (at least Black Box's 28-AWG cable costs less). This can add up to significant savings when setting up and patching high-density telecom rooms and data centers with hundreds of cables.
Advantage 7: TIA-568.2-D compliant
In June 2018, the TIA revised their 568 cabling standard to include 28-AWG patch cords. While the standard specifies that patch cords can be made from 28-AWG cable, it also states that "maximum channel length must be de-rated from their maximum 100-meter length when using 28-AWG patch cords." Note that the standard does not include horizontal cable with 28-AWG conductors.
Advantage 8: Improved switch visibility
Since 28-AWG cables have a smaller profile, allowing greater visibility of link lights and port identifiers.
Summary
28-AWG cables offer a great alternative to traditional 24-AWG cable, especially in high-density telecom rooms and data centers where rack space is at a premium. The thinner, .161" diameter is almost half the size of a 24-AWG cable, so it's ideal for saving space, reducing clutter and improving airflow. It's easier to handle, so the need for cable managers can be reduced or eliminated. It also costs less than traditional cable.
With almost 50% more space between cables, you'll like working with 28-AWG cable. It's much easier to get your fingers in between the cables for patching, easier to identify port designations and easier to route cables. The new TIA-568.2-D standard makes 28-AWG cable an especially smart alternative for short patches. You can also use 28-AWG on one end and 24-AWG cable on the other end.