Black Box to Showcase Transformative Managed IT Services for Airport Operations Automation at ACI-NA 2023 Conference
Black Box ACI-NA Preview
2023 ACI-NA Annual Conference and Exhibition
Sept. 30 to Oct. 3
Long Beach, California
Booth #1153
DALLAS – Sept. 7, 2023 – Black Box®, a leading provider of tailored technology solutions and an extensive array of IT services to businesses worldwide, will showcase its next-level strategies for invigorating airport operations at the 2023 ACI-NA (Airports Council International - North America) Annual Conference and Exhibition. With cutting-edge IT solutions and seamless integration services, Black Box is a trusted partner for airports around the globe aiming to enhance operational efficiency, drive revenue growth, and operate more cost-effectively — all without the need for multiple providers.
Seamless Managed Services for Better-Connected, More Profitable Airports
"Aligning IT strategy with business goals is necessary to optimize daily processes, especially in an ever-changing landscape marked by stringent regulations, workforce challenges and rising passenger expectations," said Ian White, VP operations, key accounts at Black Box. "Black Box serves as a cornerstone of stability and innovation, delivering transformative managed services that enhance IT infrastructure and operations while significantly boosting the airport ROI."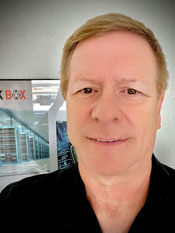 Ian White, VP Operations, Key Accounts at Black Box®
At the 2023 ACI-NA Annual Conference and Exhibition, visitors to the Black Box booth will see how the company's comprehensive managed services can guide and accelerate digital transformation, providing consistent, high-quality experiences while freeing in-house staff for more strategic initiatives. Black Box's extensive portfolio spans voice and data communications; on-site structured cabling; NOC, SOC-as-a-service, and security management; on-site or remote tier 1-3 service desk support; private LTE/5G/DAS provisioning; proAV and smart office integration; smart airport IoT control and management; and customized programming and engineering services.
Visitors will also have the opportunity to learn how Black Box has recently implemented a complete suite of IT solutions for a major international airport group. These innovations have bolstered cybersecurity, voice and data communications, PA systems, kiosks, wireless access points and more, resulting in enhanced reporting and monitoring.
More information about the 2023 ACI-NA Annual Conference and Exhibition is available at www.airportscouncil.org/conference/2023-annual-conference-exhibition.
# # #
About Black Box
Black Box® is a trusted IT solutions provider delivering cutting-edge technology solutions and world-class consulting services to businesses across the globe. The breadth of our global reach, continuous innovation, and depth of our expertise accelerate customer success by bringing people, ideas, and technology together to solve real-world business problems. Our IT infrastructure solutions, services, and products enable secure, flawless connectivity and meaningful collaboration for businesses in every major market across six continents.
To learn more, visit the Black Box website at www.blackbox.com. Follow the company on Twitter @BlackBox_ns. Black Box® and the Double Diamond logo are registered trademarks of BB Technologies, LLC.
Link to Word Doc:www.wallstcom.com/BlackBox/230907-Black_Box-ACI_Show_Preview.docx
Black Box Media Contact
Laura Doty
Events Manager
Phone: +1 724 873 7016
Email: laura.doty@blackbox.com
Agency Contact
Carolyn Archambault
Wall Street Communications
Phone: +1 801 266 0077
Email: carolyn@wallstcom.com