Black Box and Nextivity Join Forces at Networkshop50
Black Box Preview
Networkshop50
June 8-10, 2022
Nottingham Trent University
Stand 41
Black Box will be exhibiting along with Nextivity, and their award-winning Cel-Fi solutions, at Networkshop50 with a focus on leading-edge technology solutions and IT services for the digital campus. Black Box delivers human-centric technology solutions that not only integrate seamlessly into today's dynamic education environment but also support adaptation and future growth. Nextivity is a leader in end-to-end cellular coverage that enhances the learning experience and elevates campus safety. Experts from the two companies will be on hand at Networkshop50 to consult with show attendees about addressing specific challenges and meeting requirements for students, educators, researchers, and administrators across the modern campus.
Joint Presentation: The Importance of Cellular Coverage in Education
June 9, 1:35-1:50 p.m.
Speakers: Paul Williams, Key Account Manager UK, Black Box; Colin Abrey, VP Sales, UK&I and MEA, Nextivity
Black Box and Nextivity are partnering to present a 15-minute session on the importance of cellular coverage in education. Improving cellular coverage is a growing need for schools and universities. It's a requirement driven by the growing number of students using smartphones in classrooms as a learning tool and even more by campus safety and the need to connect to 999. Cellular connectivity is no longer a luxury, and Wi-Fi is simply not a good enough solution for this problem. In this session, Paul Williams and Colin Abrey will discuss the key role smart cellular coverage plays within educational environments and how Nextivity with its award-winning Cel-Fi solutions and Black Box can help educators deploy solutions in a fast and reliable way.
Black Box Highlights at Networkshop50
Leveraging leading-edge collaboration, communication, networking, and security technologies, Black Box bridges the IT gap — designing, deploying, and managing IT for a fast and reliable rollout. At Networkshop50, Black Box will feature wireless, structured cabling, network optimization, unified communications, campus AV, and IoT and smart technology solutions, as well as reliable cellular coverage with Cel-Fi by Nextivity. All these solutions are offered by Black Box wrapped in end-to-end services that allow educators, researchers, and administrators to focus on education while IT is fully supported.
Black Box manages strategic partnerships with leading technology vendors, deploys technology that makes a difference, and integrates end-to-end solutions ranging from classroom technology to complete network infrastructures for large university campuses.
"As existing network infrastructures continue to age in schools, learning facilities, and on campuses, it becomes harder to accommodate increased demand in the connected classroom," says, Matt Thomas, VP & General Manager EMEA at Black Box. "The list of activities taxing today's education network is long: the greater need for IT security, access, and activity monitoring, learning via social media, the use of multimedia as a default, streaming video employed both as an instructional method and as a tool for faculty collaboration, flipped learning, and gamification as a lesson component. The list goes on and on. Throw the escalating use of distance learning into the mix, and it's easy to see that most networks are being pushed to the edges of capability. Though these are common problems, they need not be barriers to reliable, secure, and worry-free education delivery, thanks to Black Box and our comprehensive technology solutions and IT services offerings for education."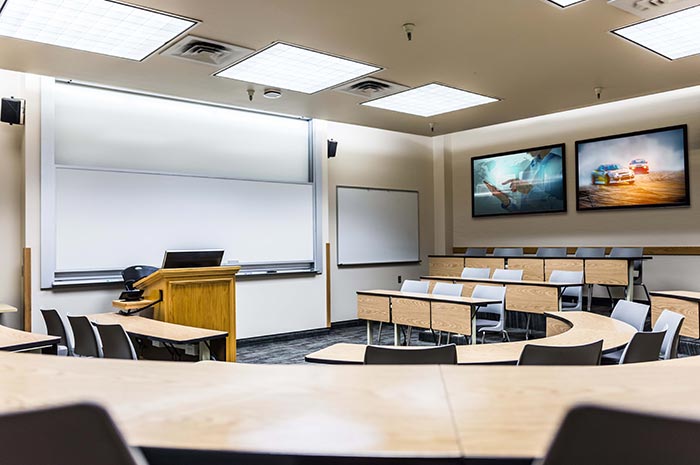 Leveraging leading-edge technology to bring students, faculty, and administration together on tomorrow's digital campus
Nextivity Highlights at Networkshop50
"Reliable cellular coverage is not optional in education environments, and Nextivity solves critical coverage issues for voice and data," says, Colin Abrey, VP Sales, UK&I and MEA at Nextivity. "From enabling in-classroom technology to delivering dependable connectivity for safety and security equipment, our award-winning Cel-Fi solutions combine industry-leading cellular performance with unmatched ease of installation and scalability. We look forward to showcasing these solutions along with Black Box at Networkshop50."
At Networkshop50, Nextivity will showcase its award-winning Cel-Fi solutions, designed for quick installation and affordability. They provide uniform, high-quality cellular signal throughout any building and are scalable to the size needed. Unlike older analog boosters and passive DAS technology, Cel-Fi QUATRA delivers a cellular signal that is up to 1000x stronger, utilizing CAT5e cabling for RF and Power over Ethernet, with no signal attenuation. And, even better, it can be installed in just days (compared to the months typical of other solutions). www.cel-fi.com/
About Nextivity:
Nextivity develops the Cel-Fi Smart Coverage Solutions for 3G, 4G, 5G, and public safety communication. The company's solutions deliver industry-leading signal gain and are unconditionally network safe with a no-noise guarantee. Including speed-of-installation tools, Cel-Fi products are available for enterprise, public safety, small businesses, remote settings, residential, marine, and vehicles.
Nextivity solutions are the only coverage solutions authorized for use in over 100 countries by more than 200 mobile operators. Cel-Fi products cover spaces no one has covered before. Cel-Fi products are installer-friendly, provide optimal coverage, and automatically adjust to changing network conditions. The Cel-Fi smart coverage solutions are available for consumer, SME, and larger enterprise buildings, all providing the industry's highest gain and guaranteed network safe.
About Black Box:
Black Box® is a trusted IT solutions provider delivering cutting-edge technology solutions and world-class consulting services to businesses on every continent. The breadth of our global reach and depth of expertise accelerate customer success by bringing people, ideas, and technology together to solve real-world business problems. Our IT infrastructure solutions, services, and products enable secure, flawless connectivity and meaningful collaboration across town or around the globe.
To learn more, visit the Black Box website at www.blackbox.com. Follow the company on Twitter @BlackBox_ns. Black Box® and the Double Diamond logo are registered trademarks of BB Technologies Inc.
All other trademarks referenced herein are the property of their respective owners.
Black Box Contact:
Geert Vanmeerbeek
Black Box
Tel: +49 152 56870969
Email: geert.vanmeerbeek@blackbox.com
Agency Contact:
Carolyn Archambault
Wall Street Communications
Phone: +1 801 266 0077
Email: carolyn@wallstcom.com