Black Box Double Diamond Warranty

Take the risk out of equipment purchases with the Double Diamond™ Warranty from Black Box.
The Double Diamond Warranty is our warranty that protects your Black Box® brand products* from accidental damage, including drops, water, and power surges. Most of our products come with a one- or two-year warranty. Some products—such as copper cables, manual switches, cabinets, and racks—are even guaranteed for life!
During the warranty period, Black Box Network Services will repair or replace your damaged equipment within one week of receipt at NO CHARGE!*
Plus, get an Extended Double Diamond Warranty.
You can also extend your warranty or protect a previously purchased Black Box® brand product for an additional year—for only 10% of the purchase price! Or, extend your coverage for a full three years for only 20% of the purchase price!
Ordering an extended warranty is easy: When viewing a product in your shopping cart, just select the one or three years of additional coverage in the drop-down menu under "Warranty Options." For details, contact Customer Service at 1-800-316-7107. Note that extended warranties will not be available for all products, such as cabling that features a lifetime warranty, custom-built solutions, and products of a similar nature. Please contact the Customer Service number above for details.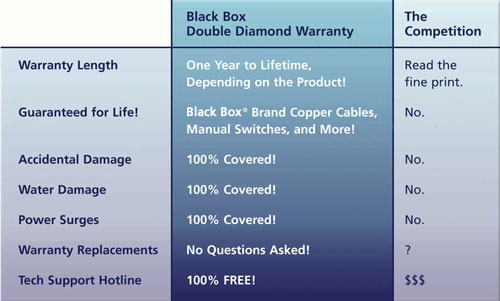 We're here for you
If you need service or support immediately, contact your designated support center. To speak with a Black Box representative about the solutions we offer, contact us now.