Get Connected with Black Box – The Global Leader in KVM

With the cancellation of IBC 2021, not only Black Box but the entire broadcast community misses a great opportunity to network in-person and learn about new technologies. Did you know that Black Box provides world-class consulting and tech support services around the world. Now, you can decide how you want to get in touch with us. Contact our local design experts and stay up-to-date on new technologies.
Black Box KVM solutions are tailored to the unique requirements of modern control rooms, post and media productions, and broadcast playout environments. Learn more about and discuss how high- performance KVM over IP solutions for centralized control rooms and remote production can provide you with optimized workflows and secure remote access. We are excited to introduce you to our new additions to the Emerald product family being launched in December 2021 including our first-in-the industry PCoIP Ultra gateway adding VM sharing to our Emerald solution.
Black Box proudly introduces its latest edition to the Emerald KVM-over-IP KVM platform. Emerald GE provides cutting-edge technology to enable multiple users to connect simultaneously and control a virtual machine (VM) just as they would a physical system. The Emerald Gateway is the first to leverage PC-over-IP (PCoIP®) and PCoIP Ultra technology to support virtual machine sharing and to ensure a secure, high-definition, and highly responsive computing experience. Black Box Emerald GE unlocks collaboration across physical and virtual machines – a feature that was highly requested by Broadcast companies to improve collaborative work in remote production.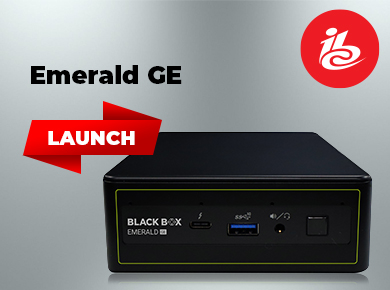 ---
INTRODUCING Black Box Emerald® VUE Multiviewer
Emerald VUE addresses the demanding requirements from the broadcast industry for advanced 4K image processing and robust system switching with instant response. Emerald VUE enables the operation of multiple DisplayPort computers from a single console while facilitating simultaneous monitoring of four video sources spread over two screens. The multiview KVM switch delivers exceptional 4K60 DisplayPort image quality and allows users to arrange windows either freely on the screen or in one of the pre-configured screen layouts such as full screen, quad view, or Picture in Picture (PiP). Real-time switching between sources via keyboard, API, or GPIO keep producers, engineers, and editors in the lead of the production process.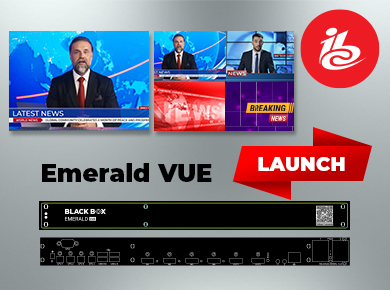 ---
Designed for broadcast applications where space and weight are key, the new Emerald® ZeroU DisplayPort transmitter is just a little bigger than a smartphone. It works with any Emerald receiver to give users a seamless desktop experience anywhere on a TCP/IP network. Supporting visually lossless full HD DisplayPort video up to 1920 x 1200 and requiring less than 40 Mbps of bandwidth for 1080p video, the transmitter brings high-performance connectivity to a wide variety of applications including broadcast, postproduction and more.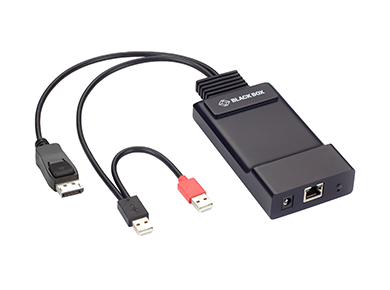 ---
All of these production introductions add to our award-winning KVM solution enabling integrated control rooms, productive remote productions and optimized workflows.
---
Black Box will highlight its Emerald® KVM over IP platform, which provides broadcasters and others with the exceptional flexibility and network security essential to state-of-the-art KVM extension and switching. The low-latency, high-performance Emerald 4K and HD units connect workstations with remote computers and servers over distances up to 10 kilometers over single-mode fiber, or even farther over IP, while the Emerald Remote App facilitates convenient anywhere-anytime access without the need for additional hardware receivers. With uniquely robust capabilities for reliable extension and switching of video, audio, USB and serial signals across any number of physical and virtual servers, Emerald lowers users' cost of ownership, enables greater workflow optimization, and helps them preserve existing IT investments.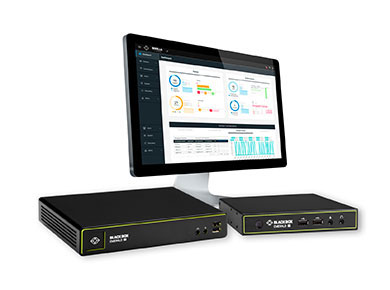 ---
Black Box will demonstrate how its Boxilla® enterprise-level KVM manager is changing the way businesses deploy, configure, monitor, and manage equipment on their networks. Integrated with solutions such as the Black Box Emerald KVM-over-IP or DKM Direct-Connect platform, Boxilla provides an intuitive interface for monitoring system performance, configuring proactive security alerts, checking on real-time device status, and identifying active devices, connections, and users, as well as their current bandwidth usage. Offering a precise view of network bandwidth, Boxilla also provides at-a-glance access to dropped frames, round-trip time, and other critical system and device data.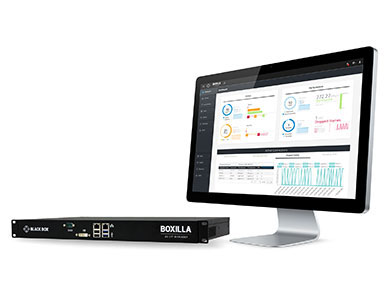 ---
MCX distributes and extends zero-latency 4K video and audio to an unlimited number of displays or a video wall over a 10 GbE Infrastructure. As part of the SDVoE ecosystem, this robust video distribution system allows AV and data payloads to exist on the same IT network, which significantly reduces network management time and costs.
While enabling truly converged network AV, Black Box MCX ensures zero latency, uncompressed 4K video, high-quality audio, instantaneous switching, and bandwidth efficiency. A wide selection of encoders and decoders provides enhanced system flexibility and high scalabilityadding sources and displays on demand, while the enhanced management controller makes setting up and managing your system a breeze.
,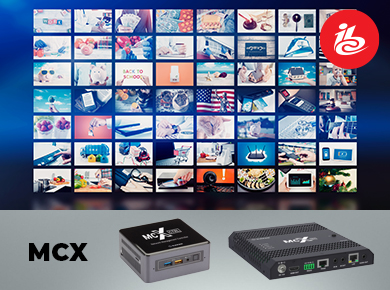 ---
ControlBridge is a complete multisystem control panel for control rooms and any user desk. A single touch panel enables control of KVM, AV, and other devices to let users conveniently switch between sources, change video settings, access video wall controllers, and set room conditions. Individual presets activate complex configuration with the touch of a button to prepare for a new production.