Black Box at World ATM Congress 2021

Visit Black Box at Booth #426
At World ATM Congress 2021, Black Box will showcase technology solutions for airport traffic management (ATM) and air traffic control (ATC) that streamline the way air traffic controllers and airport staff work. The company will demonstrate how its KVM (keyboard, video, mouse) extension and data visualization solutions free up control room space, enable smoother and more ergonomic workflows, and reduce operators' response times during mission-critical events.
Black Box experts will be available at Booth 426 to discuss KVM and digital signage solutions for ATC monitoring and flight data processing, airport digital signage and passenger information displays, and baggage handling.
---
Black Box Products at World ATM Congress 2021
Black Box Emerald® Unified KVM Platform
KVM technology allows any air traffic controller to access multiple computers through one single set of keyboard/video/mouse, committing to a safer environment with increased operational efficiency and enhanced situational awareness. At World ATM Congress 2021, Black Box will highlight its Emerald® Unified KVM platform, which provides the exceptional flexibility and network security essential to state-of-the-art KVM extension and switching. The low-latency, high-performance Emerald 4K and Emerald SE transmitter-receiver pairs connect workstations with remote computers and servers at distances of up to 10 kilometres over single-mode fibre, or even farther over IP, while the Emerald Remote App facilitates convenient anywhere, anytime access without the need for additional hardware receivers. With uniquely robust capabilities for reliable extension and switching of video, audio, USB and serial signals across any number of physical and virtual servers, Emerald lowers users' cost of ownership and helps them preserve existing IT investments.
---
Boxilla® KVM and AV IT System Manager
Black Box will demonstrate how its Boxilla® enterprise-level KVM manager is changing the way businesses deploy, configure, monitor and manage equipment on their networks. Integrated with solutions such as the Black Box Emerald KVM-over-IP platform, Boxilla provides an intuitive interface for monitoring system performance, configuring proactive security alerts, checking on real-time device status and identifying active devices, connections and users, as well as their current bandwidth usage. Offering a precise view of network bandwidth, Boxilla also provides at-a-glance access to monitor bandwidth consumption, user access, dropped frames and other critical system and device data.
---
Radian Flex Software-Based Video Wall Processing Platform
Radian Flex is a fully software-based video wall processing platform that delivers future-proof flexibility and scalability for digital signage, corporate, education and mission-critical visualization applications. The intuitive software from Black Box makes it easy to display high-quality content from multiple sources across multiscreen display walls in any imaginable configuration. Users simply add, move, resize and change content on the Radian Flex interface, and those changes are reflected in real time on the target video wall, distributed visualization system or other display devices. Radian Flex supports an unlimited number of inputs, screens and endpoints. Users can easily connect monitors to display hundreds of H.264 and VNC video streams across multiple video walls. Integrated SmartFrame technology ensures perfect picture quality and automates optimal placement of content on screen with minimal setup. The platform's robust video engine supports 4K 60fps video up to an industry-leading resolution of more than one billion pixels, paving the way for future 8K resolutions and beyond.
---
Black Box Control Bridge® Multisystem and Room Control
Control Bridge® is a complete multisystem and room control system for control rooms and building automation. Using a single touch panel to control KVM, AV and other in-room devices, users can program room temperature, control video wall solutions, turn lights on and off remotely or launch a pre-set room configuration with the touch of a button to prepare a room for a presentation.
---
Black Box Secure KVM Switches
Unlike traditional non-secure KVM switches that centralize control of multiple computers with no absolute isolation between them, Black Box Secure KVM Switches are designed for use in applications where sensitive data must be protected. The Secure KVM Switches comply with NIAP V4.0, V3.0, or TEMPEST protection profiles and the highest security features that meet today's Information Assurance safe control standards. The switch prevents data leakage between on- and offshore systems that can run at different security levels, and eliminates any potential cyber threat.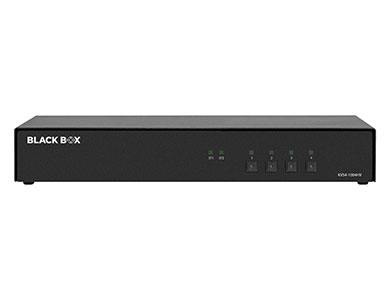 Guard your sensitive data with our Secure KVM Switches.
"
---
Black Box Freedom™ II 4-Port and 8-Port KM (keyboard and mouse) Switches
With the Black Box Freedom™ II 4-Port and 8-Port KM (keyboard and mouse) Switches, Glide and Switch Computer Control allows you to control up to four (or up to eight) different computers and their directly attached screens from one keyboard and mouse. To switch between computers, you simply move the mouse cursor from monitor to monitor. This saves desktop space and improves operator response time. Use Freedom as a stand-alone KM switch or add it to your KVM matrix switching system to optimize situational awareness in control rooms, command centers, or 911/112 call centers.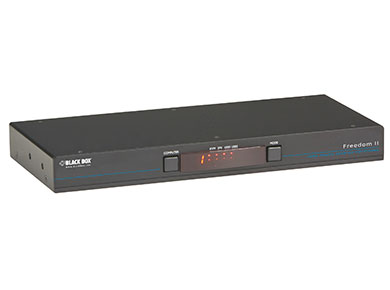 The Freedom switch allows the user to move the cursor from monitor to monitor to seamlessly switch between computers.
---
Black Box Quote
"Our KVM and professional AV solutions support operations across air traffic control and airport command centres, all with a focus on increasing operational efficiency, providing centralised management and reducing demand on human resources. We look forward to showcasing secure and reliable high-performance solutions for ATC and ATM applications at this year's show."
— John Hickey, Senior Director of KVM Products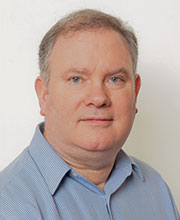 John Hickey,
Senior Director of KVM Products
---
Company Overview
Black Box® is a trusted IT solutions provider delivering cutting-edge technology solutions and world-class consulting services to businesses on every continent. The breadth of our global reach and depth of expertise accelerate customer success by bringing people, ideas, and technology together to solve real-world business problems. Our IT infrastructure solutions, services, and products enable secure, flawless connectivity and meaningful collaboration across town or around the globe.
Black Box is a wholly owned subsidiary of AGC Networks. To learn more, visit the Black Box website at www.blackbox.com. Follow the company on LinkedIn @BlackBox. Black Box® and the Double Diamond logo are registered trademarks of BB Technologies Inc.
All other trademarks referenced herein are the property of their respective owners.
Link to Word Doc: www.wallstcom.com/BlackBox/200219BlackBox-WATM.docx
Agency Contact
Ian Cookson
Wall Street Communications
+44 (0) 779 51 97 223
ian@wallstcom.com