Black Box at OTD Energy 2021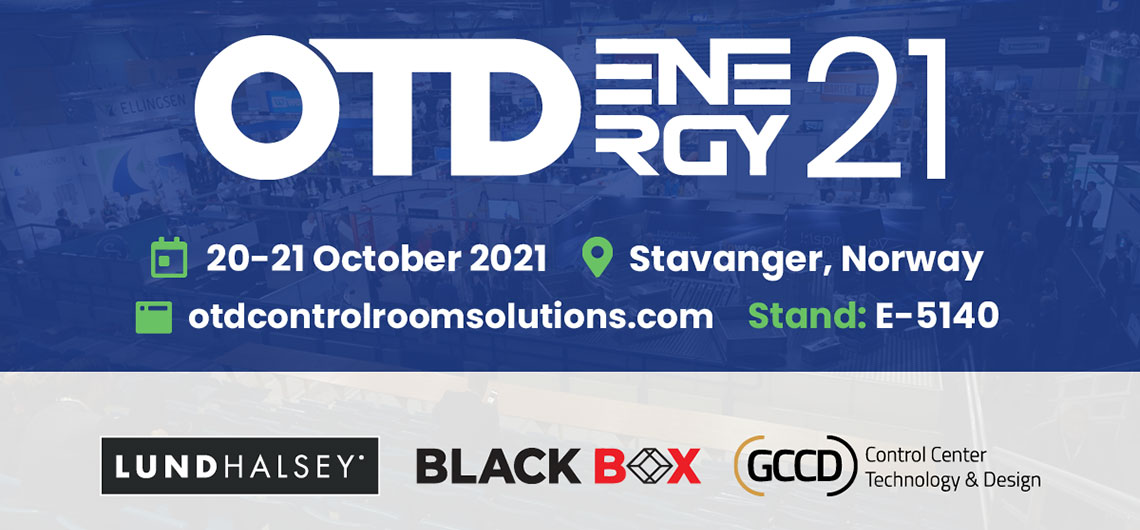 Exhibiting along with Lund Halsey and GCCD at OTD Energy 2021, Black Box will showcase solutions that enable control room operators working in oil and gas, wind farms, and other renewable energy plants to control multiple complex systems and to visualize an immense amount of information collected from multiple remote locations.
Exhibiting on Booth E-5140, Black Box will demonstrate the integration of key control room systems into a high-performance KVM matrix switching system that ensures reliable, secure, real-time control of any connection from the operator workstation. The company's experts will show how operators can monitor and visualize situations and processes constantly on their local screens or a video wall, with improved ergonomics that enhance productivity, situational awareness, and agility in responding to critical situations. The booth will also highlight the turnkey control room solutions — KVM and visualization, consoles and furniture, and AV and room design — provided jointly by Black Box, Lund Halsey, and GCCD.
---
Black Box Products at OTD Energy 2021
DKM High-Performance KVM Matrix Switching and Extension
The DKM KVM from Black Box enables flexible, instantaneous, and reliable matrix switching and extension of high-resolution 4K/HD digital and VGA video, audio, and peripheral signals. The system consists of chassis-based, modular KVM matrix switches in multiple sizes, compact matrix switches pre-configured for CATx or fiber connectivity, and DKM extenders to connect systems and users per customer requirements. The proprietary signal transmission architecture of DKM matrix switches make them particularly well suited for mission-critical control room installations as their multi-level redundancy offers the highest reliability for 24/7 operation.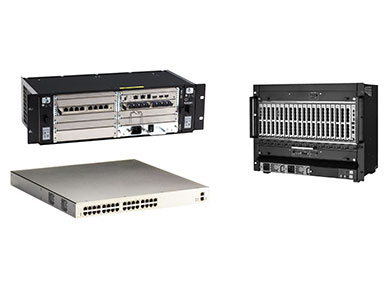 ---
Black Box Emerald Unified KVM Platform
Black Box will highlight its Emerald® Unified KVM platform, which provides broadcasters and others with the exceptional flexibility and network security essential to state-of-the-art KVM extension and switching. The low-latency, high-performance Emerald HD and 4K transmitter-receiver pairs connect workstations with remote computers and servers over distances up to 10 kilometres over single-mode fibre, or even farther over IP, while the Emerald Remote App facilitates convenient anywhere-anytime access without the need for additional hardware receivers. With uniquely robust capabilities for reliable extension and switching of video, audio, USB and serial signals across any number of physical and virtual servers, Emerald lowers users' cost of ownership, enables greater workflow optimization and helps preserve existing IT investments.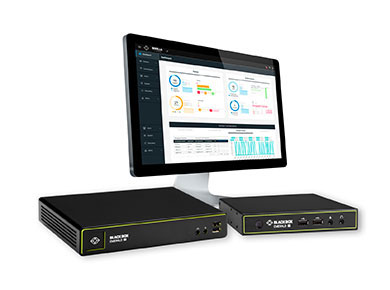 The Black Box Emerald® Unified KVM platform provides exceptional flexibility and network security essential to state-of-the-art KVM extension and switching.
---
Emerald PE High-Performance, IP-Based KVM Extenders
The Emerald® PE line of high-performance, IP-based KVM extenders is tailored to the demands of applications including HD video and audio editing, live production and broadcast playout, as well as 3D and graphic design. Emerald PE transmitters and receivers enable extension and matrix switching of pixel-perfect HD DVI video (up to 1920 x 1200 at 60Hz) and transparent USB 2.0 and bidirectional analogue audio — over a dedicated or existing IP network, or even the internet — between any number of users and computers, servers, or virtual machines. The IP-based KVM solution features built-in system redundancy with dual network ports and can be deployed as a point-to-point KVM extender, connecting the user to a remote computer or, when scaled up, serving as a managed KVM matrix switching system.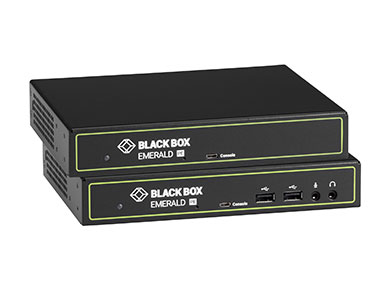 Black Box Emerald PE High-Performance, IP-Based KVM Extenders
---
Secure Desktop KVM Switches
Designed for use in secure defense and intelligence applications where sensitive data must be protected, the Secure Desktop KVM switch family from Black Box gives operators convenient control over multiple systems of different security classifications (secret, confidential public) from a single workstation while ensuring no data is leaked between the systems, collected from manipulated USB/CAC devices, or detected from monitor EDID signals. Compliant and certified against the highest information assurance standards, these KVM switches are also ideal for control of strictly separated on- and offshore systems. The Secure Desktop KVM range includes 4K/HD single/dual monitor desktop switches with various video interfaces, multiviewers, KM, and matrix switches.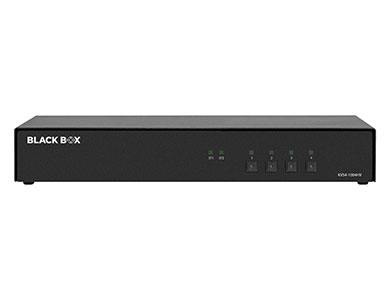 Guard your sensitive data with our Secure KVM Switches.
---
4K Quad Multiviewer
The Quad Multiviewer makes it easy to simultaneously view four video sources on one display in real time with no frame dropping. The multiviewer from Black Box handles any input resolution up to 4K@60Hz or full HD 1080p and intelligently converts the signal for optimal display. A combined display of four sources on one screen not only saves space at the operator console, but also facilitates more efficient viewing of all data feeds and faster reaction times in critical situations.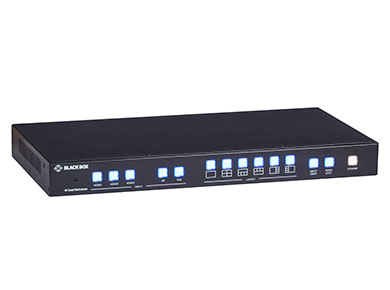 ---
MCX AV Over IP Distribution
The Black Box MCX multimedia distribution and management system takes advantage of SDVoE and modern 10 GbE infrastructure to allow AV and data payloads to exist on the same IT networks. Through advanced chipset technology, common control APIs and interoperability, SDVoE technology ensures zero latency and uncompromised video while offering significant cost savings along with enhanced system flexibility and scalability.
While enabling truly converged network AV, Black Box MCX ensures almost zero latency, instantaneous switching, bandwidth efficiency, and high-quality video and audio distribution across multiple screens or to a video wall. MCX simplifies and accelerates the process of consolidating AV and data on a single network, enabling organizations in virtually any industry to reduce network management time and costs, as well as total cost of ownership. Rather than deploy an entirely new network, users can take advantage of the software-defined solution to leverage existing infrastructure for delivery of better-quality audio and video, which can translate to greater customer satisfaction and faster time to revenue.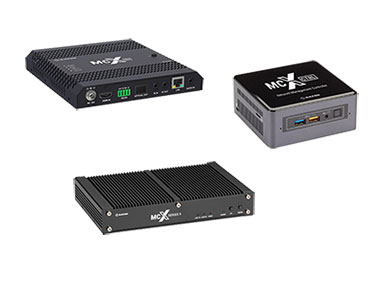 Black Box's new MCX multimedia distribution and management system enables true convergence of AV and data on a single IT network.
---
Black Box Quote
"In today's control room environments, operators need convenient access to data and straightforward solutions for visualization, as well as the high degree of security essential to protecting sensitive information. We look forward to showcasing our high-performance KVM solutions for attendees at OTD Energy 2021."
— John Hickey, Senior Director of R&D and KVM Systems at Black Box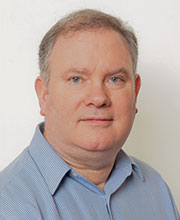 John Hickey,
Senior Director of R&D
and KVM Systems at Black Box
---
Company Overview
Black Box® is a trusted IT solutions provider delivering cutting-edge technology solutions and world-class consulting services to businesses on every continent. The breadth of our global reach and depth of expertise accelerate customer success by bringing people, ideas, and technology together to solve real-world business problems. Our IT infrastructure solutions, services, and products enable secure, flawless connectivity and meaningful collaboration across town or around the globe.
Black Box is a wholly owned subsidiary of AGC Networks. To learn more, visit the Black Box website at www.blackbox.com. Follow the company on Twitter @BlackBox_ns. Black Box® and the Double Diamond logo are registered trademarks of BB Technologies Inc.
All other trademarks referenced herein are the property of their respective owners.
Agency Contact:
Ian Cookson
Wall Street Communications
1(801) 266-0077
Ian@wallstcom.com