WHAT IS REMOTE COMPUTER MANAGEMENT?
Remote computer management is the remote management of multiple computers through remote PC access technology. This article mainly focuses on the capabilities of KVM (keyboard, video, mouse) technology as the fastest, most reliable and least bandwidth-consuming way to perform this task as opposed to various software or web-based solutions. It also touches on the concept of remote network administration where a network administrator conducts ongoing tasks to maintain the health of a network. Such tasks can become necessary when adding new host machines to a network, administering network security, performing network service maintenance or troubleshooting network problems.
Managing Multiple Computers Remotely through IP-Based KVM Access
Remote computer access can be achieved in a practical and safe way through KVM access. KVM is an OS-agnostic hardware technology that allows the extension of keyboard, video and mouse data signals across long distances via CATx, fiber or IP networks. KVM switching technology establishes a safe connection between one or many users and multiple computers, allowing for local or remote PC/server monitoring using a single set of keyboard, mouse and video monitor. State-of-the-art KVM technology includes systems that connect PCs and users based on IP protocol. This allows the connection of physical endpoints across a local area network (LAN) or even the internet. Even though there are software solutions to establish remote access across the internet, IP-based KVM solutions provide the benefit of faster connections, higher security, better image quality and multi-user access at different share modes.
Remote IP Computer Access Use Cases
Remote IP computer control is an efficient way to provide access to and control of a PC/server (or multiple computers through a KVM switch) regardless of the physical distance. Application examples include accessing and rebooting downed devices without having to be physically within reach and accessing a remote computer's BIOS, which allows field technicians to accurately diagnose system faults without wasting time traveling to work sites. Read more on this topic by viewing our article "Local and Remote Device Management".
Here are some of the most important applications for remote IP computer control:
Remote File Access/Management
Accessing one or multiple computers remotely enables any authorized user to effortlessly share and distribute files from a local storage device such as an external USB hard disk or flash drive. This is particularly useful for industries like broadcasting and media production. This technology offers the capability of securely sourcing locally available media files and subsequently using the processing capabilities of a remote media workstation to edit the raw footage. Cost savings are realized through reduced downtime and less travel.
Remote BIOS Control
With IP-based remote BIOS-level access to servers, operators and network administrators can easily monitor and access their computers from remote locations using a standard internet browser or Windows/Java-based application programs. Specific KVM-over-IP solutions like Black Box Emerald™ take this to the next level by providing access from a KVM transmitter unit mounted at the administrator's desktop. BIOS access can be achieved by simply switching to a connected server, just as if it was connected to a local computer. This streamlines BIOS-level troubleshooting, eliminating the need for constant on-site IT maintenance.
Wake-on-LAN
Wake-on-LAN (WoL) is an Ethernet computer networking standard that allows a shut-down computer to be turned on remotely. If you're unable to remotely turn on your computer using any of the tools listed above, you need to make sure that your computer is Wake-on-LAN ready by checking your BIOS settings and network adapter properties.
Reboot Remote Computers
A critical part of remote management is the ability to reboot devices necessary for maintenance, support or failure recovery. A data center manager will also need to be able to access the BIOS and CMOS settings of a server. These tasks can be rigorous without local support staff or easy, 24/7 access to the building.
Remote Power Cycling
Accessing computers remotely enables out-of-band management for remote power cycling and BIOS-level access of servers in remote locations or within the data centre. Power cycling describes the process of turning a PC off and on again to reinitialise configurations. Remote power cycling facilitates configuring multiple systems and streamlines administrative workflows.
Remote Port Mirroring
With port mirroring, network administrators can get an insight into what kind of traffic is flowing on a network and implement traffic analysis systems such as IDS/IPS. It is also helpful in troubleshooting network-related issues in the virtual infrastructure. Through port mirroring, if one server connected to one port fails, the operation can be seamlessly transferred to a backup server (if any) in another port with all its access rights etc. intact.
Network Bandwidth Monitoring
Network bandwidth monitoring helps network administrators identify bandwidth usage by interface, application, and conversation; highlight the top talkers in your network.
Follow historic bandwidth trends for capacity planning; get instant threshold-based alerts in case of an emergency; find the root cause behind bandwidth issues and resolve them on time.
Remote IT Support/Remote Network Maintenance
Remote IT can be defined as the activity of connecting to a specific computer or network from a remote location in order to troubleshoot technical computer issues. With remote IT access, it's possible to have a technician update server software, run diagnostic and maintenance programs, train end-users on new software and protocols and more.
Remote Computer Management Industry Applications
Data Centres & Enterprise IT Administration
IT administrators spend a good share of their time updating OSs to the latest system release, installing programs and configuring system settings on computers. Remote computer management allows admins to easily access multiple endpoints one by one or even simultaneously to save time and eliminate the need for travel.
IT Staging Labs & Software Testing
Companies that are developing, OEMing or maintaining computer equipment need to be able to quickly access and control multiple devices at the same time and make sure required software, BIOS or firmware updates happen in a timely and effective manner. KVM technology can help to centrally connect and manage multiple devices; moreover, with KVM-over-IP technology, these software updates can be coordinated globally. The same is true for software development: If developers need to test the new code on different systems, instead of having to switch between local devices, they can easily access a variety of different computers running multiple OSs.
Broadcasting & Post Production
In a broadcasting environment, remote computer control allows the sourcing of library broadcast feeds, so media files can be accessed, converted, scaled and processed by multiple users. In live production scenarios, editors can even access remote high-end workstations to edit content while they are at an event, without the need to bring costly PC hardware in an OB truck.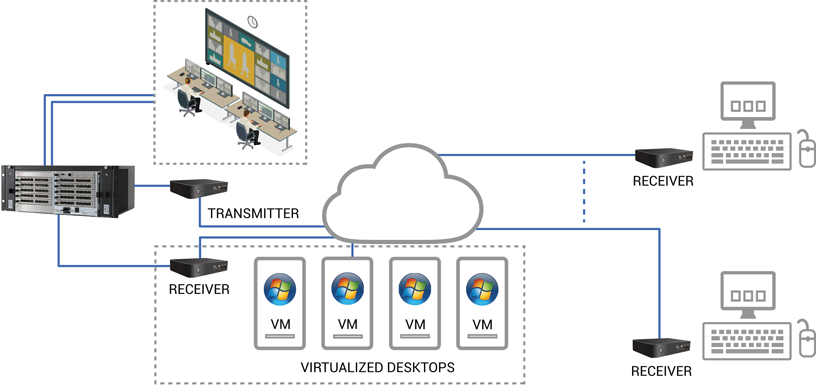 Healthcare
Remote computer management in medical applications is crucial in two major scenarios. The first scenario is remote medical imaging which allows a visual assessment of the patient's health symptoms. Radiation-protected examination rooms with screens and peripherals are connected to the remote medical devices for safety and privacy reasons. The second scenario is remote patient monitoring where medical staff access both live monitoring data and critical patient data from multiple PCs. Remote computer management lets medical staff securely process this data from any remote location.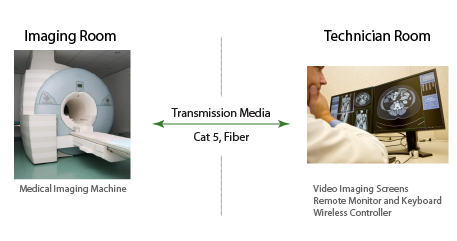 Our Line of KVM Switches Will Meet Your Remote Computer Control Needs
We hope this article helped you get a better understanding of how remote computer management enables easy control of computers, servers and virtual machines via LAN or WAN. KVM over IP combines the advantages of remote access software with the benefits of KVM switching technology. If you are interested to learn more about KVM technology, please visit our KVM Switches and Extenders page.