The Benefits of Choosing Managed Ethernet Switches
What are Industrial Switches?
Industrial Networking Switches are computer networking devices aimed at establishing inter-connectivity between industrial devices such as PLCs, HVAC equipment, security cameras, and control room computers or servers. These types of switches are built for mission‑critical applications and are designed to withstand extreme temperatures and harsh conditions in a multitude of environments from factory floors to traffic controls. Typically they feature compact panel mount or DIN rail mount packages with convection cooling rather than fans, and low voltage DC rather than AC power.
Managed Industrial Switches
Managed Switches are oriented towards redundancy, offering real-time targeted communications through built-in protocols that enhance determinism and provide stable and consistent flow of data. These switches provide QoS (Quality of Service) which can prioritize bandwidth for data subsets, allowing more bandwidth to be allocated through the network to ensure IP data comes in smoothly, obtaining the sensor data without an interruption using minimal bandwidth. Managed switches also provide additional protocols like RSTP (Rapid Spanning Tree Protocol) allowing alternate cabling paths to prevent loop situations, which are usually responsible for network malfunction.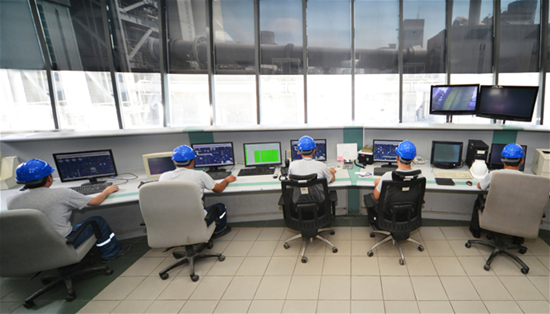 Benefits of Managed Switches

These switches excel for a vast array of features such as PoE capabilities, extended temperature ranges, DC power, and additional flexible SFP-slots with DIN rail mounting options. In short, they add value in:
Network redundancy (network back-up plan):These switches offer the ability to run redundant power supplies, so that when a surge takes out one of the power supplies, the switch keeps on running as if nothing happened on the second power supply, suppressing any down time. By offering resilient ring protocols, it allows for alternate data paths if a link or node goes down.
Remote management: Mission critical networks demand remote configuration, monitoring/traps, reboot, and re-imaging of OS. If there is a network issue, operators prefer to remotely diagnose and fix the problem, maximizing uptime. The SNMP protocol allows you to visualize and maintain an entire network remotely, providing real-time data at every node. With SNMP, it's possible to collect, organize, and modify information from each switch to change the device's behavior without having to go through a web console or to conduct mass firmware upgrades.
Security and Resilience: Limiting network access to trusted devices prevents users from setting up unauthorized sub-networks. Managed switches enable complete control of data, bandwidth and traffic control over the Ethernet network, allowing you to set IP/port restrictions on actual physical ports. This means you can setup additional firewall rules directly in the switch. In all, managed switches support protocols which allow operators to restrict and control port access, like the 802.1x port based network access control. In addition, managed switches support protocols to limit management plane access via user authentication such as RADIUS, LDAP and others.
RSTP (Rapid Spanning Tree Protocol): Managed switches incorporate RSTP which provides path redundancy in the network and prevents loops, allowing one active path at a time between two network devices so that there is less downtime.
SFP (Small Form-Factor Pluggable): The benefit of having multi-rate SFP slots is that the possibility of flexible network expansion allows users to use 100Mbps and 1Gbps SFP Modules for either multi or single-mode fibre optic or copper cable and mix and match as needed. If requirements change, the SFP module can be replaced and easily protect your investment.
Support multiple VLAN as per requirement: Managed switches allow for the creation of multiple VLANs where 8-port switch functionally can become two 4-port switches (where ports 1-4 are VLAN 1 and ports 4-8 are VLAN 2). It's possible to allow VLANs to talk to the router/NAT, while preventing them from talking to each other. You could lock down the wireless VLAN to only allow port 80/443 or similar so they can browse the web but nothing else.
Prioritize bandwidth for data subsets: The switches are able to prioritize one type of traffic over another allowing more bandwidth to be allocated through the network (voice and video streaming, for example).
Resilient ring protocols: Allows alternate data paths in the event a link or node goes down.
In applications such as an IP security camera backhaul, it is not practical nor economical to deploy hub and spoke topology since each node has a direct connection to the core aggregation node. With a ring network topology it's possible to allow a loop to be constructed and avoid additional fiber trenching costs.

When and Where to use Industrial Managed Switches?

Managed switches are suitable for networks that have applications with fast response time requirements at companies that need to allowing engineers to reach optimal reliable network performance and maintenance by managing and troubleshooting networks remotely and securely.
These switches are robust and appropriate for Industrial Network settings, made to stand up to harsh applications like extreme temperatures (-40 up to +75°), vibrations and shocks while contributing to a cost-effective, reliable, and secure network. Managed switches should be used on any network backbone switch so that segments of network traffic can be monitored and controlled such as:
Security/surveillance
Defense/government applications
HVAC
Water/waste water
Utilities
Oil/gas

Black Box Industrial Network Switches

Black Box Industrial Network Switches are designed for the far edges of an industrial network, delivering an easy and cost-effective way of integrating legacy networks and eliminating the need for additional configurations and modifications which reduces deployment time. These switches allow redundancy in mission-critical systems by rerouting the traffic over a backup link within milliseconds overcoming situations like an interruption of traffic control system communication in some infrastructures.
Additionally, they are characterized by a DIN rail feature which is an effective mounting option that offers a metal rail of a standard type widely used for mounting circuit breakers and industrial control equipment within equipment racks.
Our customers are very satisfied with the Industrial Gigabit Ethernet Switches. Uses include strengthening substations' network connections, effectively increasing electric energy distribution, and monitoring and controlling security camera functions in the field.
These switches are extremely easy to install, however if you should need help, our specialized technical support staff can advise you with individually optimized applications, completely free of charge. Learn more about our Tech Support Center by visiting our Black Box Tech Support Center page.
To find out more about our industrial switch solutions, please visit our online store.
Industrial Networking
Managed Switches
Network Switches
TPS