Black Box Solutions at Hamburg Open
Black Box Hamburg Open Preview
Congress Center Hamburg
June 1-2, 2022
Stand B6.228
At Hamburg Open, visitors to Black Box® Stand B6.228 will learn about new technologies from the company for optimized workflows, integrated control rooms and remote production. Black Box KVM-over-IP solutions are tailored to the unique requirements of modern control rooms, media production, postproduction facilities and broadcast playout environments. Black Box will highlight its Emerald® KVM-over-IP product line and demonstrate how these high-performance KVM-over-IP solutions for centralized control rooms and remote production support optimized workflows and secure remote access.
Black Box provides world-class consulting and tech support services around the world. Attendees can speak with the KVM experts at Hamburg Open or schedule individual local appointments here: https://www.black-box.eu/HamburgOpen2022.
The Black Box Emerald® KVM-over-IP platform provides broadcasters and other media organizations with the exceptional flexibility and network security essential to state-of-the-art KVM extension and switching. The low-latency, high-performance Emerald 4K and HD units connect workstations with remote computers and servers over IP, while the Emerald Remote App facilitates convenient anywhere, anytime access without the need for additional hardware receivers.
With uniquely robust capabilities for reliable extension and switching of video, audio, USB and serial signals across any number of physical and virtual servers, Emerald lowers users' cost of ownership, enables greater workflow optimization and helps preserve existing IT investments.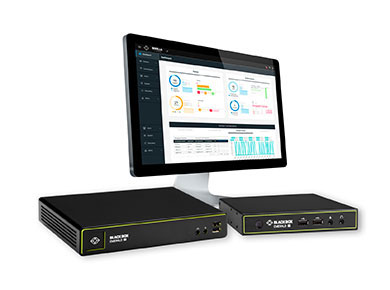 Black Box Emerald® High-Performance KVM-Over-IP Platform
INTRODUCING Black Box Emerald® PCoIP® Ultra Gateway
Black Box will highlight the latest addition to its new Emerald® GE gateway. Emerald GE leverages PC-over-IP (PCoIP®) and PCoIP Ultra technology to support multiple users sharing the same virtual machine while ensuring a secure, high-definition and highly responsive computing experience. Black Box Emerald GE unlocks collaboration across physical and virtual machines — a feature that numerous broadcasters requested to improve collaborative work in remote production.

Black Box Emerald® GE PCoIP® Gateway
Black Box will demonstrate how its Boxilla® enterprise-level KVM manager is changing the way businesses deploy, configure, monitor and manage equipment on their networks. Integrated with solutions such as the Black Box Emerald® KVM-over-IP platform or DKM Direct-Connect platform, Boxilla provides attractive, easy-to-understand dashboards for monitoring system performance; configuring proactive security alerts; and checking on real-time device status and identifying active devices, connections and users, as well as their current bandwidth usage. Boxilla also provides at-a-glance access to dropped frames, round-trip time and other critical system and device data to offer a precise view of network bandwidth.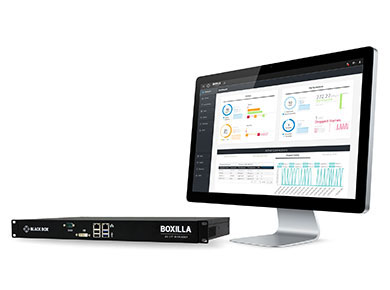 Black Box Boxilla® KVM Manager
ControlBridge® is a complete multisystem control panel for control rooms and any user desk. A single touch panel enables control of KVM, AV and other devices, enabling convenient switching between sources, changes to video settings, access to video wall controllers and configuration of room conditions. Individual presets allow users to activate complex configurations with the touch of a button to prepare for a new production.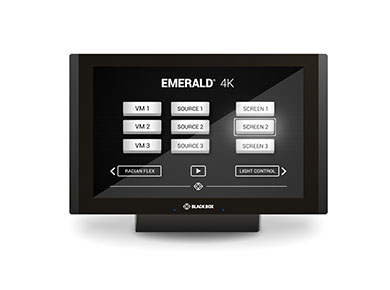 Black Box ControlBridge® Touch Panel
Black Box Freedom™ II KM Switches
The Black Box Freedom™ II is a keyboard and mouse switch that provides Glide-and-Switch computer control of four or eight different computers and their directly attached screens from one keyboard and mouse. Switching between the systems is as fast and easy as moving the mouse cursor from monitor to monitor. This saves desktop space and improves user response time. Freedom II can act as a stand-alone KM switch, or users can add Glide-and-Switch functionality to other Emerald® KVM-over-IP solutions to optimize situational awareness in control rooms.

Black Box Freedom™ Glide-and-Switch KVM Switch
Company Overview
Black Box® is a trusted IT solutions provider delivering cutting-edge technology solutions and world-class consulting services to businesses across the globe. The breadth of our global reach, continuous innovation, and depth of our expertise accelerates customer success by bringing people, ideas and technology together to solve real-world business problems. Our IT infrastructure solutions, services and products enable secure, flawless connectivity and meaningful collaboration for businesses in every major market across six continents.
To learn more, visit the Black Box website at www.blackbox.com. Follow the company on Twitter @BlackBox_ns. Black Box® and the Double Diamond logo are registered trademarks of BB Technologies Inc. http://www.blackbox.com/
All other trademarks referenced herein are the property of their respective owners.
Link to Word Doc: www.wallstcom.com/BlackBox/220518-Black_Box_Hamburg_Open.docx
Black Box Contact:
Martina Stamm
Black Box
Phone: +49 89 120 85 411
Email: Martina.Stamm@blackbox.com
Agency Contact:
Carolyn Archambault
Wall Street Communications
Phone: +1 801 266 0077
Email: carolyn@wallstcom.com