Black Box at ISE 2023: Market-Leading KVM/AV/IoT Solutions
Meet Black Box at ISE 2023, Booth #5D600
31 January 2023 - 3 February 2023
Fira Barcelona Gran Via, Barcelona
Black Box KVM/AV/IoT solutions change system integrators' and customers' status quo and provide flexible, scalable, secure, and future-proof solutions for AV distributions that are easy to-use, install, and integrate.
Our solutions distribute content to unlimited screens or a video wall, empowering users to react instantly to a large volume of incoming and outgoing information. These solutions monitor system health using sensor data in control rooms, simulation training centers, events, and themed entertainment. From modern digital signage players for retail to collaboration tools and room scheduling for conference areas, our solutions rethink user control and reaction time.
The latest developments in KVM/AV/IoT solutions meet the growing demand for intuitive, simple, and flexible systems. Our innovative solutions are distinguished by the benefits you receive, including low bandwidth use, premium security, and unbeatable reliability, putting content in the forefront without compromise.
At ISE 2023, Booth #5D600, Black box will demonstrate four integrated solutions that can transform your business.
Get your free ISE ticket using code CWMBLLKZ
Visualize an ever-increasing amount of information on multiple screens or a video wall. Create attractive screen contents that differ from what others do, share emotions, and inspire people. MCX is ideal for wide range of applications from events, esports, themed entertainment, simulation applications, and command rooms. Real-time visualization with no latency makes MCX easy and cost-efficient to deploy on existing networks along with Ethernet data and voice. At ISE, we will introduce our new versatile MCX transcoder that can be configured as a transmitter connecting a source or received connecting a screen, and adds 4K DisplayPort capabilities to the MCX Gen2 system.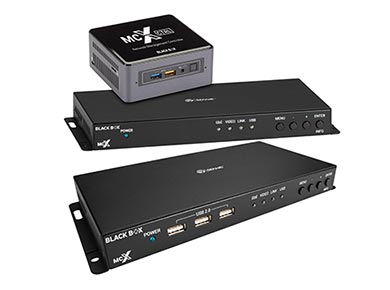 ---
Emerald® KVM-over-IP solution serves as an infinitely scalable access system to physical and virtual machines — anywhere and anytime — and allows for optimized control room infrastructure and workflows. Advanced security and market-leading low bandwidth consumption allow for maximum expandability, and the ability to incorporate remote users at distributed locations.
Black Box will also demonstrate its new KVM-over-IP receiver. Offering a completely new concept in KVM over IP, the new receiver eliminates the traditional one-to-one relationship with a transmitter or virtual system and allows users to create a personalized workspace where they can simultaneously view and interact with up to 16 different systems. Users can now tailor their workspace as best suits their needs by connecting a single keyboard, mouse, USB 3/2 devices, audio, and up to four 4K/5K monitors. The new receiver connects to physical systems via Emerald transmitters, VMs using RDP, PCoIP, PCoIP ultra, H.264/265 sources, and Virtual Network Computing (VNC). All systems can be positioned across the screens as freely movable windows.
Interacting with each system is as simple as moving the mouse onto the window. This model enables the user to maintain complete situational awareness and full control within easy reach.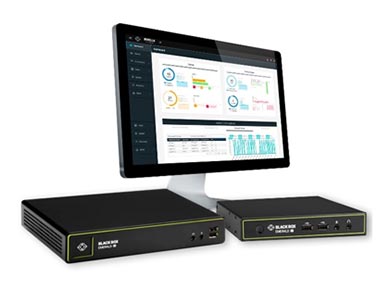 ---
ControlBridge® is a complete multisystem control panel for control rooms and any user desk. A single touch panel enables control of KVM, AV, and other devices to let users conveniently switch between sources, change video settings, access video wall controllers, and set room conditions. Individual presets activate complex configuration with the touch of a button to prepare for a new production.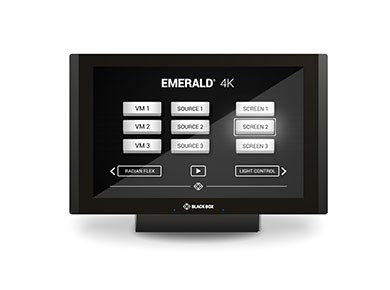 ---
At ISE 2023, Black Box will demonstrate for the first time its AlertWerks AW3000, a next-generation IoT solution purpose-built for equipment monitoring. Equipped with industry-standard LoRaWAN wireless communications that enable integration with wireless sensors, virtual sensors, dashboards, and analytics, along with KVM (keyboard, video, mouse) and AV devices, this turnkey IoT solution actively monitors conditions, records on-site events, and automates key actions remotely to increase efficiency, prevent system failures and downtime, maintain safety and security, and optimize the physical environment.
Ideal for intelligent control rooms, manufacturing, distributed networks, and smart buildings, the AlertWerks AW3000 enables users to link to physical sensors, configure virtual sensors, watch values on a browser-based dashboard, set notifications and alarms, and configure automatic actions. With links to environmental and security sensors, the AW3000 facilitates active remote monitoring of conditions to enforce security, maximize efficiency, and streamline operations.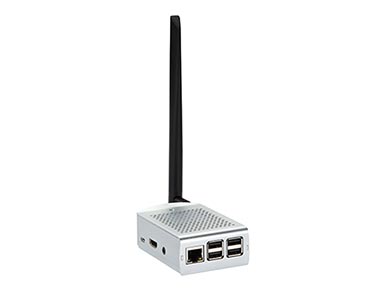 ---
Black Box Quote:
"Black Box is excited to be showcasing our AV/KVM and IoT Solutions again at ISE 2023 in Barcelona! We invite you to visit us at Stand #5D600 where we will demonstrate how we can enable your modern control rooms with the latest signal switching and visualization solutions to drive operator efficiency while also providing insight into critical real-time data with our integrated IoT technology."
-Doug Kuzma, VP Product Management & Solutions