Why Extend KVM?
KVM extenders are used in a huge range of applications in almost all sectors. From power stations to churches and from server farms to supermarkets, KVM extenders are deployed to overcome distance limitations of analog and digital interface cables. KVM extenders typically consist of a transmitter unit connected to the source (e.g. a PC or server), a receiver unit connected to the user workstation (monitor, keyboard, mouse, speakers and other peripheral devices) and a network cable that connects both (CATx or Fiber). Here are some common application examples for the technology.
KVM Extender Applications
Computer Free Work Areas
Computers generate heat and noise and take up office space. Computers also have physical interfaces that may need to be hidden from uses for security and maintenance reasons (such as the power switch or USB interfaces). Control rooms, call centers, media editing work spaces, shops and schools are examples of environments that may choose to locate some or all computers in a secure and environmentally controlled server room and give users remote access to these computers using KVM extenders.

High-Performance Virtual Machine Access
Virtual machine (VM) based server infrastructure is a well-established technology that helps saving costs for computer hardware and maintenance as multiple machines can be hosted on a single physical server. However, accessing these VMs through a Local Area Network still causes bandwidth issues and often lacks performance and the "real desktop experience". Modern KVM extenders solve this problem by providing fast access with native HD or even higher resolutions and transparent USB support. Like this, users, can work on a virtual desktop in real-time as if it was a physical PC without affecting an organization's regular data network.
Server Room and Server Farm Management
Server rooms are designed for computers, not for people. They are chilly, dry, noisy places, often located out of the way and they also have strict security and fire control procedures. Whether an administrator needs access to a handful of servers, or to hundreds, a KVM extender can be interfaced to a KVM switch granting access to all servers from a comfortable and convenient location.
Industrial Control and Monitoring
A computer collecting industrial data or controlling industrial processes may be located in an area uncomfortable or hazardous to people. KVM extenders can be used to give control of these devices from a safe and comfortable distance. Fiber cabling may be used to provide protection against electronic emissions caused by production equipment.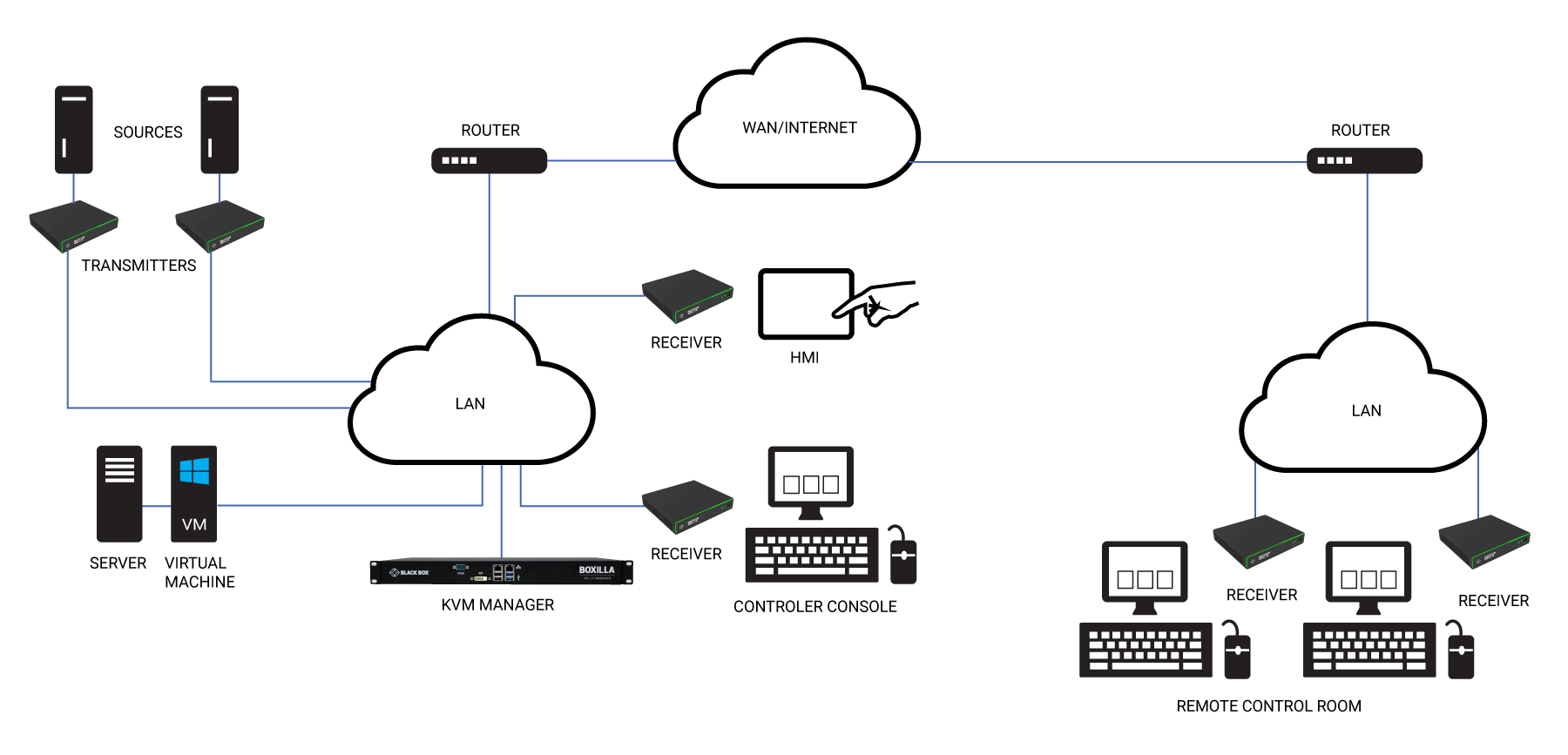 Presentations and Live Events
KVM extenders are also used for transmitting video, audio and control signals in event or presentation applications, where a podium is located at a distance from the source computer but the speaker needs to be able to take control of the content displayed on a large monitor, canvas or video wall. Sometimes only the control signals for a keyboard, mouse or other pointing device need be extended, particularly where the picture will be displayed from a projector. In this case, a USB extender may be a cost-effective choice.
Interactive Displays
Often the computers driving the interactive displays (e.g. touch screens) found in some waiting rooms, reception areas, town halls and shopping centers cannot be placed near to the display for security and maintenance reasons. A KVM extender allows the computer to be placed in secure location at a convenient distance from the display.
If you are wondering which type of KVM Switch fits your application visit our KVM switches and extenders page. Find recommendations, suggestions and all the important features you should look for when purchasing a KVM extender.
Download our Complete Guide to KVM Extenders & Switches and get to know more about:
How KVM extenders work, and why they are making lives easier for both PC users and administrators
The most common mistakes made when purchasing KVM extenders
The major KVM extender applications
Essential tips for selecting a USB or KVM extender
KVM switching vs KVM extension
AV Extension vs KVM Extension