UCaaS offers organizations an all-in-one, cloud-based communications platform that includes meetings, video, chat, phone, file sharing, and other collaboration features.
But why managed? IT teams are lean and budgets are tight. That's why we offer a full suite of managed services and workplace solutions delivered in a budget-friendly OPEX model. We create uniform experiences across multiple locations with consistency, speed, and agility through a robust design, deployment, and manage methodology — giving you one partner to guide you from where you are to where you want to be.
Create a digital workplace that employees will embrace and that also ensures successful business continuity.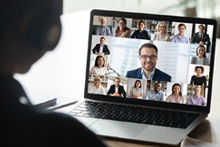 Top Considerations for Business Continuity
See what you need to consider to maintain business continuity through Managed UCaaS.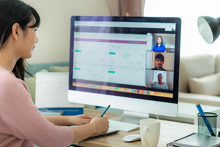 The Digital Workplace
Today's workforce is changing. There is an evolution (and revolution) happening in the workplace that is affecting how and where we communicate.
What's the Difference?
Learn about the three UC&C options: on-premises, cloud-hosted, and hybrid and which one is best for your organization.
Managed Migration and Services
With more than 40 years experience in deploying in-building IT and communications technologies, a footprint that spans 120 countries, time-tested methodologies, certified technicians, and a proven track record, we have all the managed services needed to make your move to UCaaS smooth and successful.


Professional
Services
Consulting/Discovery
Engineering/Architecture
Assessments/Surveys
Project Management

Field
Services
On-Site Services
Multisite Deployments
Staging Services
Logistics
On-Site Staffing

Support
Services
Remote Configuration
Remote Support
Service Desk
Monitoring
Sunset Services
E-Waste

Service Level
Management
Reporting
Advanced Escalation
Service Level Agreements
Customer Success Manager
Redefine your business UCaaS. Choose from seamless solutions that provide all-in-one voice, video, messaging, meetings, file sharing, and more. We'll team up with you to find the right solution for your organization from one of our industry-leading partners.

Click on a partner logo to discover additional resources and information.
Unified Communications & Collaboration
Successful enterprises know their competitive advantage lies in their workforce and today's workforce is the most diverse ever with four generations working side by side, each with a preferred way of communicating from phone calls to video conferencing.
Related Topics
Read more about the technologies in UCaaS

Año nuevo, CX nuevo: Parte 1 - Cinco resoluciones centradas en las personas para 2023
¿Cuáles son sus propósitos en materia de CX para este año? Si aún no se ha planteado qué cambios debe hacer para mejorar sus resultados, es hora de que la relación con el cliente pase a ocupar el primer lugar de la lista.
La mejor manera de mejorar su CX este año es pensar en el lado humano y simplemente mejorar las relaciones con sus clientes. Sencillo, ¿verdad? No tan rápido.
Las buenas relaciones (ya sea con su pareja, su amigo o su cliente) no surgen de la nada. Cuesta trabajo. Pero la recompensa merece la pena: la fidelidad del cliente. He aquí cinco acciones centradas en las personas que puede llevar a cabo para mejorar su CX este año.
1. Cambie de lugar con su cliente
Practique la empatía. Observe realmente cómo interactúan sus clientes con usted, desde su perspectiva. Luego piense en sus propias experiencias de CX/CS.
¿Cómo se sintió cuando tuvo que devolver un producto, presentar una reclamación u obtener asistencia? ¿Ansioso? ¿Irritado? ¿Enfadado? ¿Tuvo que esperar? ¿Presionar varios botones? ¿Responder a las mismas preguntas una y otra vez? ¿O se sorprendió gratamente de lo fácil que fue la experiencia? En cualquier caso, ¿influyó su experiencia en su opinión sobre la empresa? Por supuesto que sí.
Usted espera una gran experiencia. Y sus clientes también. Salesforce descubrió que el 73% de los clientes espera que las empresas comprendan sus necesidades y expectativas, pero sólo el 51% afirma que las empresas generalmente lo hacen.1 No hace falta decir que hay margen de mejora.
2. Construya mejores relaciones
¿Considera a sus clientes sus amigos? Trátelos como tales. Si un amigo ignora una llamada, un mensaje de texto o un correo electrónico, puede sentirse menospreciado y decidir no volver a ponerse en contacto con ese "amigo". Lo mismo ocurre con las relaciones con los clientes. Los clientes insatisfechos pueden no volver y las ramificaciones pueden ser bastante costosas. He aquí algunas estadísticas reveladoras de por qué es tan importante fidelizar a los clientes.
Un estudio de Bain & Company reveló que es cuatro veces más probable que un cliente compre a un competidor si el problema está relacionado con el servicio que con el precio o el producto.2
Se necesitan 12 experiencias positivas de clientes para compensar una experiencia negativa.3
El 70 % de las experiencias de compra se basan en cómo el cliente se siente tratado.4
3. Conozca la diferencia entre atención al cliente y experiencia del cliente
El servicio de atención al cliente es el equipo de atención al cliente de primera línea. La experiencia del cliente abarca marketing, ventas, atención al cliente, operaciones y TI.
El servicio de atención al cliente es un subconjunto de la experiencia del cliente (CX). El servicio de atención al cliente es la forma de ofrecer productos y servicios e interactuar con el cliente antes, durante y después de la compra.
La experiencia del cliente es la percepción general que los clientes tienen de usted en cada interacción con su marca. Comienza con la primera impresión, cuando el cliente descubre su marca, y llega hasta donde se encuentra ahora. Cada punto de contacto (audio, visual, en línea, digital, impreso, humano, minorista, etc.) es parte de la experiencia del cliente.
4. Crear una gran experiencia del cliente
Una gran experiencia del cliente es rentable. Según el informe Salesforce State of the Connected Customer, el 91% de los compradores empresariales y el 86% de los consumidores afirman que la experiencia que ofrece una empresa es tan importante como sus productos y servicios.5
Una encuesta de Oracle mostró que "al 60% de los participantes no les importaba pagar más por una mejor experiencia del cliente".6
Otra encuesta reveló que el 77% de los consumidores (Gen X) afirman que gastarían más dinero en una empresa que ofrezca una buena experiencia al cliente. Esta conclusión se extiende a todas las generaciones. El 81% de los Millennials, el 74% de la Generación Z y el 75% de los Baby Boomers piensan lo mismo.7
Pero queda mucho trabajo por hacer para conseguirlo. El estudio 2022 CX and Communications Insights: Engaging Customers in a Digital World study report descubrió que el 65% de los consumidores creen que las marcas con las que hacen negocios necesitan mejorar su experiencia de cliente, frente al 35% en 2019.8
Una forma de crear una gran CX es comenzar con tu EX. Obtenga más información en este blog: Un buen EX hace una gran CX: 3 Steps to Agent Retention.
5. Sea coherente en todos los puntos de contacto
Una de las mayores quejas de los consumidores es que se les pide información que ya han facilitado o que la empresa debería conocer. Los clientes quieren interacciones fluidas en todos los canales (digital, impreso, teléfono, etc.) y en todos los departamentos (ventas, asistencia, servicio, etc.).
Según un estudio de Salesforce, el 85% de los clientes esperan coherencia en todas las líneas de negocio cuando se relacionan con una empresa. Esperan que sus representantes estén al tanto de cualquier transacción o interacción reciente que haya tenido con su empresa, independientemente del departamento. Si no mantiene esa coherencia en todos los puntos de contacto, corre el riesgo de perder la confianza del 55% de los clientes.9
¿Cuál es la moraleja? Comparta la información de los clientes en todos los canales y departamentos.
Es posible que no pueda cumplir todos sus propósitos de CX este año, pero esta lista es un buen punto de partida. También es un buen manual sobre los pasos que puede dar para mejorar sus relaciones con los clientes y hacer que su CX se centre en las personas. Los clientes satisfechos son clientes fieles y los clientes fieles son excelentes para el balance final.
Para saber más, lea los cinco pasos siguientes en este blog: Año nuevo, CX nueva: Parte 2 - Cinco resoluciones centradas en la empresa.
El equipo de Experiencia del Cliente de Black Box está preparado para ayudarle a alcanzar sus objetivos de CX. Para obtener más información, eche un vistazo a nuestra página web de CX.
Aquí tiene otros recursos de CX que pueden interesarle.
Si desea recibir nuestro boletín trimestral, View from the Edge, puede suscribirse aquí.
https://www.forbes.com/sites/deniselyohn/2020/01/07/five-new-years-resolutions-for-great-cx/?sh=5d01d6b23e46
Ibid
Where Do We Start?
Work quickly to identify needs and outline a plan of action. Contact a Black Box expert today.