UCaaS offers organizations an all-in-one, cloud-based communications platform that includes meetings, video, chat, phone, file sharing, and other collaboration features.
But why managed? IT teams are lean and budgets are tight. That's why we offer a full suite of managed services and workplace solutions delivered in a budget-friendly OPEX model. We create uniform experiences across multiple locations with consistency, speed, and agility through a robust design, deployment, and manage methodology — giving you one partner to guide you from where you are to where you want to be.
Create a digital workplace that employees will embrace and that also ensures successful business continuity.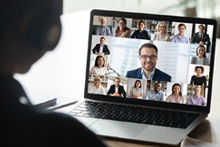 Top Considerations for Business Continuity
See what you need to consider to maintain business continuity through Managed UCaaS.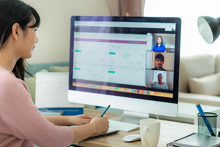 The Digital Workplace
Today's workforce is changing. There is an evolution (and revolution) happening in the workplace that is affecting how and where we communicate.
What's the Difference?
Learn about the three UC&C options: on-premises, cloud-hosted, and hybrid and which one is best for your organization.
Managed Migration and Services
With more than 40 years experience in deploying in-building IT and communications technologies, a footprint that spans 120 countries, time-tested methodologies, certified technicians, and a proven track record, we have all the managed services needed to make your move to UCaaS smooth and successful.


Professional
Services
Consulting/Discovery
Engineering/Architecture
Assessments/Surveys
Project Management

Field
Services
On-Site Services
Multisite Deployments
Staging Services
Logistics
On-Site Staffing

Support
Services
Remote Configuration
Remote Support
Service Desk
Monitoring
Sunset Services
E-Waste

Service Level
Management
Reporting
Advanced Escalation
Service Level Agreements
Customer Success Manager
Redefine your business UCaaS. Choose from seamless solutions that provide all-in-one voice, video, messaging, meetings, file sharing, and more. We'll team up with you to find the right solution for your organization from one of our industry-leading partners.

Click on a partner logo to discover additional resources and information.
Unified Communications & Collaboration
Successful enterprises know their competitive advantage lies in their workforce and today's workforce is the most diverse ever with four generations working side by side, each with a preferred way of communicating from phone calls to video conferencing.
Related Topics
Read more about the technologies in UCaaS

Año nuevo, CX nueva: Parte 2 - Cinco resoluciones centradas en la empresa
Este blog es el segundo de una serie de dos partes sobre acciones que puede emprender para mejorar su CX. En este artículo, analizaremos cinco iniciativas estratégicas orientadas a la empresa que pueden influir en la experiencia del cliente. La primera parte de esta serie se centró en el lado humano de la CX: Parte 1: Cinco resoluciones centradas en las personas.
1. Planifique su estrategia de IA
Una investigación de Harvard Business Review Analytic Services muestra que el 88% de las empresas cree que es importante tener una visión completa y coherente de los clientes en todos los canales y plataformas. Pero sólo el 15% lo hace.1
Aquí es donde la tecnología puede marcar la diferencia. Este año (2023), se estima que el 40 % de todas las interacciones con los clientes se automatizarán mediante IA y aprendizaje automático.2
La automatización es ahora crítica para el negocio, así que haga los deberes antes de invertir en su futuro. Defina qué casos de uso y problemas empresariales concretos quiere resolver y qué objetivos quiere alcanzar con la automatización. La IA, el aprendizaje automático y el análisis predictivo le proporcionarán la información que necesita para atender mejor a sus clientes. De hecho, en una encuesta realizada a clientes, el 63% espera que utilice inteligencia artificial.3
2023 también parece ser el año de la personalización. Según Salesforce, el 56% de los clientes esperan que las ofertas sean siempre personalizadas.4 Y el 78% de los clientes afirman que es más probable que vuelvan a comprar a empresas que personalizan sus experiencias.5
La preferencia por la personalización se extiende a todas las generaciones: el 82% de los millennials, el 77% de la Generación X y la Generación Z, y el 69% de los Baby Boomers están de acuerdo en que es importante.6
2. Implicar a los empleados
Lo hemos dicho antes y lo diremos de nuevo: Un buen EX hace un gran CX: 3 pasos para retener a los agentes. Los agentes estresados generan clientes estresados. Y los clientes estresados se convierten en clientes enfadados. Según una encuesta, el 35% de los clientes se enfadan cuando hablan con el servicio de atención al cliente.7 (En la humilde opinión de este redactor, se trata de una estimación baja).
Entonces, ¿qué hacer? Consiga que los empleados apoyen su iniciativa EX/CX. Implíquelos. Deles las herramientas que necesitan. Fórmelos. Edúquelos. Págueles de forma competitiva. Promuévalos. Y lo que es más importante, permítales hacer lo necesario para ayudar a la persona más importante de la sala, el cliente.
3. Suba el listón de las habilidades
También hay que centrarse en las habilidades de los directivos. ¿Quién dirige su programa de CX? Lo más probable es que sea un generalista. Eso está bien, pero estamos entrando en la era del especialista en CX. A medida que aumenta la importancia de la CX, es necesario contar con expertos en disciplinas que van desde TI a RRHH. Estas son las personas que investigarán, crearán y aplicarán estrategias de CX que respalden la visión de la empresa.
Según Forbes, "las empresas necesitan más científicos de datos, analistas y personas cualificadas en tecnologías específicas.... También necesitan más personal para gestionar la transformación de los empleados y de la organización que requiere la CX, incluidos especialistas en gestión del cambio organizativo y profesionales en mejora de la mano de obra.8
4. Analizarlo todo
Si su empresa está invirtiendo en CX, debe hacer hincapié en el beneficio económico y el retorno de la inversión. Aquí es donde resultarán útiles los analistas que ha contratado. Debe medir las métricas de la experiencia del cliente, como el análisis de la satisfacción, el recorrido, el NPS y las puntuaciones del esfuerzo del cliente, por nombrar algunas. A continuación, tradúzcalos en sus KPI organizativos, que pueden incluir costes, ingresos y estadísticas sobre rotación, atracción, retención, compromiso, comentarios y percepción de los clientes. El análisis sofisticado de las mediciones cuantitativas objetivas puede conducir a decisiones impactantes de CX y ajustes de estrategia.
5. Socialícese
No subestime el poder y la influencia de las redes sociales. En 2022, 4.600 millones de personas en todo el mundo utilizarán activamente las redes sociales, según Statistica.9
Las empresas utilizan los medios sociales para todo: promoción, educación, compromiso de los clientes, anuncios, etc. Los clientes también. Evalúan y expresan libremente sus opiniones sobre cualquier cosa y su opinión puede hacer o deshacer una marca. Los clientes son ahora los disruptores gracias a las redes sociales. Tenga en cuenta estas medidas para controlar sus interacciones en las redes sociales.
Cree directrices internas para publicar nuevos contenidos y anime a los empleados a compartir y publicar.
Sepa dónde están sus clientes. Facebook. LinkedIn. Instagram. Twitter.
Esto es muy importante. Supervise esos sitios y escuche de verdad a sus clientes. Según Salesforce, el 62% de los clientes afirma compartir sus malas experiencias con otras personas.10
Esto es igual de importante. Responda con rapidez, si no al instante. Casi dos tercios de los compradores esperan una respuesta en menos de 10 minutos a cualquier consulta de marketing, ventas o atención al cliente.11
Recopile las opiniones de los clientes y actúe en consecuencia.
Es posible que no pueda cumplir todos sus propósitos de CX este año, pero tiene un buen punto de partida en esta lista. Su objetivo es mejorar la CX, mejorar EX, mejorar la tecnología y, en última instancia, mejorar los resultados finales.
Para saber más, lea otros cinco pasos en este blog: Año nuevo, CX nueva: Parte 1 - Cinco resoluciones centradas en las personas.
El equipo de Experiencia del Cliente de Black Box está preparado para ayudarle a alcanzar sus objetivos de CX. Para obtener más información, eche un vistazo a nuestra página web de CX.
Aquí tiene otros recursos de CX que pueden interesarle.
Si desea recibir nuestro boletín trimestral, View from the Edge, puede suscribirse aquí.
Where Do We Start?
Work quickly to identify needs and outline a plan of action. Contact a Black Box expert today.