Black Box at ACI-NA 2021: Integration and Managed IT Services for Better-Connected, More Profitable Airports
Black Box ACI-NA Preview
Airports Council International 2021 Annual Conference & Exhibition
Nov. 6-9
Reno, Nevada
Booth 2130
At the 2021 ACI Annual Conference & Exhibition, Black Box will showcase its global IT solutions and integration services for airports, which can help streamline operations, improve productivity, generate revenue and reduce costs. Airports around the globe partner with Black Box to design, install and maintain truly resilient network infrastructures and reliable connected buildings — without the need for multiple providers. Airports face challenges unlike any other industry, from stricter regulations and limited resources to increased passenger connectivity expectations. Black Box understands the important role smart technology and high-performance networks play in accelerating digital transformation and providing predictable user experiences for employees, airport tenants and passengers.
Black Box Highlights at ACI-NA 2021
IT Managed and Professional Services for Airports
Technology solutions and services from Black Box can dramatically improve airport communications. Black Box's deep experience and understanding of airport business functions optimise IT infrastructure and operations, helping airport IT administrators to manage mission-critical systems while implementing the latest technologies. Black Box's professional managed services include voice and data networks; Shared Tenant Services (STS); on-site structured cabling system management; on-site or remote Tier 1-3 service desk support; private LTE/5G/DAS provisioning; Smart Airport control and management; and programming, engineering and system design services. Black Box solutions are built on well-defined service management plans, expandable templates and standardised, repeatable processes for maximum efficiency.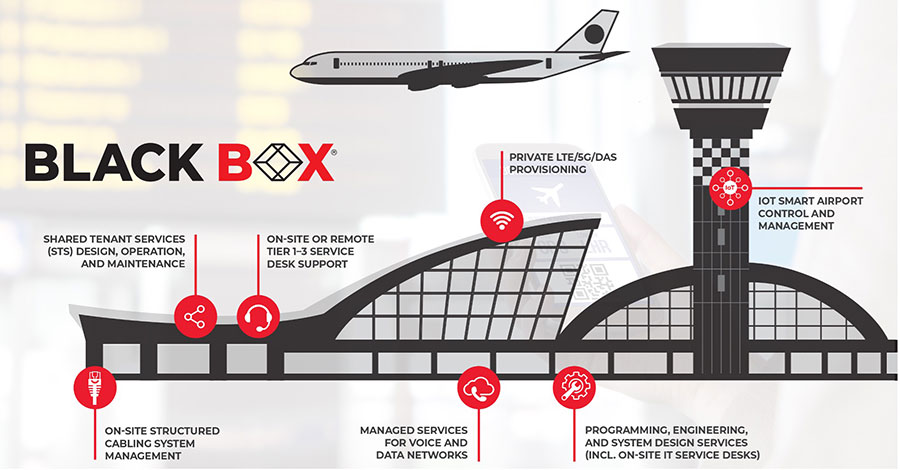 Black Box at ACI-NA 2021: Integration and Managed IT Services
for Better-Connected, More Profitable Airports
# # #
Company Overview
Black Box® is a trusted IT solutions provider delivering cutting-edge technology solutions and world-class consulting services to businesses on every continent. The breadth of our global reach and depth of expertise accelerates customer success by bringing people, ideas and technology together to solve real-world business problems. Our IT infrastructure solutions, services and products enable secure, flawless connectivity and meaningful collaboration across town or around the globe.
Black Box is a wholly owned subsidiary of AGC Networks. To learn more, visit the Black Box website at www.blackbox.com. Follow the company on Twitter @BlackBox_ns. Black Box® and the Double Diamond logo are registered trademarks of BB Technologies Inc.
All other trademarks referenced herein are the property of their respective owners.
Link to Word Doc: www.wallstcom.com/BlackBox/211020-Black_Box-ACI-NA_2021-Preview.docx
Black Box Contact:
Laura Doty
Black Box
Phone: +1 724 873 7016
Email: Laura.Doty@blackbox.com
Agency Contact
Carolyn Archambault
Wall Street Communications
Phone: +1 801 266 0077
Email: carolyn@wallstcom.com