How to Evolve Your Legacy KVM into the Modern World
KVM technologies help companies improve workflow, share resources, facilitate an increasing number of remote employees, and locate computers securely away from production environments. To take advantage of these benefits, many companies deployed KVM systems over the last five to six years. Given recent advancements in KVM technology, your system may be due for an upgrade. The challenge, especially for larger systems, is to retain access to your legacy applications while gaining access to newer KVM resources.
Evolution of KVM
Older KVM systems were based on analog technologies such as AMX or Paragon, or early digital-based offerings such as HMX. While these systems eliminate the need for physical access to the device, they lack the connections required by modern servers. Today's KVM technology accommodates DVI, DisplayPort and USB peripherals like touch panels, audio headsets, multifunctional printers and thumb drives, among others.
How to grow your system
If you have a smaller system, it is easy and cost-effective to replace your legacy system entirely and upgrade to a modern digital platform, such as Black Box's DCX, InvisaPC or DKM. For larger systems with hundreds of servers and many user stations, it may not be feasible to complete a fork-lift upgrade. In this case, you can "cap" your existing system and "grow" it with a new IP-based KVM platform.
The image below shows an example of a cap and grow strategy. Here, a legacy system based on HMX is capped, and InvisaPC is used to grow the system going forward.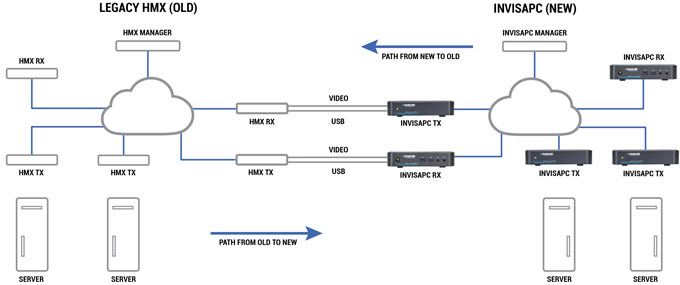 Cross-platform paths
This approach enables you to create paths from an old user station to a new InvisaPC system and vice versa. Users create paths based on the level of cross-platform access required. Double OSD access is needed for this arrangement, one to switch to the cross-platform path and one from the other system to the target server. Hot keys and other mechanisms available in the new KVM platform can simplify these paths at times.
Compatibility
Whenever you're working with a legacy system, it's important to determine interoperability with new technology. Black Box has tested many combinations and has experience with systems that are compatible. We can help you cap and grow your system for the future or trade in your legacy KVM equipment for new technology. Even if you're not planning on virtualization any time soon, we can help you move legacy applications to virtual machines to protect your existing investments and minimize porting costs as old hardware goes obsolete.
Click for more information on KVM solutions from Black Box
Download the free whitepaper: Broadcast and Post-Production Transition to Virtualization.
AV
Broadcasting & Media
Control Rooms
KVM
KVM Matrix Switching
TPS