Overcoming the Challenges of Changing Workplace Culture, Expectations, and Place
With COVID waning across the globe, business leaders, managers and employees are entering a new era. Whether in-office, hybrid, or fully remote — the how, when, why and where of work — has fundamentally changed. Along with it, the workforce is awakening to a new reality: where you live no longer dictates where you work. For employers facing an increasingly tight labor market, meeting the needs of employees has taken on greater importance, while the cost savings from shedding unwanted office space has further accelerated the drive toward a reimagined workplace.

This type of workplace transformation doesn't take place overnight and requires answers to challenging questions of how to: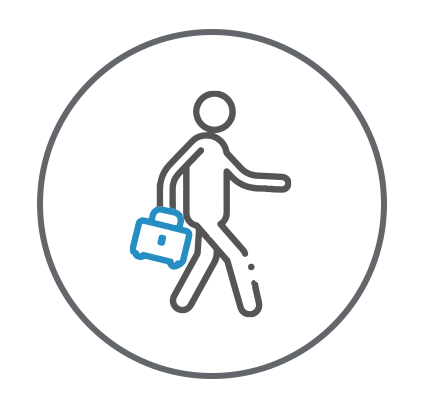 Return Safely
Returning to the office is more than social distancing and hand sanitizer. It's reconfiguring our spaces for new work patterns, preferences, and technologies.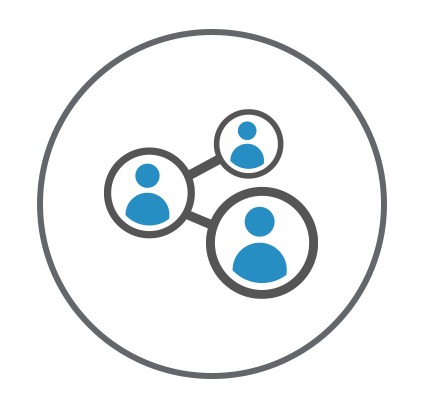 Reconnect Seamlessly
The new hybrid workforce gives us the opportunity to reinvent how we interact and facilitate meaningful team engagement and collaboration.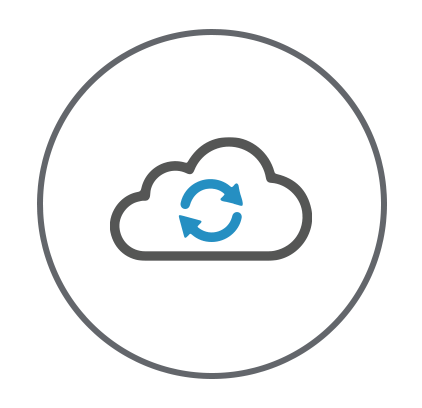 Renew Resiliently
Retooling and future-proofing our organizations through technology ensures we not only survive the next business disruption but thrive.
Learn more in the checklist for HR, Facilities, and IT professionals.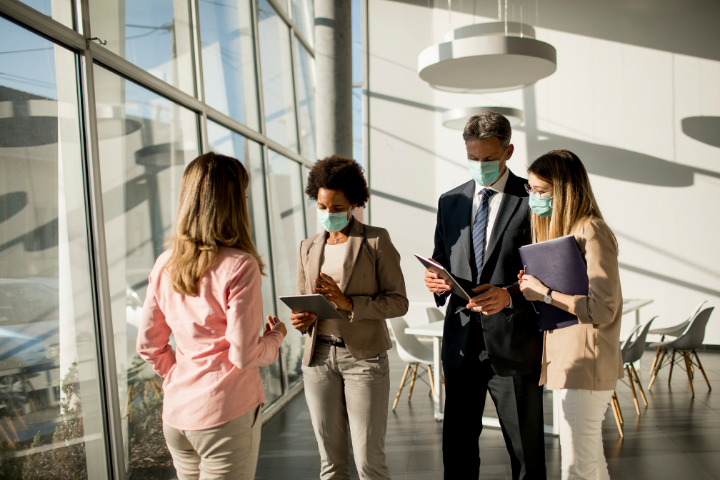 HR departments are taking the lead on reimaging the workplace and creating environments that drive collaboration and innovation.

Return: Strategically protect the health and safety of employees while satisfying both company leaders and team members.

Reconnect: Create work environments and policies that foster collaboration and productivity within hybrid teams.

Renew: Establish forward-looking policies that enable flexibility and increase the ROI on attracting and retaining talent.
Learn more in the checklist for HR.
Provide peace-of-mind that your building is safe, healthy, and ready for occupation and the future.
Return: From hot desks to contactless technology, reconfigure workspaces for safety and distance.

Reconnect: Build and reconfigure the infrastructure for anywhere, everywhere communications and collaboration.

Renew: Optimize your infrastructure for the coming waves of wireless, security, networking, and smart building technologies.
Learn more in the checklist for Facilities.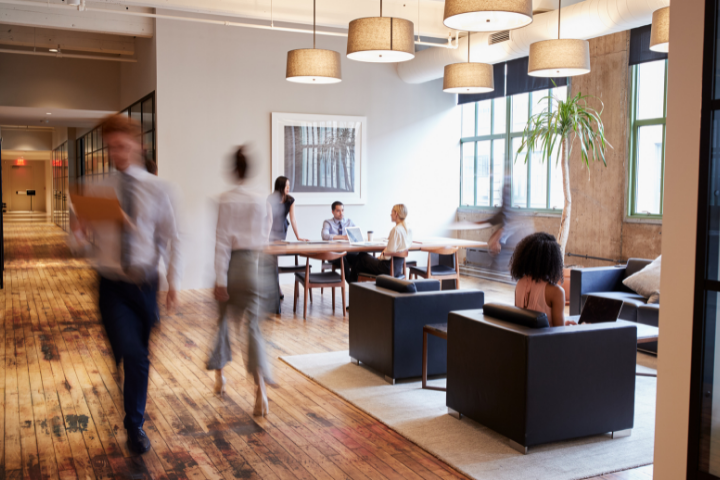 Drive change through technology to reimagine how people work, interact, and communicate — no matter where they are.
Return: From the front door to the office area and beyond, technology is key to making the hybrid workplace work.
Reconnect: Rethink the collaboration experience to ensure every team member, everywhere, is engaged, inspired, and contributing.
Renew: Optimize the promise of business resiliency with seamless, secure communications and operation from anywhere.
Learn more in the checklist for IT.
The Reimagined Workplace Step-by-Step Checklist
The pandemic gave us the freedom to rethink the workplace in ways that were previously " unthinkable." Every HR, IT, and Facilities leader has the same high-level goals: Return, Reconnect, and Renew the workplace. The tactics and strategies you use will depend on your role.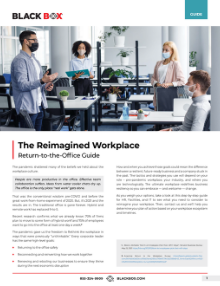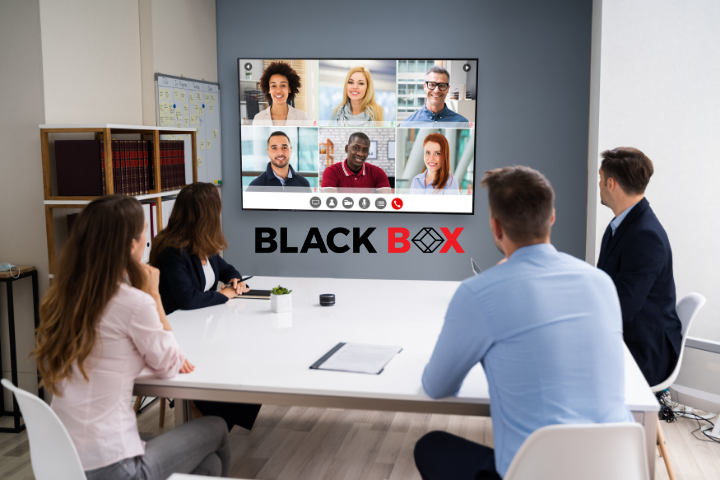 7 Trends in Post-COVID AV Technology
How can you use AV technologies to shape the hybrid workplace? Take a look at these seven trends that will help you define your workplace transformation.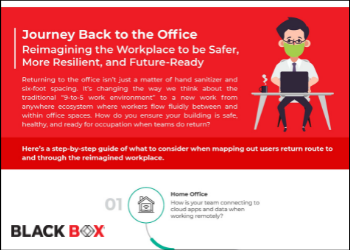 Start Your Journey Back to the Office
The traditional "9-to-5 work environment" is gone and in its place is a new work from anywhere ecosystem where workers flow fluidly between and within office spaces. So, how do you ensure your building is safe, healthy, and ready for occupation when teams do return?
Your Hybrid Workspace in a Box
Gone are the days of boring cubicles. Whether you're working from home, the office, or a coffee shop, the new Reimagined Workplace is wherever you are. Discover how you can make your new workplace fit in a box with engaging, secure collaboration and communication tools that make it as easy to connect with co-workers and clients from anywhere, at any time, on any device.
Black Box works with clients around the globe to address the unique challenges of edge network transformation, including these impressive success stories.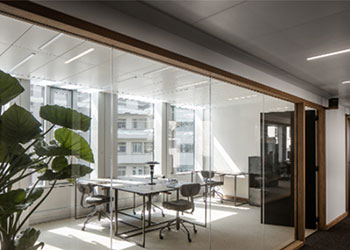 European Co-working Company Builds Business with Black Box
Providing luxurious, high-functioning office space with the latest IT and support is the foundation of a European co-working company's business. When installation at their latest location went awry, Black Box jumped in to complete the job in just six weeks, becoming a trusted partner for future locations in Europe and the United States. Read the full case study.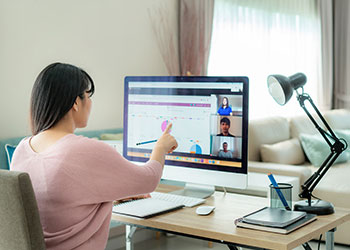 Municipality Adds Secure, Remote Access; Gains $1.1M In Productivity
During the lockdown, at a Northeast municipality employees couldn't access files and applications remotely due to the absence of security features. Black Box provided a security platform that protected access to data for all users, devices, and applications. The result was a $1.1 million gain in productivity — plus millions saved by thwarting security breaches and ransomware attacks.
Related Resources
Discover more about the latest in workplace technology and trends from our transformation experts.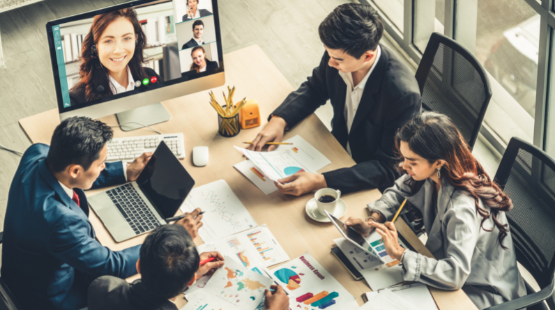 7 Trends in Post-COVID AV and How It Is Shaping the Hybrid Workplace
Returning to the office seems like a daunting, but inevitable, conclusion for employees who have spent many, many months working from home due to the pandemic. To complicate this journey back to the office, remote work, once met with hesitation by employers, has become part of the ideal work-life balance for many employees since March 2020. One study shows as many as 63% of employeeswant to retain some remote work and have the flexibility of hybrid in-office/remote work even after the pandemic eases and offices reopen. Employers, who have benefited from the amplified productivity of the remote workforce, want to maintain or even increase employee satisfaction in the forever changed workplace.
The increasing demand for a hybrid work environment puts pressure on HR and people leaders to create new policies and communication strategies. Gone are the days of the traditional workplace, fixed seating, low-bandwidth Wi-Fi, and limited mobile connectivity. Now, HR, IT, and facility managers are racing against the clock to design and deploy workspaces that support collaboration and engaging experiences whether the employee is in the office or working from home, wherever in the world home may be.
So how are organizations preparing for the hybrid workplace? One word: collaboration. Researchfound that 71% of HR leaders are more concerned about collaboration this year than they were pre-COVID. They must intentionally create work environments that provide new ways for employees to collaborate and innovate productively. The question is how? AV. Here are the seven trends in audio visual (AV) technology that are shaping and changing the hybrid workplace and how teams work safely and efficiently.
The Birth of the Flexible Hybrid Workplace = The Death of the Cube Farm
The hybrid work ecosystem means fewer people in the office every day and more open office space. But when teams do come in, they want and need to work together. The hybrid work culture has shifted the need for cubicles and fixed desks to desk sharing and more collaborative office spaces.
Companies are reconfiguring office layouts to invest in hoteling and more flexible and smaller workspaces embedded with collaboration tools, such as high-resolution digital displays, quality cameras, and improved audio. This gives employees in the office the ability to work in any open workstation, gather in smaller huddle or "hang-out" spaces, and video conference privately and quietly in technology closets (so-called Zoom phone booths.)
For the employer, there are some inherent benefits in the reimagined workplace. They can eliminate office space and excess furniture, reduce overhead, maximize the utilization of existing spaces, and most importantly, adhere to social distancing guidelines.
Digital Signage
Long a nice-to-have, digital signage has moved into the must-have category for the post-pandemic workplace. From social distancing and health guidelines to company messaging and wayfinding, digital signage has become an integral part of the communications strategy in the post-COVID workplace.
The importance of digital signage to communicate and reduce human interaction starts the moment employees and visitors walk through the door. Lobby signage provides simplified guest/employee registration and user-friendly interfaces for intelligent wayfinding. Once in the building signage can be used to help people see desk space and conference room availability, schedule meetings from the lobby and throughout the building, see all occupancy limits and health guidelines. Signage also gives company leaders the ability to communicate and customize messages to team members company-wide or in specific regions or departments.
Touchless Technology
It should come as no surprise that demand for touchless technology skyrocketed because of the pandemic. The global touchless marketis expected to grow to $15.3 billion in 2025 from $6.8 billion in 2020. The gesture recognition market will more than triple to $32.3 billion in 2025.
People want touchless technology to feel safe. In one survey, eight in 10 participants said they consider public touchscreens unhygienic and 73% said they would be willing to use touchless technology. A hand wave, voice command, proximity technologies, and facial recognition scan are the new norms reducing contact with doorknobs, elevator buttons, and a myriad of high-touch surfaces. Touchless technology can also be used in building entryways, offices, and conference rooms to enable trends like contactless AV presentations system controls. Everything is going touchless to prevent the spread, and fear, of infection. AV apps let users control access from their devices further increasing safety and efficiency. Smart devices can provide touchless lighting and window control.
The investment in touchless technology tells employees that their health and well-being is a top priority and encourages them to return to the office.
Occupancy, Environmental, and Health Sensors
In our post-pandemic world, no one thinks twice about having their temperature taken at the front door, sitting in every other seat, or making sure desks are sanitized. We're used to social distancing. As employees return to the office, company leaders can monitor and enforce health and safety protocols with sensors and IoT devices.
Entrance kiosks can take people's temperature. Occupancy sensors can lock doors or flash lights if there are too many people in a room. Utilization sensors can track which hot desks and meeting spaces are in high demand, when they need to be cleaned, and real-time availability. This data can also help leaders optimize the office footprint and usage. Environmental sensors can monitor air circulation and room temperature for comfort, productivity, and air quality.
Scheduling Systems
As employees start to go back to the office, enterprises are facing new challenges in office space utilization and management. Many organizations are experiencing difficulties managing the who, what, and when of hot-desk and conference room usage, scheduling, and reservations. Meeting room scheduling appliances can help people avoid conflicts and help select a conference room that is appropriate for the meeting group size, especially on "meeting Wednesdays," when many people are in the office. They can also be used to alert the facilities staff when cleaning between usage, and broadcast when the space is available. Systems, such as IN-SESSION and Reserva, offer integration with digital signage for real-time status and email for notifications.
Creating the Same, Seamless Experience in the Room or on Zoom
Ever been one of only a few people, or the only person, on a conference call when everyone else is in the office? It's not a great experience. But it can and should be the same experience for everyone.
Small meetings of two to three peoplework well over video conferencing. But as the meeting and number of in-person participants grow, so can the possible negative impact on the sense of teamwork and engagement for remote participants. With any size meeting, effective AV is a must to provide an engaging experience as if all participants were in the same room. To achieve that, businesses are finding it essential to invest in a professional, high-quality collaboration systems that work in conjunction with AV equipment, such as Teams, WebEx, Zoom Room, and Zoom Experience, to achieve an optimal user experience.
High-quality communications tools extend meeting efficiency beyond the office and create the illusion that the remote workers are in the office with 4K HD images and updated audio systems that capture conversation anywhere in the room, while eliminating unwanted background noise. Look for systems that enable dynamic, intuitive content sharing, reduce delays in communication, and provide the same inclusive experience for users whether they are in the office or at home.
Intuitive Technology that Showcases Comfort
The post-COVID office is very different and hopefully better than the one we left in March 2020. Born out of necessity, the hybrid workplace gives us the rare opportunity to create and reimagine the office for comfort, collaboration, innovation, and seamless, engaging experiences.
The challenge? Finding the right combination of technologies, hardware, and software that best support your staff, wherever they work. Choose the best communication tools from multiple sources to help streamline meetings, make them more effective, and reduce wasted time. Empower your spaces with technologies that incorporate IoT and AI to recognize users and their devices and automatically adjust the room to their needs and preferences giving users a more personal, comfortable experience.
Is Your Network Hybrid Ready?
In the '"before times," IT departments could draw security perimeters around the office workers and knew their networks could support all user applications. The pandemic changed everything — almost overnight. IT had to support a remote workforce with multiple company-owned and personal devices, varying degrees of remote access, and unreliable or unknown network speeds and bandwidth. IT did it.
Now IT needs a way to make sure networks are up to the task of supporting a workforce that's constantly in motion. But location flexibility brings with it the challenge of securing the network, increasing capacity, and providing the bandwidth necessary to support video-heavy applications. To manage and accommodate the hybrid workforce, many organizations are adopting SD-WAN (software-defined wide area networks.) This cloud-based technology gives IT managers the centralized, single-pane-of-glass management and security they need as well as the agility and flexibility to adapt to evolving network requirements.
Concurrent with these challenges is the explosion of wireless devices, expected to reach 27 billion by 2026, and demand for 5G, On-Go™, and Wi-Fi 6, fueled during the pandemic by home-bound knowledge workers who now want it in the office. Enterprises that can deliver next-gen wireless have a distinct competitive advantage over those that can't.
The Next Step
Hybrid work is here to stay and the best way you can increase employee satisfaction and attract and retain talent is to offer the most sought-after employee benefit — hybrid flexibility. The next critical step to creating the reimagined workplace is making sure your technology is up to the task.
Contact our dedicated team of experts to learn how you can prepare your post-COVID hybrid workplace. Call at 855-324-9909 or email us at contact@blackbox.com .
You may also be interested in these posts.
Responding to the Security Challenges of Remote & Hybrid Work
https://www.bboxservices.com/resources/blog/details/bbns/2021/06/29/responding-to-the-security-challenges-of-remote-hybrid-work

What the Future of Work Means for the Reimagined Workplace
https://www.bboxservices.com/resources/blog/details/bbns/2021/06/25/what-the-future-of-work-means-for-the-reimagined-workplace

Your Guide to Enterprise 5G: 10 Blogs from 5G Experts
https://www.bboxservices.com/resources/blog/details/bbns/2020/10/13/your-guide-to-enterprise-5g
What Is SD-WAN and Why Is It So Important?
https://www.bboxservices.com/resources/blog/details/bbns/2020/05/24/what-is-sd-wan-and-why-is-it-so-important
Why Black Box?
Black Box is a trusted IT solutions provider delivering cutting-edge technology solutions and world-class consulting services to business around the globe. For more than 45 years, we have helped clients reimagine their workplaces with technologies from all leading manufacturers so you get the best solution for your application. We can help your hybrid workforce return to the office, reconnect and collaborate seamlessly, and help you renew your network to build future-proof business resiliency.
The breadth of our global reach and depth of our expertise ensures you'll get accelerated, standardized technology deployments at all your locations to meet your timeframes. You also benefit from our expertise and experience in handling and diffusing any problems due to worldwide supply-chain disruptions
Where Do We Start?
Work quickly to identify needs and outline a plan of action. Contact a Black Box expert today.