Overcoming the Challenges of Changing Workplace Culture, Expectations, and Place
With COVID waning across the globe, business leaders, managers and employees are entering a new era. Whether in-office, hybrid, or fully remote — the how, when, why and where of work — has fundamentally changed. Along with it, the workforce is awakening to a new reality: where you live no longer dictates where you work. For employers facing an increasingly tight labor market, meeting the needs of employees has taken on greater importance, while the cost savings from shedding unwanted office space has further accelerated the drive toward a reimagined workplace.

This type of workplace transformation doesn't take place overnight and requires answers to challenging questions of how to: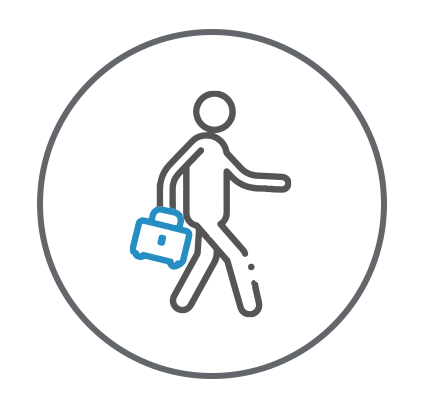 Return Safely
Returning to the office is more than social distancing and hand sanitizer. It's reconfiguring our spaces for new work patterns, preferences, and technologies.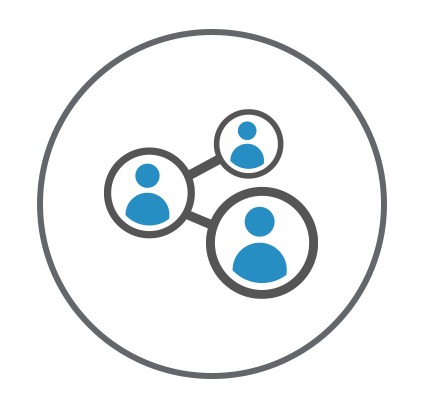 Reconnect Seamlessly
The new hybrid workforce gives us the opportunity to reinvent how we interact and facilitate meaningful team engagement and collaboration.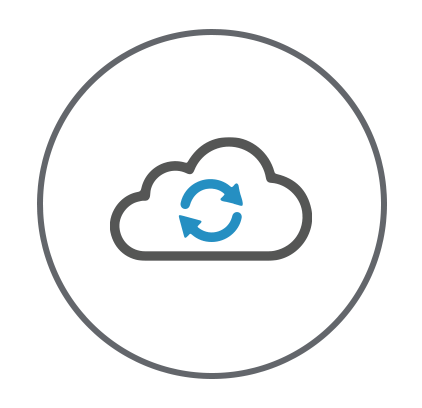 Renew Resiliently
Retooling and future-proofing our organizations through technology ensures we not only survive the next business disruption but thrive.
Learn more in the checklist for HR, Facilities, and IT professionals.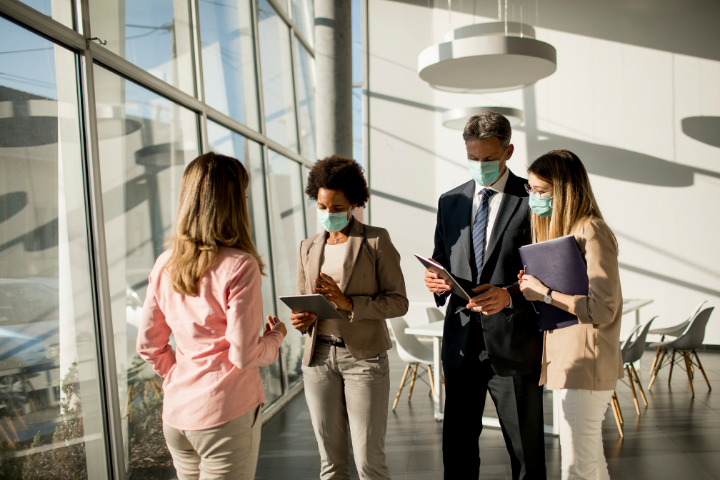 HR departments are taking the lead on reimaging the workplace and creating environments that drive collaboration and innovation.

Return: Strategically protect the health and safety of employees while satisfying both company leaders and team members.

Reconnect: Create work environments and policies that foster collaboration and productivity within hybrid teams.

Renew: Establish forward-looking policies that enable flexibility and increase the ROI on attracting and retaining talent.
Learn more in the checklist for HR.
Provide peace-of-mind that your building is safe, healthy, and ready for occupation and the future.
Return: From hot desks to contactless technology, reconfigure workspaces for safety and distance.

Reconnect: Build and reconfigure the infrastructure for anywhere, everywhere communications and collaboration.

Renew: Optimize your infrastructure for the coming waves of wireless, security, networking, and smart building technologies.
Learn more in the checklist for Facilities.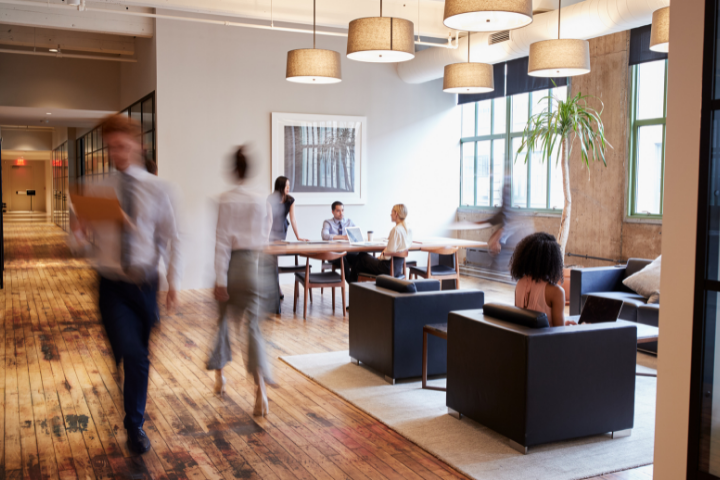 Drive change through technology to reimagine how people work, interact, and communicate — no matter where they are.
Return: From the front door to the office area and beyond, technology is key to making the hybrid workplace work.
Reconnect: Rethink the collaboration experience to ensure every team member, everywhere, is engaged, inspired, and contributing.
Renew: Optimize the promise of business resiliency with seamless, secure communications and operation from anywhere.
Learn more in the checklist for IT.
The Reimagined Workplace Step-by-Step Checklist
The pandemic gave us the freedom to rethink the workplace in ways that were previously " unthinkable." Every HR, IT, and Facilities leader has the same high-level goals: Return, Reconnect, and Renew the workplace. The tactics and strategies you use will depend on your role.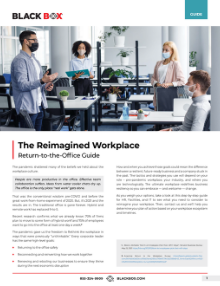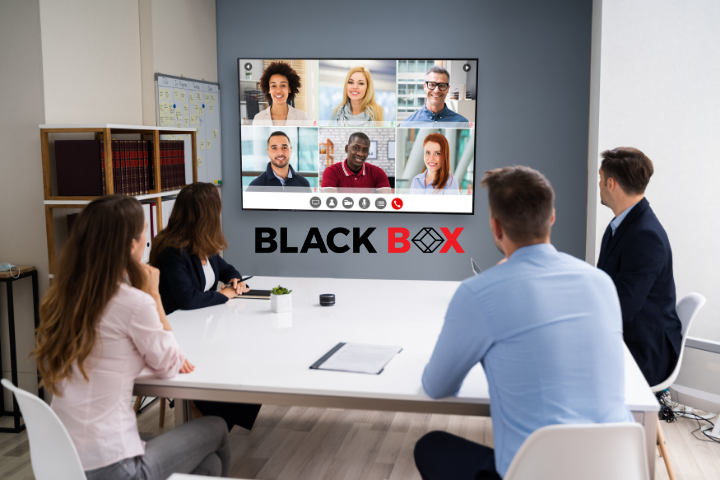 7 Trends in Post-COVID AV Technology
How can you use AV technologies to shape the hybrid workplace? Take a look at these seven trends that will help you define your workplace transformation.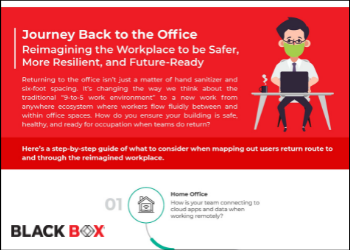 Start Your Journey Back to the Office
The traditional "9-to-5 work environment" is gone and in its place is a new work from anywhere ecosystem where workers flow fluidly between and within office spaces. So, how do you ensure your building is safe, healthy, and ready for occupation when teams do return?
Your Hybrid Workspace in a Box
Gone are the days of boring cubicles. Whether you're working from home, the office, or a coffee shop, the new Reimagined Workplace is wherever you are. Discover how you can make your new workplace fit in a box with engaging, secure collaboration and communication tools that make it as easy to connect with co-workers and clients from anywhere, at any time, on any device.
Black Box works with clients around the globe to address the unique challenges of edge network transformation, including these impressive success stories.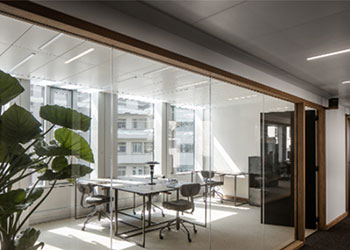 European Co-working Company Builds Business with Black Box
Providing luxurious, high-functioning office space with the latest IT and support is the foundation of a European co-working company's business. When installation at their latest location went awry, Black Box jumped in to complete the job in just six weeks, becoming a trusted partner for future locations in Europe and the United States. Read the full case study.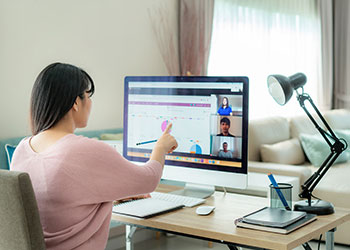 Municipality Adds Secure, Remote Access; Gains $1.1M In Productivity
During the lockdown, at a Northeast municipality employees couldn't access files and applications remotely due to the absence of security features. Black Box provided a security platform that protected access to data for all users, devices, and applications. The result was a $1.1 million gain in productivity — plus millions saved by thwarting security breaches and ransomware attacks.
Related Resources
Discover more about the latest in workplace technology and trends from our transformation experts.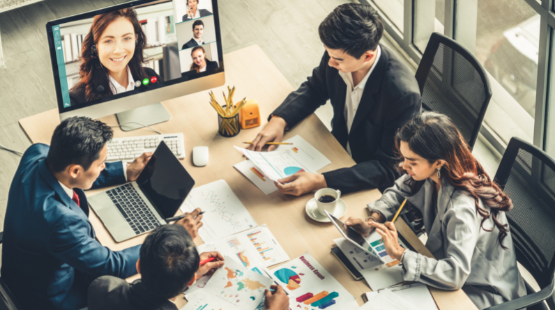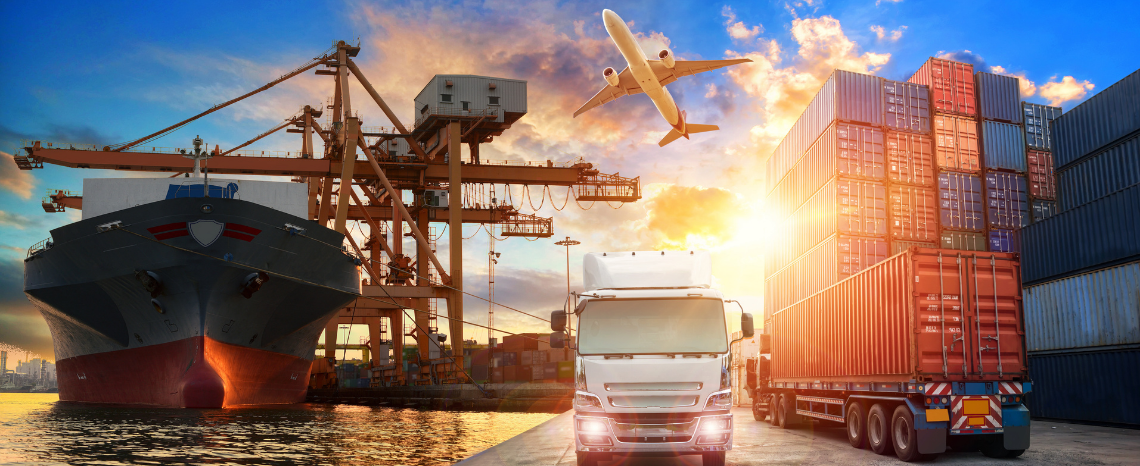 Backordered: The Impact of the Great 2021 Supply-Chain Disruption
A Fragile Supply Chain
Last year, the big shortage was toilet paper. This year? Everything. PCs, electronics, cars, gaming consoles, appliances, gas, metal, and, yes, even toilet paper. "Everywhere You Look, The Global Supply Chain is a Mess" (WSJ, 3/18/21). That pretty much sums it up.
No matter what you want, it's probably not available, is in limited supply, has a long lead time, and/or will most likely cost you more – whether consumer goods, business supplies or IT hardware. From the PlayStation your child is begging for and the new car you want to the technology upgrades your company needs, be prepared to hurry up and wait. Order it now to get it in three months, six months, nine months, or more. Years of Just-in-Time inventories combined with the disruption of the pandemic is causing the world to run out of everything.1
The shortages are real and you need to take them seriously. We're all tired of hearing it, but shortages are now "the new normal." They are not only impacting the average consumer, but how businesses plan for return to the office, network upgrades, and future business resiliency.
The Law of Supply and Demand
So what happened? Think back to Econ 101: the law of Supply and Demand. Pent-up, pandemic-driven demand is causing soaring shortages. Throw in acts of God and man, and you end up with (to borrow an oft-used 2020 phrase) "unprecedented" disruptions in supply chains.
Fluctuations in demand combined with unforeseen events struck a crippling blow to an already fragile worldwide supply chain. Who could have predicted that a freeze in Texas and a fire and earthquake in Japan could affect when plastics and semiconductors are delivered in Europe.
The freeze caused widespread blackouts in Texas and petrochemical plants had to shut down, causing a shortage of plastics and subsequent price increases. Dow CFO, Howard Ungerleider, estimated that it could take six months before the plastics market recovers.2
Adding fuel to the disruption fire was the grounding of the container ship, Ever Green, which shut down the Suez Canal, one of the world's busiest waterways. The blockage lasted six days stranding 350 ships and badly stressing the worldwide supply chain "The disruption of a week of this size is going to continue to have cascading effects ... it's got to be at least 60 days before things get sorted out and appear to be a bit back to normal," said Stephen Flynn, professor of political science at Northeastern University.3
Continuing congestion at major seaports, such as Los Angeles, due to COVID-19 and a shortage of shipping containers are also contributing to delays rippling along the entire chain from production to delivery of finished goods. Pile on manufacturing delays due to shortage of materials and the entire worldwide supply chain is disrupted even further. For instance, between March 1 and April 13, 2021, the world saw higher than average percentages in late deliveries: 87% in the Netherlands, 78% in India, 81% in France, and 85% in the U.S.4
Business Impact: The Big Dip in (micro)Chips
To say the pandemic created havoc is an understatement. When COVID-19 hit, automakers halted or drastically cut production of new cars, which include an incredible number of microchips. So car makers cut back their orders for chips. Semiconductor makers in turn reduced the production of chips. Further reducing worldwide availability was the threat of trade wars between the United States and China causing many tech companies to stock up on chips. According to the Semiconductor Industry Association, the US only produces 12% of the world's chips.5
As people went into lockdown, demand for laptops, notebooks, video devices, consoles, cabling, and Wi-Fi routers soared. "The PC is more central to daily life than ever, and PC use is up more than 20% since COVID emerged," said HP CEO Enrique Lores in August 2020.6
This caused massive shortages of the chips used in everything we touch every day: cars, computers, TVs, coffee makers, washing machines, games, phones, especially new 5G phones, the list goes on and on. The chip shortage also affects things we don't see, but that touch us every day from sophisticated networking hardware to Wi-Fi access points, routers, switches, and IoT devices.
"It's not just autos. It's phones. It's the internet of everything," said Patrick Armstrong, CIO Plurimi Investment Managers. "There's so many goods now that have many more chips than they ever did in the past. They're all internet enabled." 7
In addition to chips, which are in every IT device, the shortages spread affecting copper, plastics, gas, steel, lumber, basically everything. The shortages are cascading down the network infrastructure pipeline beginning with the copper cables, the steel cabinets, the resins in connectors, the cardboard packaging, and ending with the shipping.
Ironically, adding to the shortage of chips is the shortage of silicon, which is used to produce the COVID-19 vaccine vials.8
That's just the beginning of the shortage story. After a dismal 2020, Glenn O'Donnell, a vice president research director at advisory firm Forrester, expects increased demand for data centers leading to an increased demand for servers which are full of chips. With the growth in cloud computing, and the "unstoppable desire to instrument everything," he sees boom times for chip demand.9
O'Donnell believes the shortage in microchips could last until 2023.10 Remember that Texas freeze? It shut down two Samsung chip factories in Austin, TX, which accounted for 28% of their global production further exacerbating the chip shortage.11 Intel has plans to spend $20 billion on new chip plants in Arizona.12 More funding for U.S. chip production is coming in the form of the CHIPS for America Act, which can included $39 billion in production and R&D incentives and $10.5 billion to implement R&D programs.13 But don't expect all of these investments to make any dent in the microchip shortage for at least two years.
What You Can Expect
Remember that old Rolling Stones song, "You Can't Always Get What You Want?" Right now you can't. But maybe you can in six months or nine months. The difference between the big supply crunch of 2021 and past supply disruptions is the sheer magnitude of it, and with — as far as anyone can tell — no clear end in sight. Big or small, few businesses are spared.
The one thing last year taught us is to think ahead. Contrary to what you may think, 92% of companies did not slow down or halt technology investments because of the pandemic.14 They continued or increased their investments in technology.
If you're one of the 92%, here's what you can expect: delays, shortages, unavailability, and price increases.
The tech industry, like every other, is facing shortages due to supply-chain pipeline issues with raw materials such as metals or petroleum. Chip shortages may cause delays of switches or routers, which can prevent the completion of a network installation. Missing paint ingredients may prevent electronics, cabinets, and other hardware from being finished. Shipping disruptions may result in your cable sitting off shore on a container ship. Even if you have all your parts, labor shortages may delay installation of your network infrastructure. And everything may cost more. You'll need to be flexible, patient, and open to other options.
Here's what you should expect: constant communications, updates, suggestions, and new ways of making a project work.
Setting Expectations. Your account manager could keep you up-to-date on the status of your project, product availability, schedules, and different options to minimize disruption.
"Our customers have been great through all of this," commented Bill Sneddon, Black Box Director of Procurement Distribution. "We do everything we can to meet our customers' schedule and keep them apprised of the situation. My people jump through hoops daily to fill gaps, expediting, and finding alternatives to meet a need."
Lead times. If the brand-name cable or switch you want typically has a four-week lead time, don't be surprised if that expands into nine-weeks. You do have options, though. Read on.
Equivalents and Availability. Consider products from other sources that offer equivalent performance. This has worked quite well for our customers. We often have Black Box-brand cabling or electronics available that are tested and come with guaranteed performance, and, typically, better pricing. In addition, Black Box has been working with our partners (even pre-pandemic) to ensure supply-chain resilience.
Scheduling. A popular scheduling solution is to complete the project as much as possible. If all the hardware, such as cabinets and ladder racks, are available, but switches are not, you can move forward and complete the project up to the point where the switches are needed.
Labor. Typically not a problem, labor is now in short supply. In some markets, labor is getting paid 30-50% more than in pre-pandemic times. And if a dozen people are needed to complete a project and only six are available, expect the project to take twice as long. Because Black Box has a global footprint and a large Black Box employed staff, we most likely have people where you need them.
Location. One way some manufacturers are combating shortages is to set up dual production facilities in another part of the world, such as Mexico. This has been shown to reduce lead time from 18 weeks to six weeks.
Pricing. Nothing is certain except death and taxes, and right now, rising prices. The price of raw materials from copper to metals, resins, and packaging are all up, as well as freight costs. Prices are skyrocketing and can't be guaranteed. At Black Box, we honor the price we get from our suppliers and are implementing new 30-day price guarantees.
Now may be the best time to get plan your digital transformation, or at least those equipment upgrades you need. Build-in your shortage wait time now. Then, when you're ready later this year or next year, your equipment will be too.
Ready to plan, adopt, or accelerate the implementation of your digital transformation, then talk to us at 855-324-9909 or email us at contact@blackbox.com.
If you would like to receive our quarterly newsletter, View from the Edge, you can sign up here.
1. Goodman, Peter S., Chokshi, Niraj; How the World Ran Out of Everything" New York Times, June 1, 2021 https://www.nytimes.com/2021/06/01/business/coronavirus-global-shortages.html
2. Phipps, Nathan L; "Supply Chain Tribulations" Wiglaf Journal, March 19, 2021; https://wiglafjournal.com/supply-chain-tribulations/
3. Stevens, Pippa. "The ship that blocked the Suez Canal may be free, but experts warn the supply chain impact could last months" March 29, 2021; CNBC, March 29, 2021; https://www.cnbc.com/2021/03/29/suez-canal-is-moving-but-the-supply-chain-impact-could-last-months.html
4. Segal, Edward; "Blocked Suez Canal Is Latest Reminder Why Companies Need Crisis Plans" Forbes, March 27, 2021; https://www.forbes.com/sites/edwardsegal/2021/03/27/blocked-suez-canal-is-latest-reminder-why-companies-need-crisis-plans/?sh=59387ec640ac
5. Combs, Veronica in Hardware; "Global chip shortage: How a Senate bill could revive manufacturing and R&D in the US" TechRepublic; May 27, 2021; https://www.techrepublic.com/article/how-a-senate-bill-could-revive-us-chip-manufacturing/
6. Silver, Sara; "How Kellogg's, Nike, and HP handled 2020 supply chain disruptions" FM, January 25, 2021; https://www.fm-magazine.com/news/2021/jan/coronavirus-supply-chain-disruptions-kelloggs-nike-hp.html
7. Ibid
8. Shein, Esther, in Innovation. "The global ship shortage: What caused it, how long will it last?" TechRepublic; May 28, 2021;
https://www.techrepublic.com/article/the-global-chip-shortage-what-caused-it-how-long-will-it-last/
9. Silver, Sara; "How Kellogg's, Nike, and HP handled 2020 supply chain disruptions" FM, January 25, 2021; https://www.fm-magazine.com/news/2021/jan/coronavirus-supply-chain-disruptions-kelloggs-nike-hp.html
10. Shead, Sam; "The global chip shortage could last until 2023" CNBC, May 12, 2021; https://www.cnbc.com/2021/05/12/the-global-chip-shortage-could-last-until-2023-.html
11. Ibid
12. Ibid
13. Goodman, Peter S., Chokshi, Niraj; How the World Ran Out of Everything" New York Times, June 1, 2021; https://www.nytimes.com/2021/06/01/business/coronavirus-global-shortages.html
14. Combs, Veronica in Hardware; "Global chip shortage: How a Senate bill could revive manufacturing and R&D in the US" TechRepublic; May 27, 2021; https://www.techrepublic.com/article/how-a-senate-bill-could-revive-us-chip-manufacturing/
15. Harapko, Sean; "How COVID-19 impacted supply chains and what comes next" EY, February 18, 2021; https://www.ey.com/en_us/supply-chain/how-covid-19-impacted-supply-chains-and-what-comes-next
Why Black Box?
Black Box is a trusted IT solutions provider delivering cutting-edge technology solutions and world-class consulting services to business around the globe. For more than 45 years, we have helped clients reimagine their workplaces with technologies from all leading manufacturers so you get the best solution for your application. We can help your hybrid workforce return to the office, reconnect and collaborate seamlessly, and help you renew your network to build future-proof business resiliency.
The breadth of our global reach and depth of our expertise ensures you'll get accelerated, standardized technology deployments at all your locations to meet your timeframes. You also benefit from our expertise and experience in handling and diffusing any problems due to worldwide supply-chain disruptions
Where Do We Start?
Work quickly to identify needs and outline a plan of action. Contact a Black Box expert today.