Overcoming the Challenges of Changing Workplace Culture, Expectations, and Place
With COVID waning across the globe, business leaders, managers and employees are entering a new era. Whether in-office, hybrid, or fully remote — the how, when, why and where of work — has fundamentally changed. Along with it, the workforce is awakening to a new reality: where you live no longer dictates where you work. For employers facing an increasingly tight labor market, meeting the needs of employees has taken on greater importance, while the cost savings from shedding unwanted office space has further accelerated the drive toward a reimagined workplace.

This type of workplace transformation doesn't take place overnight and requires answers to challenging questions of how to: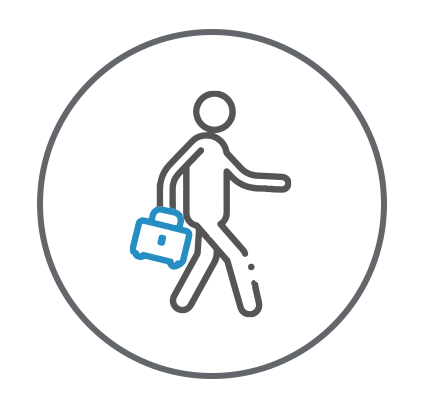 Return Safely
Returning to the office is more than social distancing and hand sanitizer. It's reconfiguring our spaces for new work patterns, preferences, and technologies.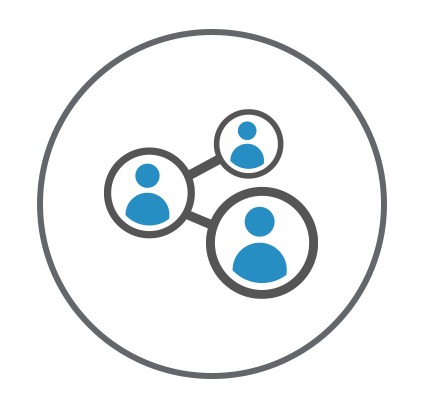 Reconnect Seamlessly
The new hybrid workforce gives us the opportunity to reinvent how we interact and facilitate meaningful team engagement and collaboration.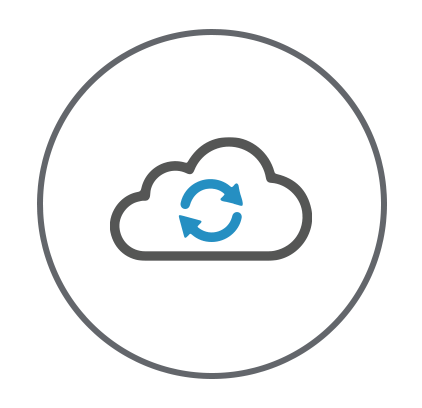 Renew Resiliently
Retooling and future-proofing our organizations through technology ensures we not only survive the next business disruption but thrive.
Learn more in the checklist for HR, Facilities, and IT professionals.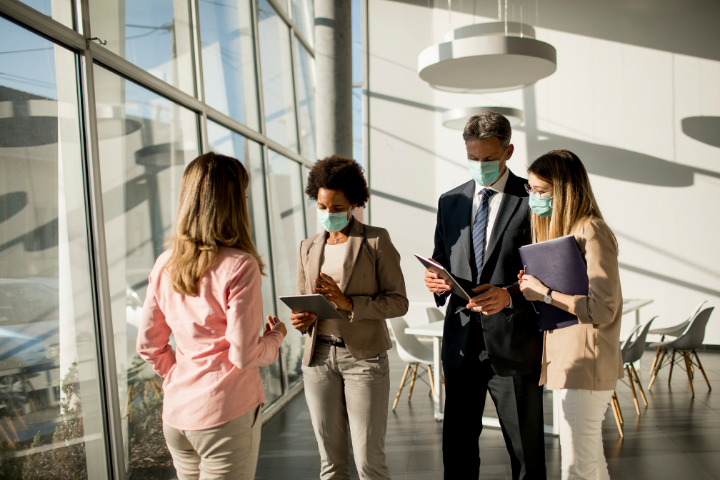 HR departments are taking the lead on reimaging the workplace and creating environments that drive collaboration and innovation.

Return: Strategically protect the health and safety of employees while satisfying both company leaders and team members.

Reconnect: Create work environments and policies that foster collaboration and productivity within hybrid teams.

Renew: Establish forward-looking policies that enable flexibility and increase the ROI on attracting and retaining talent.
Learn more in the checklist for HR.
Provide peace-of-mind that your building is safe, healthy, and ready for occupation and the future.
Return: From hot desks to contactless technology, reconfigure workspaces for safety and distance.

Reconnect: Build and reconfigure the infrastructure for anywhere, everywhere communications and collaboration.

Renew: Optimize your infrastructure for the coming waves of wireless, security, networking, and smart building technologies.
Learn more in the checklist for Facilities.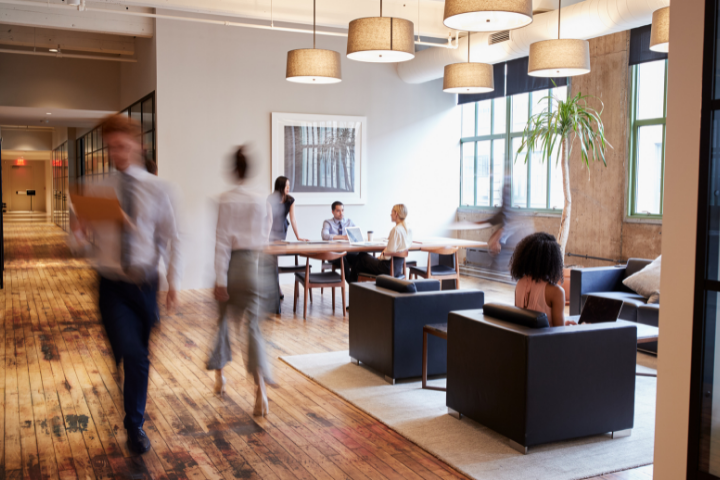 Drive change through technology to reimagine how people work, interact, and communicate — no matter where they are.
Return: From the front door to the office area and beyond, technology is key to making the hybrid workplace work.
Reconnect: Rethink the collaboration experience to ensure every team member, everywhere, is engaged, inspired, and contributing.
Renew: Optimize the promise of business resiliency with seamless, secure communications and operation from anywhere.
Learn more in the checklist for IT.
The Reimagined Workplace Step-by-Step Checklist
The pandemic gave us the freedom to rethink the workplace in ways that were previously " unthinkable." Every HR, IT, and Facilities leader has the same high-level goals: Return, Reconnect, and Renew the workplace. The tactics and strategies you use will depend on your role.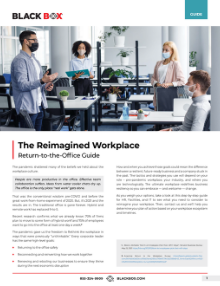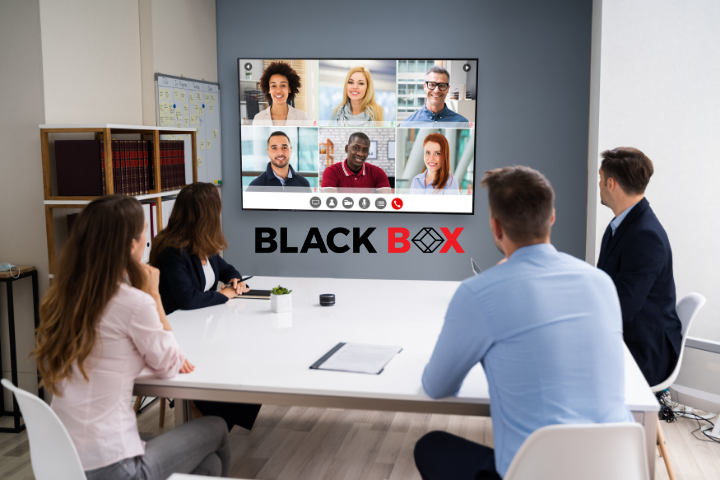 7 Trends in Post-COVID AV Technology
How can you use AV technologies to shape the hybrid workplace? Take a look at these seven trends that will help you define your workplace transformation.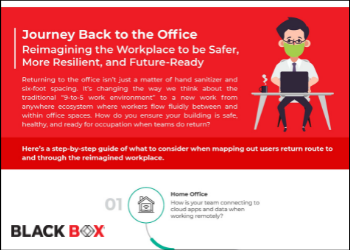 Start Your Journey Back to the Office
The traditional "9-to-5 work environment" is gone and in its place is a new work from anywhere ecosystem where workers flow fluidly between and within office spaces. So, how do you ensure your building is safe, healthy, and ready for occupation when teams do return?
Your Hybrid Workspace in a Box
Gone are the days of boring cubicles. Whether you're working from home, the office, or a coffee shop, the new Reimagined Workplace is wherever you are. Discover how you can make your new workplace fit in a box with engaging, secure collaboration and communication tools that make it as easy to connect with co-workers and clients from anywhere, at any time, on any device.
Black Box works with clients around the globe to address the unique challenges of edge network transformation, including these impressive success stories.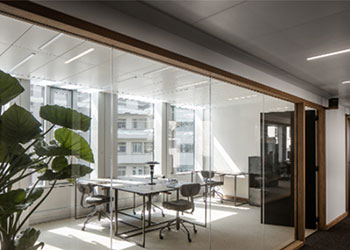 European Co-working Company Builds Business with Black Box
Providing luxurious, high-functioning office space with the latest IT and support is the foundation of a European co-working company's business. When installation at their latest location went awry, Black Box jumped in to complete the job in just six weeks, becoming a trusted partner for future locations in Europe and the United States. Read the full case study.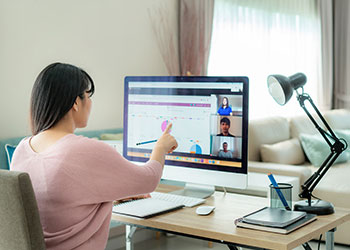 Municipality Adds Secure, Remote Access; Gains $1.1M In Productivity
During the lockdown, at a Northeast municipality employees couldn't access files and applications remotely due to the absence of security features. Black Box provided a security platform that protected access to data for all users, devices, and applications. The result was a $1.1 million gain in productivity — plus millions saved by thwarting security breaches and ransomware attacks.
Related Resources
Discover more about the latest in workplace technology and trends from our transformation experts.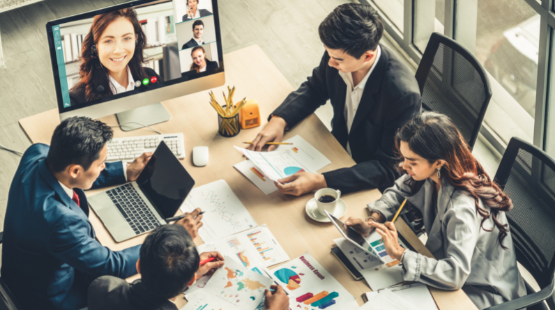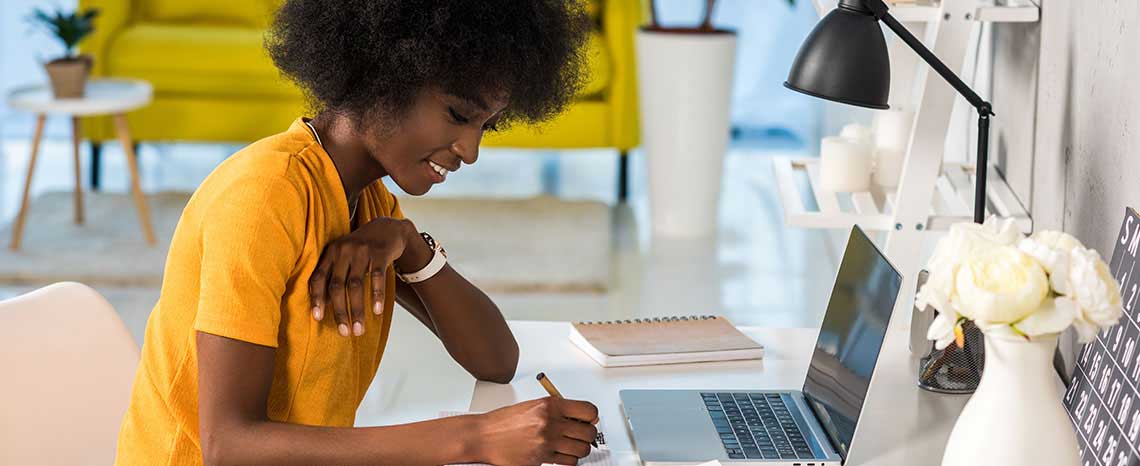 What the Future of Work Means for the Reimagined Workplace
How Businesses Can Optimize Their Workflow, Improve Adaptability, and Offer Flexibility with the Imminent Return to the Office
Now that businesses have adapted to remote and hybrid work, we are all wondering…where do we go from here? What do employees want? What is best for the business and day-to-day operations?
The one thing the pandemic has promised is that the traditional workplace and daily operations are long gone. The focus for HR, business owners, and IT alike has shifted to reconfiguring the workspace and the enablement of both hybrid and in-person collaboration once teams return to the office. So, say goodbye to company desktop computers and daily commuting, and hello to the office of the future.
The methods for operating and optimizing the workspace of tomorrow are discussed during our Reimagining Your Workplace Webinar.
Evaluating the Desire to Return to a Traditional Workspace
The first question many businesses need to ask is "do employees want to return to the office?" As you can probably predict, employees are valuing flexibility more than anything with the looming return to the daily 9-to-5 grind.
Among the world of commuters, there seems to be a divide in preferences for returning to the office or staying home. Some team members miss the collaboration opportunities only available in the office, while others can't see a workspace which doesn't include their slippers. After more than a year at home, studies are finding that most employees want some say in the matter and some may even quit or take a pay cut to maintain their newly-found work life balance. According to a recent study highlighted in our webinar, 63% of workers want to always have the option of going into the office or working from home.1 This requires the future office environment to foster a hybrid approach. This change in the needs of the workforce requires businesses to completely reimagine the workplace.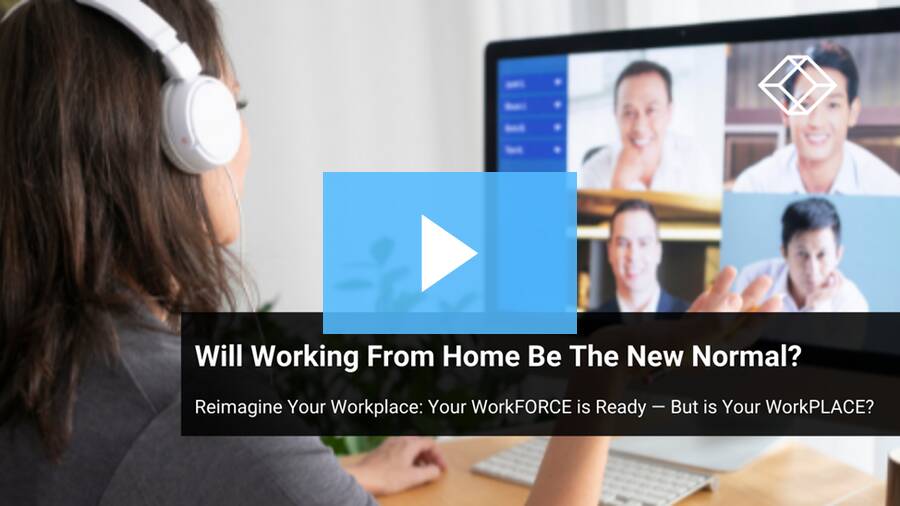 Considering Transitioning Back to the Office? Is BYOD the Answer?
The return of the office is quickly approaching in many places of the world (if it hasn't happened already) and as your organization looks to create a new fluid, hybrid workspace, you may be inclined to lean on a Bringing Your Own Device (BYOD) strategy. BYOD enables employees to work from their own devices for improved comfort and productivity, both at home and in the office. But, planning for traffic from personal devices requires additional considerations: with a rise of more than 97% in the use of personal devices in the workplace, companies must consider the many risks associated with BYOD.2
Company networks need to implement security standards, wireless networking, and virus scanning when implementing a network architecture, to prepare for a new, wider range of internet-connected (possibly insecure) devices such as smartphones, tablets, smart watches, and of course laptops, for workplace use. By securing and monitoring these new devices, enterprises can confidently approach the new way of working.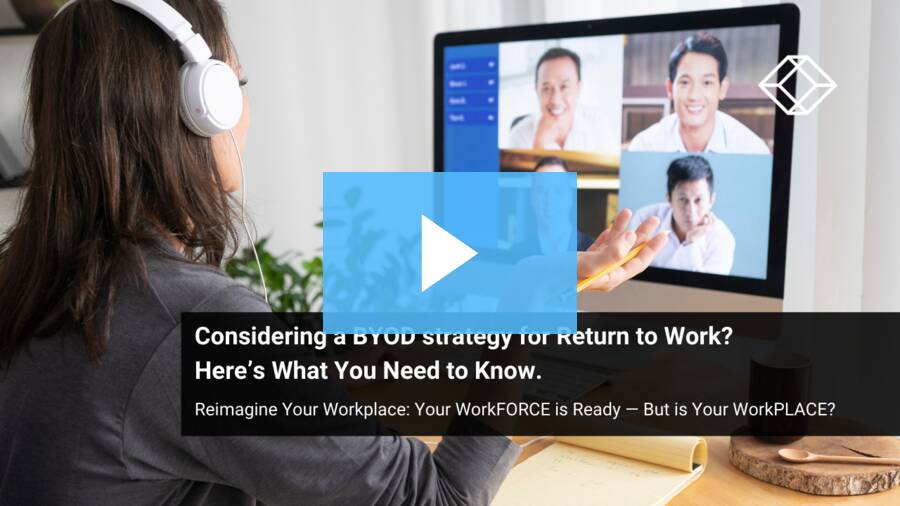 Another repercussion of the pandemic is an IT shortage, because of the increasing resources required to maintain more devices and larger networks. IT departments have been depleted everywhere due to the pandemic. Companies planning on being remote for the foreseeable future didn't see the need for an on-site IT presence; however, with an imminent return to the offices, companies must create a solution to manage the wave of devices requiring integration and security. Digital transformation projects can help add network automation to handle day-t-day tasks to ease the burden on IT.
Assessing the Hot New Trend - How IT is Supporting Hot-Desking and Hybrid Work
Along with the new processes for BYOD, another trend has emerged from the shift to hybrid work – hot-desking (or hoteling) – forcing offices to begin retooling their network capabilities. The traditional workspace network and shrinking IT departments are simply not equipped to handle the huge influx of new devices and security threats.
That is where systems such as SD-WAN and Wi-Fi® 6 come in. Being able to expand bandwidth and increase password security is a must-have to combat the strains associated with the increase in workers returning to the office. It is imperative that your IT departments observe and control your new network from a "central pane of glass," and efficiently manage digital transformation and security.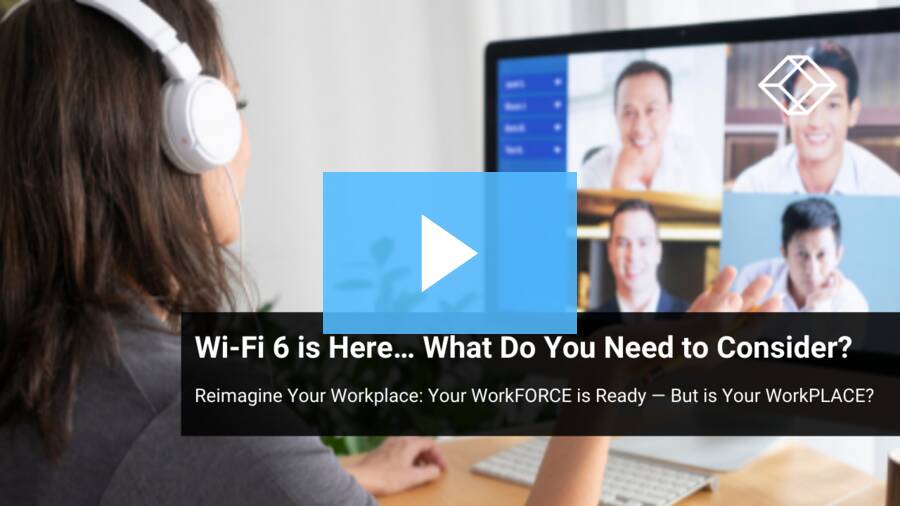 Wi-Fi 6 is especially important in creating a secure and capable network. Most critically, the emerging Wi-Fi 6 networks can handle the enormous load that new devices are placing onto office bandwidth. Furthermore, Wi-Fi 6 also keeps personal and company devices secure, by supporting a system of Wireless Protected Access (WPA) and multi-factor authentication (MFA). With the dynamic nature of hot-desking and hybrid work, Wi-Fi 6's ability to keep workers secure and productive is imperative. Employees must be able to work from any workspace now, and their wireless network needs to be just as flexible.
How Businesses are Adopting Solutions to Adapt to the Office of the Future
At the forefront of network optimization is Software-Defined Wide Area Network (SD-WAN). This new WAN infrastructure revolutionizes enterprise networking, by increasing bandwidth and security, while eliminating many operational costs.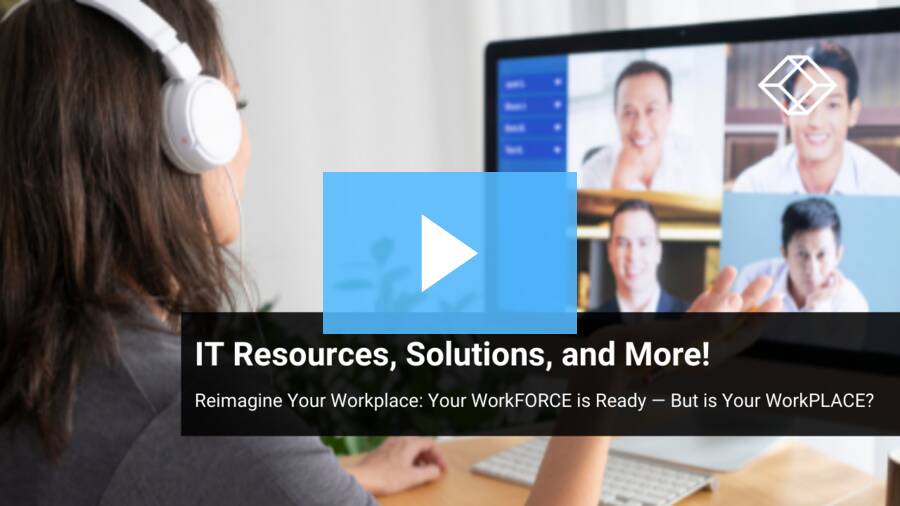 By creating a central "head" of your network tree, you can create policy and effortlessly implement it across different branch locations, while requiring less IT resources. SD-WAN is changing the game when it comes to managing your network, just in time for transitioning workers back to the office. With SD-WAN, your business can optimize your workflow needs to meet the demands of a hybrid workplace.
Adapting to the Reimagined Workplace Panel
The landscape of the traditional office has changed forever due to the pandemic. Companies need to be prepared for workers to come back to the office with new devices, while still being able to support those continuing to work from home. The "new normal" requires enterprises to support a mix of company and personal devices, while keeping everyone secure and productive. By updating your network and joining the wave to SD-WAN and Wi-Fi 6, your business can turn the workspace dilemma into a workspace opportunity.
To help you adapt and capitalize on an ever-changing landscape of technology challenges and solutions, watch our full Reimagining Your Workplace Webinar.
For more information, call us at 855-324-9909, or email us at contact@blackbox.com.
If you would like to receive our quarterly newsletter, View from the Edge, you can sign up here.
1. Findings from the Remote Employee Experience Index
2. As personal use of managed devices becomes ubiquitous, risks increase
Why Black Box?
Black Box is a trusted IT solutions provider delivering cutting-edge technology solutions and world-class consulting services to business around the globe. For more than 45 years, we have helped clients reimagine their workplaces with technologies from all leading manufacturers so you get the best solution for your application. We can help your hybrid workforce return to the office, reconnect and collaborate seamlessly, and help you renew your network to build future-proof business resiliency.
The breadth of our global reach and depth of our expertise ensures you'll get accelerated, standardized technology deployments at all your locations to meet your timeframes. You also benefit from our expertise and experience in handling and diffusing any problems due to worldwide supply-chain disruptions
Where Do We Start?
Work quickly to identify needs and outline a plan of action. Contact a Black Box expert today.