Black Box at IBC2021: Industry-Leading KVM-Over-IP Solutions
Meet Black Box design experts at IBC2021 to learn more about and discuss how Black Box high-performance KVM solutions for centralized control rooms and remote production provide new and optimized workflows and secure remote access.
Visitors can schedule an in-person appointment with a company representative (respecting social distancing and safety conditions) on Black Box Stand 8.B55 at IBC2021. For those not able to attend the show, the company is offering a convenient way to speak with Black Box representatives by scheduling a conversation at any time here: https://black-box.eu/ibc.
Black Box invites visitors at IBC to meet with its KVM experts on-site to discuss the following new additions to the Emerald product family being launched by the company in December:
NEW: Black Box Emerald® GE PCoIP® Ultra Gateway
The latest addition to the Black Box Emerald® family, Emerald GE is the industry's first and only solution that leverages cutting-edge technology to enable multiple users to connect simultaneously and control a virtual machine (VM) just as they would a physical system. Emerald GE has incorporated PC-over-IP (PCoIP®) and PCoIP Ultra technology to support VM sharing and to ensure a secure, high-definition and highly responsive computing experience. Unlocking collaboration across physical and VMs, Emerald GE empowers broadcasters to work together more efficiently in remote production scenarios.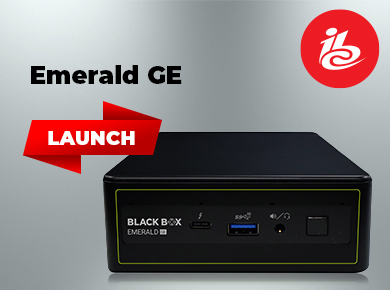 Black Box Emerald® GE is the first PCoIP® Ultra gateway
to enable simultaneous sharing of virtual machines and physical machines.
ZeroU DisplayPort Transmitter for Emerald® Unified KVM
Designed for broadcast applications where space and weight are key!
The new Emerald® ZeroU DisplayPort transmitter from Black Box is just a little bigger than a smartphone and works with any Emerald receiver to give users a seamless desktop experience anywhere on a TCP/IP network. Supporting visually lossless, full-HD DisplayPort video up to 1920 x 1200 and requiring less than 40 Mbps of bandwidth for 1080p video, the transmitter brings high-performance connectivity to a wide variety of applications, including broadcast, postproduction and more.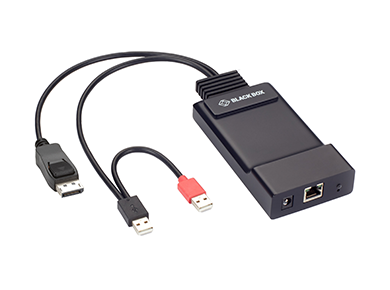 The new Emerald® ZeroU DisplayPort transmitter
offers high performance in space-constrained environments.
Black Box Emerald® VUE Video Processor
Emerald® VUE is a new KVM Switch that addresses broadcasters' need for advanced 4K image processing and robust system switching with instant responsiveness. Emerald VUE enables the operation of multiple DisplayPort computers from a single console while facilitating simultaneous monitoring of four video sources spread across two screens. The multiview KVM switch delivers exceptional 4K60 image quality and allows users to arrange windows either freely on the screen or in preconfigured screen layouts such as full screen, quad view or picture in picture (PiP). Real-time switching between sources via keyboard, API or GPIO gives producers, engineers and editors convenient control over the production process.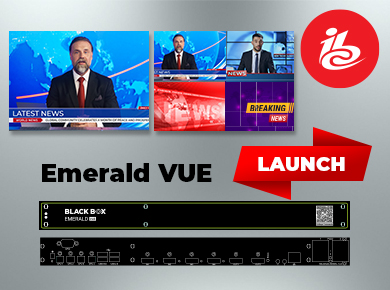 The Black Box Emerald® VUE enables easy processing,
responsive switching and simultaneous monitoring of 4K video.
All of these newest additions to the Emerald family work with the company's Emerald KVM-over-IP Extension and Switching solutions as well as with the Black Box Boxilla Management System. Black Box Emerald Unified KVM platform gives broadcasters and other users the exceptional flexibility and network security essential to state-of-the-art KVM extension and switching. The low-latency, low-bandwidth, high-performance Emerald 4K and HD transmitter-receiver pairs connect workstations with remote computers, servers and virtual machines over IP, while the Boxilla KVM Manager provides an intuitive interface for monitoring Emerald system performance, configuring proactive security alerts, checking on real-time device status and identifying active devices, connections and users, as well as their current bandwidth usage. It is a solution that lowers users' cost of ownership, enables greater workflow optimization and helps preserve existing IT investments.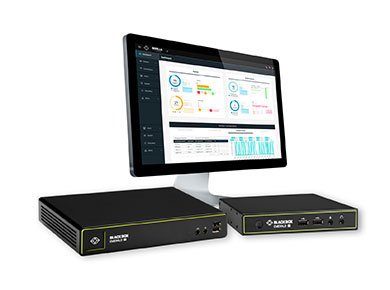 Black Box Emerald® Unified KVM platform provides exceptional
flexibility and network security essential to state-of-the-art
KVM extension, switching and centralized management.
Black Box MCX AV-Over-IP Distribution
Designed for control rooms, MCX distributes and extends zero-latency 4K video and audio to an unlimited number of displays or a video wall over a 10 GbE infrastructure. As part of the SDVoE ecosystem, this robust video distribution system allows AV and data payloads to exist on the same IT network, which significantly reduces network management time and costs.
While enabling truly converged network AV, Black Box MCX ensures zero latency, uncompressed 4K video and high-quality analogue, digital and Dante audio with instantaneous switching and bandwidth efficiency.

Black Box's new MCX AV distribution and management
system enables true convergence of AV and data on a single 10 GbE network.
Black Box Quote
"As interest in IP workflows, virtualization and remote work continues to rise, we are extremely excited to introduce our first-in-the industry PCoIP Ultra gateway, which adds VM sharing to our solution offering with essential functionality, security and reliability."
— John Hickey, Senior Director of R&D and KVM Systems at Black Box
Company Overview
Black Box® is a trusted IT solutions provider delivering cutting-edge technology solutions and world-class consulting services to businesses on every continent. The breadth of our global reach and depth of expertise accelerates customer success by bringing people, ideas and technology together to solve real-world business problems. Our IT infrastructure solutions, services and products enable secure, flawless connectivity and meaningful collaboration across town or around the globe.
Black Box is a wholly owned subsidiary of AGC Networks. To learn more, visit the Black Box website at www.blackbox.com. Follow the company on Twitter @BlackBox_ns. Black Box® and the Double Diamond logo are registered trademarks of BB Technologies Inc.
All other trademarks referenced herein are the property of their respective owners.
Link to Word Doc:www.wallstcom.com/BlackBox/211122-Black_Box-IBC2021_Preview.docx
Black Box Contact
Martina Stamm
Black Box
Phone: +49 89 120 85 411
Email: Martina.Stamm@blackbox.com
Agency Contact
Carolyn Archambault
Wall Street Communications
Phone: +1 801 266 0077
Email: carolyn@wallstcom.com