German Broadcaster WELT Builds State-of-the-Art Studios on Black Box Emerald Unified KVM Platform
PITTSBURGH and UTRECHT, Netherlands — Oct. 26, 2021 — Black Box, a global information technology solutions provider, today announced that private German broadcaster WELT (formerly N24) is deploying the full Emerald Unified KVM product line and Boxilla centralized KVM manager to support modern broadcast operations across its new state-of-the-art headquarters in Berlin. Designed, supplied and installed by the project's master systems integrator Qvest Media, the Black Box solution will enable reliable, flexible IP-based signal switching and extension for two large broadcast studios and one smaller studio, all of which rely entirely on remotely operated robotic systems.
"The Emerald KVM platform is unique in supporting both virtual and physical machines, and this capability — along with anytime, anywhere access via the Remote App software receiver — has opened up a whole new way of approaching our studio infrastructure," said Thorsten Prohm, chief technical officer at WELT. "The Black Box system's ability to support both HD and 4K likewise gives us valuable flexibility in managing signals and format types as we deliver news broadcasts with an innovative look and feel."
WELT will take broadcasts live from the new facility this year. With Emerald transmitters and receivers connecting operator workstations to computers in the facility's equipment rooms — and eventually to virtual machines — operators working anywhere will enjoy fast access to any sources they need to do their jobs. The Remote App securely extends access to the KVM network so that authorized users can connect to the studio or other broadcast facilities and remotely perform the same job they do when working on site.
Thanks to the API-based cross-functionality of the Emerald KVM platform with other platforms, including the studio management system, operators can completely reconfigure all workstations' functionality with the touch of a button.
"We're thrilled to be working with WELT on their exciting new facility build to redefine live news broadcasting — from an overhaul of the conventional studio model to the integration of user-generated content and modern news production," said Norman Tettenborn, principal at Qvest Media. "The Emerald KVM platform is designed to support this type of innovation, and we look forward to a successful launch."
"It's exciting to see WELT and Qvest Media take full advantage of our Emerald KVM platform to provide greater efficiency and creativity in taking studio programming to air," added Frank Nölken, director KVM business development at Black Box EMEA.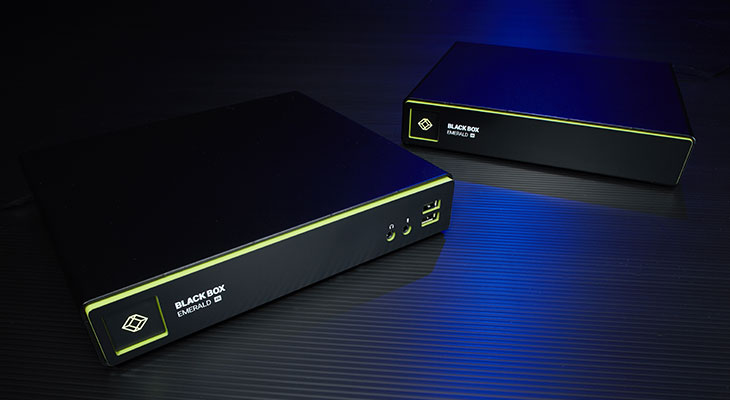 Black Box Emerald Unified KVM Platform
Further information about Black Box and the company's networking connectivity solutions is available at www.blackbox.eu.
# # #
About Black Box
Black Box® is a trusted IT solutions provider delivering cutting-edge technology solutions and world-class consulting services to businesses on every continent. The breadth of our global reach and depth of expertise accelerate customer success by bringing people, ideas, and technology together to solve real-world business problems. Our IT infrastructure solutions, services, and products enable secure, flawless connectivity and meaningful collaboration across town or around the globe.
Black Box is a wholly owned subsidiary of AGC Networks. To learn more, visit the Black Box website at www.blackbox.com. Follow the company on Twitter @BlackBox_ns.
Black Box®️ and the Double Diamond logo are registered trademarks of BB Technologies Inc.
All other trademarks referenced herein are the property of their respective owners.
Link to Word Doc: www.wallstcom.com/BlackBox/211026-Black_Box-WELT.docx
Agency Contact
Carolyn Archambault
Wall Street Communications
Phone: +1 801 266-0077
Email: carolyn@wallstcom.com