Black Box 4K Desktop KVM Switch Provides Control of Two Computers With Mixed HDMI and DisplayPort Video Inputs
PITTSBURGH — Nov. 11, 2020 — Black Box, a global information technology solutions provider, today introduced the KVD200-2H 4K HDMI dual-head desktop KVM switch, a competitively priced KVM switch designed for professional users who need to control two computers, such as a desktop and a laptop computer, with a single keyboard and mouse.
Handling dual HDMI and DisplayPort signals from the computers (Microsoft® Windows®/Mac OS X®/Linux®) and dual output video signals (up to UHD 4K at 60 Hz) to one or two 4K HDMI monitors, the KVD200-2H KVM desktop switch is ideal for users who require convenient, cost-effective control over multiple computers with flawless performance. The unique mix of DisplayPort and HDMI inputs provides support for today's most advanced video cards. Push-button control and keyboard hotkeys make switching simple.
The KVD200-2H KVM switch supports speaker and microphone audio and features two USB 2.0 ports, two USB 3.1 Gen. 1 ports, and one USB Type-C 3.1 port to support high-speed peripherals such as storage devices, flash drives, and cameras. Keyboard/mouse emulation ensures compatibility with complex HID devices. Equipped with HDCP 2.2 support, the new Black Box switch also enables users to stream 4K video from online streaming platforms over the computer.
"This unique mixed-input KVM desktop switch helps maximize productivity in the most demanding creative applications, including 3D and graphics design, video production, software development, and professional video game development," said John Hickey, senior director of KVM and R&D for Black Box. "Offered at an attractive price point, this new switch is a great solution for optimizing the user's workspace and workflow."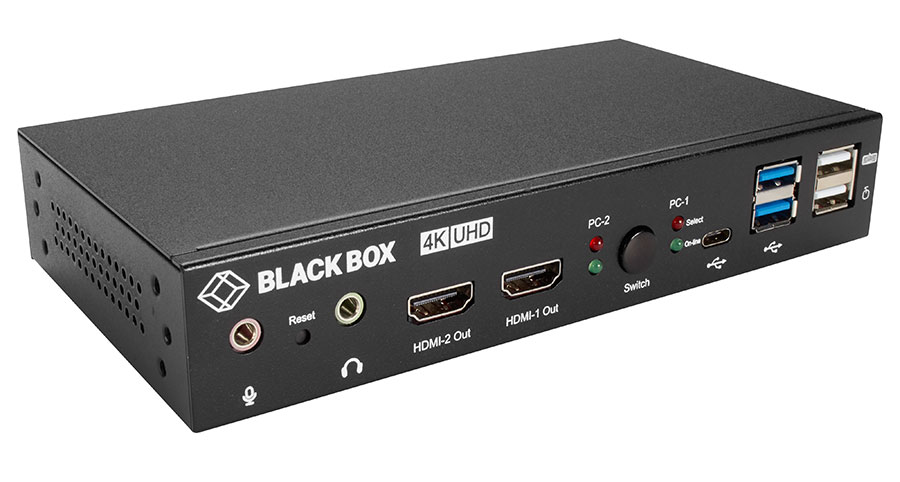 Black Box introduces new 2-Port KVM Switch with mixed HDMI/DisplayPort inputs
Further information about Black Box and the company's networking connectivity solutions is available at www.blackbox.com.
# # #
About Black Box
Black Box has been a world-leading provider of premier IT infrastructure solutions for more than 40 years. Today, the company continues to design and manufacture award-winning pro AV, KVM, cabling and networking products known for their advanced functionality, flawless performance, outstanding reliability and fail-safe security. Black Box solutions are used every day in government, education, commercial enterprises and any other organization that requires the utmost quality and performance from its IT infrastructure.
In addition to creating industry-leading products, Black Box demonstrates every day a complete commitment to providing its customers with the industry's best technical support and service. The award-winning dedicated support staff at Black Box works around the clock to ensure that customers' systems are always up and running optimally. The world-class support and service provided by Black Box is as important to the successful IT, communications and business operations of customers as the powerful products and solutions the company delivers.
Black Box is a wholly owned subsidiary of AGC Networks Limited. To learn more, visit the Black Box website at www.blackbox.com. Follow the company on Twitter @BlackBox_ns. Black Box® and the Double Diamond logo are registered trademarks of BB Technologies Inc.
Link to Word Doc: www.wallstcom.com/BlackBox/201111-Black_Box-KVD200-2H-4K-HDMI-Dual-Head-KVM-Switch.docx
Black Box Media Contact
Daniel Prax
EMEA Marketing Communications Manager
Phone: +49 89 1208 5423
Email: daniel.prax@blackbox.com
Agency Contact
Carolyn Archambault
Wall Street Communications
Phone: +1 801 266 0077
Email: carolyn@wallstcom.com