Top Black Box Products of 2020 (International)
During this challenging year, Black Box worked harder than ever to bring you Pro AV, KVM, networking, and connectivity products that help you meet your unique technology needs. Join us as we highlight our top IT solutions of 2020 and explain how they can benefit your application.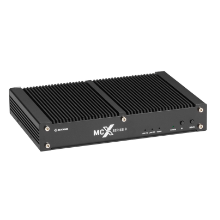 10. MCX S9C
MCX is a next-generation AV-over-IP solution from Black Box. MCX delivers the video quality high-end AV applications require to display eye-catching content: It extends uncompressed 4K 60 Hz 4:4:4 video to an unlimited number of displays without sacrificing latency, video quality, or bandwidth. Even better, it supports up to 10-bit HDR using Software-Defined Video over Ethernet (SDVoE) - the latest software-based AV-over-IP platform for extension and control of AV systems on Ethernet or fiber networks. MCX also allows you to display your video wall content any way you want. It offers advanced video scaling options, such as multiview, picture-in-picture, split-screen, and more.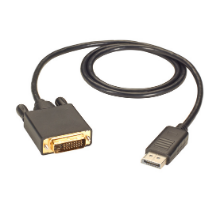 9. Video Adapters for Every Need
Today, AV equipment comes with many different video interfaces, making it difficult to connect sources to displays if you don't have the right cables on hand. Black Box video adapters are a very cost-efficient way to fix your video compatibility issues. We offer DisplayPort, Mini DisplayPort, HDMI, DVI, VGA, and USB C video adapters to ensure you can make reliable connections between all of your AV equipment.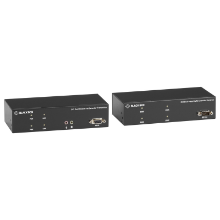 8. KVX Series Single- and Dual-Monitor KVM Extender Kits
The KVX Series KVM Extender Kits let you control a remote server or computer from your local workstation. Unlike other KVM extenders, KVX allows you to connect a display at the remote location if you need to monitor the computer locally. KVX extends single- or dual-head video (DVI/VGA, HDMI, or DisplayPort), a wide range of USB 1.1 and 2.0 peripherals, speaker and microphone audio, and RS-232 signals up to 100 meters (328 feet) over CAT5/6 UTP network cable. The KVX fiber models extend the same signals up to 30 kilometers (18.6 miles) over fiber via SFP. PC connection cables are included with these kits, making them ready to use right out of the box.
7. Miniature Gigabit Ethernet Industrial Media Converters
Our Miniature Gigabit Ethernet Industrial MediaConverters seamlessly and transparently convert 10-/100-/1000-Mbps copper to 1000-Mbps singlemode fiber. They enable you to extend your network over fiber at distances up to 10 kilometers (6.2 miles) on singlemode cable. Since these are Layer 2 media converters, they automatically sense and adapt to the speed on the copper side for truly plug-and-play operation.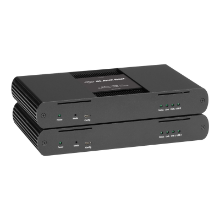 6. USB Extenders
Black Box USB Extenders can extend USB signals up to 100 meters over CAT6A/7 cable. They also support USB 3.1, 2.0, and 1.1 to enable you to extend all of your USB devices. Even better, our USB extenders feature USB speeds 10x faster than any other USB 2 extenders on the market, making large file and multiple file transfers significantly quicker.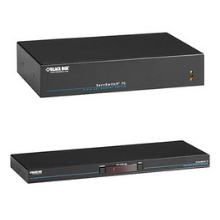 5. Freedom II KM
With the Black Box Freedom II KM (keyboard and mouse) Switches, you can control operations across four or eight computers by simply moving your mouse from screen to screen. This saves desktop space and improves operator response time. Use Freedom as a stand-alone KM switch or add it to your KVM matrix switching system to optimize workflows in control rooms, command centers, or 911/112 call centers.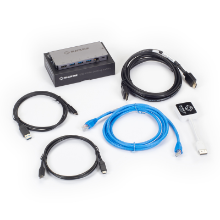 4. USB C Docking Station
Connect a 4K HDMI monitor, keyboard, and mouse to your laptop or mobile device and get a full desktop experience with our USB C Docking Station. It features a USB C host port and cable, a USB C charging port, an HDMI video port featuring resolutions up to 4K x 2K at 30 Hz, a Gigabit LAN port, three high-speed USB 3.0 Type A ports, and an SD/micro SD slot. In addition to the standalone USB C Docking Station, you can choose between pre-bundled kits that include the necessary cabling and/or adapter for your video interface of choice, as well as additional Ethernet and USB C cabling.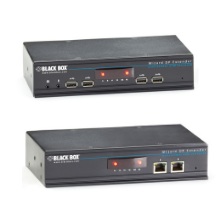 3. KVM Extender over CATx Single- or Dual-Monitor DisplayPort
The Black Box DisplayPort Extender is a high-performance KVM extender that enables you to access your critical computing hardware that is stored in a secure and temperature-controlled environment far away from your workstation. It can transmit either two 1920 x 1200 video streams or one higher resolution video stream (2560 x 1600 WQXGA), digital audio (S/PDIF), analog audio, Hi-Speed USB 2.0, and USB 2.0 (full and low speed) over CATx cables.
2. CAT6 Gigabit Snagless (UTP) Ethernet Cable (RJ-45 M/M) 550-Mhz
These component-level cables are tested to 550 MHz to ensure they provide the utmost network performance at all times. On top of premium network performance, they feature a snagless boot that fits all standard RJ-45 openings, and they're guaranteed for life.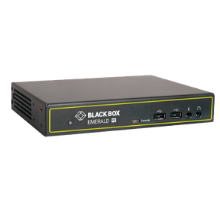 1. Emerald PE
Emerald® PE Transmitters and Receivers are ideal extenders for customers seeking superior KVM performance, system redundancy, and crystal-clear HD video. They allow you to extend and switch pixel-perfect DVI video up to 1920 x 1200 at 60 Hz, high-speed USB 2.0 devices, and bidirectional analog stereo audio through redundant network ports. With a similar feature set as Emerald 4K units, these extenders are ideal for critical 24/7 applications including process monitoring, broadcast production, and medical imaging. Emerald PE is available in single-head and dual-head models.
On the Rise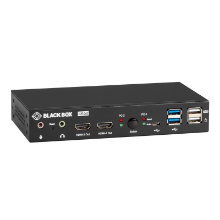 Austin KVM
Looking for cost-effective and professional 4K desktop KVM switching? The KVD200-2H KVM Desktop Switch lets you control two computers from a single set of keyboard, mouse, and peripherals. It supports both HDMI and DisplayPort and outputs video signals up to 4K at 60 Hz to one or two HDMI monitors. And with support for USB 3.1 and USB C peripherals as well as speaker and microphone audio, the switch helps you maximize productivity in the most demanding creative applications, including 3D and graphic design, video production, software development, or professional video game development.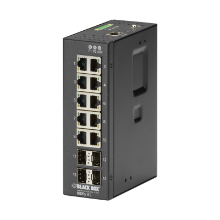 LIG1000 Series Gigabit Ethernet (1000-Mbps) Extreme Temperature Managed Switch
This compact network switch with fiber uplinks is made to work in the harshest environments. It features ten 10-/100-/1000-Mbps RJ-45 copper ports and four multispeed SFP ports for uplinks. The switch offers full wire-speed forwarding rates, auto-negotiates for network speeds, and Auto-MDI/MDI-X, eliminating the need for crossover cables.
If you're interested in any of these products, call us at 1-877-877-2269. One of our technical experts will be happy to explain how these solutions can benefit your application or direct you to other products that can meet your technology needs. You can also browse the Black Box Catalog to see all of our products and shop for your end-to-end solution now.
AV
Cables
CAT6
Custom-made
Emerald PE
KVM
Networking