UCaaS offers organizations an all-in-one, cloud-based communications platform that includes meetings, video, chat, phone, file sharing, and other collaboration features.
But why managed? IT teams are lean and budgets are tight. That's why we offer a full suite of managed services and workplace solutions delivered in a budget-friendly OPEX model. We create uniform experiences across multiple locations with consistency, speed, and agility through a robust design, deployment, and manage methodology — giving you one partner to guide you from where you are to where you want to be.
Create a digital workplace that employees will embrace and that also ensures successful business continuity.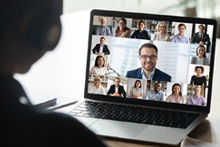 Top Considerations for Business Continuity
See what you need to consider to maintain business continuity through Managed UCaaS.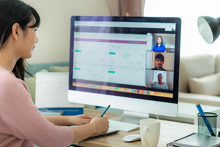 The Digital Workplace
Today's workforce is changing. There is an evolution (and revolution) happening in the workplace that is affecting how and where we communicate.
What's the Difference?
Learn about the three UC&C options: on-premises, cloud-hosted, and hybrid and which one is best for your organization.
Managed Migration and Services
With more than 40 years experience in deploying in-building IT and communications technologies, a footprint that spans 120 countries, time-tested methodologies, certified technicians, and a proven track record, we have all the managed services needed to make your move to UCaaS smooth and successful.


Professional
Services
Consulting/Discovery
Engineering/Architecture
Assessments/Surveys
Project Management

Field
Services
On-Site Services
Multisite Deployments
Staging Services
Logistics
On-Site Staffing

Support
Services
Remote Configuration
Remote Support
Service Desk
Monitoring
Sunset Services
E-Waste

Service Level
Management
Reporting
Advanced Escalation
Service Level Agreements
Customer Success Manager
Redefine your business UCaaS. Choose from seamless solutions that provide all-in-one voice, video, messaging, meetings, file sharing, and more. We'll team up with you to find the right solution for your organization from one of our industry-leading partners.

Click on a partner logo to discover additional resources and information.
Unified Communications & Collaboration
Successful enterprises know their competitive advantage lies in their workforce and today's workforce is the most diverse ever with four generations working side by side, each with a preferred way of communicating from phone calls to video conferencing.
Related Topics
Read more about the technologies in UCaaS

As New Meeting Spaces Get Outfitted with IoT, Here's What You Need to Know
Hybrid work is the new reality for businesses heading into 2022. According to a survey from HealthEquity, 77% of workers do not want to return to working onsite full-time with 43% of those surveyed wanting a hybrid work model moving forward. The number one reason for wanting continued remote work — the time and cost associated with commuting to the office.1
For employees, hybrid work gives them the perfect balance of time and flexibility while increasing productivity. Adapting employees to a hybrid work model is a daunting task for IT teams as they will need to enable access to a secure network, headsets, cameras, and video functionality that enhances the virtual collaboration experience for all employees.
For IT teams, equipping team members for hybrid work will be critical. From secure network access to headsets and cameras that make meeting experiences better, to video and chat collaboration for all teams that enhances the virtual collaboration experience for all employees.
But the forgotten angle is what to do with your current office spaces? Hybrid working spaces need to be outfitted with new technology that accommodates the needs of employees coming into the office as well as those working from home. The mix of employees includes the daily commuters who want to be in the office every day; the hybrid workers who come in once/twice a week; the mobile workers who travel from office to office; the traveling executives or the remote employees who come to the office for a few days per quarter.
Depending use case-driven approach you want to deploy, you might be trying to make safer spaces, environmentally friendly spaces, enable more collaboration, enable touchless meeting spaces, or improve communications within spaces.
The places and the spaces will all need upgrades to drive your business outcome. The list of places is long and includes the lobby, common spaces like break rooms, hot desking and hoteling spaces, call centers, network operations centers, conference and meeting spaces, huddle spaces, boardrooms and training rooms.
The list of technology and IoT devices can include: touch free room scheduling devices, room indicator lights, occupancy sensors, thermostats, shading solutions, touch screens and panels, video cameras, digital screens and signage, smart boards, projectors, microphones, sound masking, access control, smart furniture, smart appliances, environmental sensors and kiosks.
Moving Forward
Ready to Reimagine Your Workplace? Talk to us at 855-324-9909 or email us at contact@blackbox.com.
If you would like to receive our quarterly newsletter, View from the Edge, you can sign up here.
About Black Box
Black Box® is a trusted IT solutions provider delivering cutting-edge technology products and world-class consulting services to businesses across the globe in every industry. The breadth of our global reach and depth of our expertise accelerate customer success by bringing people, ideas, and technology together to solve real-world business problems.
1 "FLEXIBILITY IS THE FUTURE." Covid-19 has significantly reshaped employee work patterns, signaling urgent need for organizations to enhance commuter benefits and remote work support. 2021 HealthEquity.
Where Do We Start?
Work quickly to identify needs and outline a plan of action. Contact a Black Box expert today.