Extend Uncompressed Data Signals with Active Optic Cables
Benefits of Active Optical Cable
Active cable has the electronics to boost the data transmission distance of cable. Active Copper Cable (ACC) uses the copper wire embedded in the amplifier chip to extend the signal for a longer distance. Active Optical Cable (AOC) functions in a similar way as ACC, but uses fiber optic cable instead of copper, and an EO/OE conversion engine replaces the amplifier.
AOCs were designed for Ethernet signals in data centers; examples include QSFP28 AOC and SFP+ AOC, etc., and so on. An Ethernet AOC is an end-to-end assembly that eliminates connector end-face contamination and insertion loss issues between the fiber cable and optical transceiver modules, and costs less than separate transceivers and cables. Today's Ethernet AOCs can transfer data up to 800 Gbps (QSFP-DD).
AOCs deliver uncompressed signals and longer data transmissions in HDMI, DisplayPort, and USB applications. In the video field, typically bit rate and latency are compromised by the video compression technology used to extend the video signal. AOC HDMI or DP cables pass-through the uncompressed signal via the optical fiber cables to reduce EMI or alien crosstalk caused by traditional copper conductors, and work perfectly with 4:3, 16:9, and 32:9 aspect ratios. Plus, no additional power source is needed for AOC, saving the manpower cost of field installation. In a USB application, AOC is a superior extension solution that supports USB cameras such as Microsoft Azure Kinect, as well as sensors and factory automation systems. USB AOCs adopt the hybrid cable design, which is not only backward-compatible to support USB 2.0 features but also carries USB 3.2 Gen1 5-Gbps data rate to optimize most USB extension scenarios.
How Does Active Optical Cable (AOC) Work?
Each side of an AOC has an optical-to-electrical and an electrical-to-optical (OE/EO) conversion module that converts electrical signals output from the device into optical signals and converts optical signals carried on the optical fibers of the AOC into HDMI /DP/ USB electrical signals.


Figure 1. AOC Working Principle
The VCSEL and driver IC are the key components in the transceiver module. A VCSEL (Vertical-Cavity Surface-Emitting Laser) transfers electrical signals to optical signals. Unlike an edge-emitting LD (laser diode), a VCSEL emits circular laser beams vertically from a substrate surface, so it can be easily connected with a photodetector to an optical fiber. Once the Photodetector/Photo-Diode (PD) receives the signal, it changes optical signals to HDMI/DP/USB electrical signals.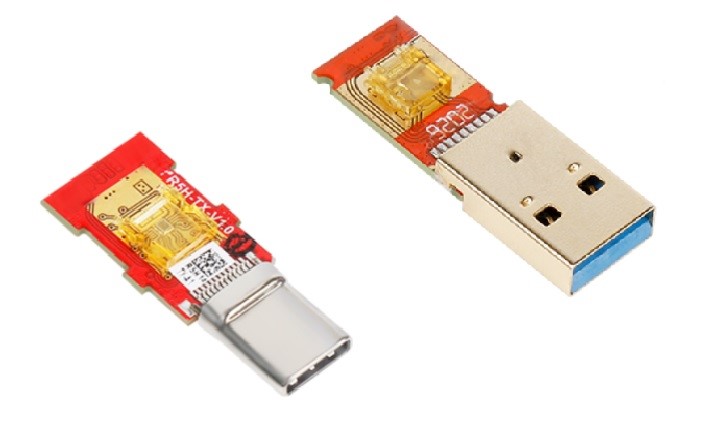 Figure 2. USB AOC Modules
Black Box AOCs
Black Box AOCs feature Silicon line GmbH's driver IC and HLJ VCSEL. All optical modules are tested using optical power meters. Tests on the semi-finished and finished AOCs are conducted using a signal pattern analyzer with physical TVs, monitors, and PCs to ensure the product works appropriately at your end.
Black Box uncompressed AV AOCs are designed for digital signage, control rooms, video walls, medical imagery, and meeting rooms in high-resolution extension applications. The USB 3.1 AOC is a wise choice for the long-distance data transmission connections with Aver, Huddly, and Azure Kinect, etc. cameras or factory automation systems.
Related Products
AOC Categories
Length
Part Number
HDMI 2.0
4K60 4:4:4
10-Meter
Cable AOC-HL-H2-10M
15-Meter
Cable AOC-HL-H2-15M
30-Meter
Cable AOC-HL-H2-30M
50-Meter
Spool AOC-HL-H2-50M
100-Meter
Spool AOC-HL-H2-100M
DisplayPort 1.4
4K60 4:4:4/
8K60 4:2:0
10-Meter
Cable AOC-HL-DP4-10M
15-Meter
Cable AOC-HL-DP4-15M
30-Meter
Cable AOC-HL-DP4-30M
40-Meter
Spool AOC-HL-DP4-40M
50-Meter
Spool AOC-HL-DP4-50M
100-Meter
Spool AOC-HL-DP4-100M
USB 3.1 Gen2 10-Gbps
Type-C to Type-C
(USB 2.0 backward compatible)
Custom length within 15 Meter
Custom
Additional Resources
About the Author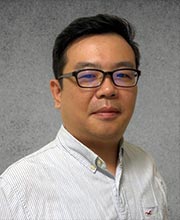 George Liu
Product Engineer
George Liu has 12 years' experience in the cabling, data, and video connectivity industry. As a Project and Product Manager at Black Box, he works directly with domestic and international OEM suppliers on new product launches. George is a certified PMP and CQE, and he is a master's candidate in the industrial management program at National Taiwan University of Science and Technology.