We are excited to celebrate NAB's Centennial Anniversary April 15-19, 2023. Black Box has been providing KVM and AV solutions for the top broadcasters since the early 1990s. Experience the Evolution of KVM with us at Booth #W1322 where we will officially launch our new, award-winning Emerald® DESKVUE and demo our full portfolio of KVM over IP solutions.
Experience the Evolution of KVM and Redefine your Workspace with DESKVUE.
Please join us for our Connect Innovation Theater presentation with Ed Krach, Senior Solutions Architect on Monday, April 17 at 4:00 p.m.
Get your free exhibits pass using our guest pass code"LV7363" through March 31. Starting April 1st, registrations made with a guest pass code will be $50.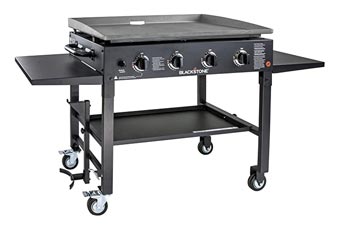 Enter to Win at NAB 2023
Schedule a product demo and you will be entered to win a Blackstone 2 Burner 28 in. Flat Top Gas Griddle Model #1517!
Daily winners will be drawn at our booth.
At NAB Show 2023, Black Box will demonstrate its new Emerald® DESKVUE KVM-over-IP receiver. Offering a completely new concept in KVM-over-IP, Emerald DESKVUE eliminates the traditional one-to-one relationship with a transmitter or virtual system and allows users to create a personalized workspace where they can simultaneously view and interact with up to 16 different systems. Users can now tailor their workspace as best suits their needs by connecting a single keyboard, mouse, USB 3/2 devices, audio, and up to four 4K/5K monitors. Emerald DESKVUE connects to physical systems via Emerald transmitters; VMs using RDP, PCoIP, PCoIP ultra, and H.264/265 sources; and Virtual Network Computing (VNC). All systems can be positioned across the screens as freely movable windows. Interacting with each system is as simple as moving the mouse onto the window. This model enables the user to maintain complete situational awareness and full control within easy reach.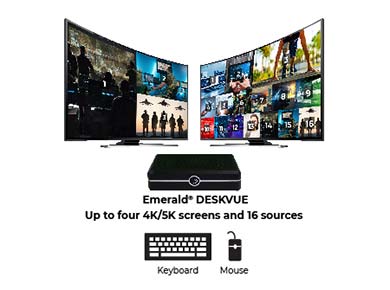 ---
The Black Box Emerald® KVM-over-IP platform serves as an infinitely scalable universal access system, giving users the flexibility to connect to both physical and virtual machines from any location at any time, which allows for optimized studio infrastructure and workflows. Advanced security and market-leading low-bandwidth consumption allow maximum expandability, incorporating remote users, remote productions, and distributed control rooms. Interoperability between 4K and HD video and one-touch setup of control rooms, combined with a high degree of automation through Emerald's APIs, give users valuable flexibility and ease of use in managing signals and format types to deliver content with an innovative look and feel — all while preserving investment in existing IT equipment.
The Emerald Remote App turns any Windows 10 device into a software KVM receiver - without the need for additional hardware. Emerald delivers superior value, lowering your costs of ownership and saving your IT investments.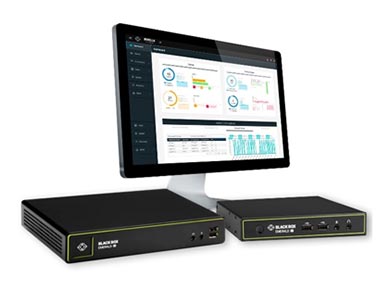 ---
The Black Box Boxilla® enterprise-level KVM manager makes it easy for users to control and monitor an unlimited number of Emerald® devices and software solutions. With its intuitive and visually appealing dashboard, Boxilla offers a simple, complete solution for monitoring system performance, configuring proactive security alerts, checking on real-time device status, and identifying active devices, connections, and users, as well as their current bandwidth usage. To offer a precise view of network bandwidth, Boxilla also provides at-a-glance access to dropped frames, round-trip time, and other critical system and device data. With these capabilities and the system's ease of use, administrators can proactively identify and resolve issues before they compromise performance and the user experience.