What Is a Media Converter?
What Is a Media Converter?
Fiber optic Ethernet communications offer many advantages over copper-based Ethernet communications, such as immunity to noise and extended range. It's easy to use fiber optic cable if you have an Ethernet switch with built-in fiber optic ports, but what can you do if your switch does not have fiber ports or does not have enough fiber ports? In these situations, you will need a media converter to convert copper-based communications to fiber optic communications.
This article will explain the different types of media converters and detail the wide variety of applications for media converters.
Media Converter Definition
Here is Techopedia's definition for a media converter: "A media converter, in the context of network hardware, is a cost-effective and flexible device intended to implement and optimize fiber links in every kind of network. Among media converters, the most often used type is a device that works as a transceiver, which converts the electrical signal utilized in copper unshielded twisted pair (UTP) network cabling to light waves used for fiber optic cabling. It is essential to have fiber optic connectivity if the distance between two network devices is greater than the copper cabling's transmission distance. The copper-to-fiber conversion carried out by a media converter allows two network devices having copper ports to be connected across long distances by means of fiber optic cabling."
What Are the Different Types of Media Converters?
There are many media converters available on the market today that support different network protocols, data rates, cabling, and connector types. The two main types of media converters are copper-to-fiber media converters and fiber-to-fiber media converters.
Copper-to-Fiber Media Converters
These are the most common types of media converters. They function as transceivers. Copper-to-fiber media converters convert the electrical signal in copper UTP cabling into the optical wavelength in fiber optic cabling. The conversion from copper to fiber offers increased distance and immunity to electromagnetic interference.
There are a few different types of copper-to-fiber media converters. I'll start by going over Ethernet copper-to-fiber media converters.
Ethernet Copper-to-Fiber Media Converters
These converters support the IEEE 802.3 standard, enabling them to interoperate with any device that follows the same standard. These standards include connectivity for Ethernet, Fast Ethernet, Gigabit, and 10-Gigabit Ethernet.
TDM Copper-to-Fiber Media Converters
The most common TDM (Time Division Multiplexing) copper-to-fiber converters are T1/E1 and T3/E3 converters, which provide a reliable and cost-effective way to extend traditional TDM telecom protocols and copper connections over fiber optic cabling. T3/E3 and T1/E1 converters usually operate in pairs. These converters extend the distances TDM circuits can travel via fiber and improve noise immunity, quality of service, intrusion protection, and network security.
Serial-to-Fiber Media Converters
Serial-to-fiber converters provide fiber extension for serial protocol copper connections. They can automatically detect the signal baud rate of any connected full-duplex serial device and support point-to-point and multipoint configurations.
Fiber-to-Fiber Media Converters
Fiber-to-fiber media converters provide connectivity between multimode (MM) and singlemode (SM) fiber, between different power fiber sources, and between dual-fiber and single-fiber. In addition, they support conversion from one wavelength to another. Fiber-to-fiber media converters are normally protocol independent and available for Ethernet and TDM applications.
Multimode-to-Singlemode Media Converters
Enterprise networks often need to convert MM fiber to SM fiber because lower-cost legacy equipment usually requires connectivity to SM fiber equipment. A good example of a situation like this is when a building has MM fiber equipment and the connection to the service provider is SM fiber. Another example would be when MM fiber equipment in a campus building needs to be connected to another building on campus, and the interconnect between buildings is SM fiber.
Dual-Fiber to Single-Fiber Media Converters
Enterprise networks may also require conversion between duplex, dual-fiber, and simplex (single-fiber). To convert fiber strands in a multistrand cable, the conversion from simplex to duplex will allow you to double the connection across that cable. Single-fiber is singlemode and operates with bidirectional wavelengths, often referred to as BIDI. Typically, BIDI single-fiber uses 1310-nm and 1550-nm wavelengths over the same fiber strand in opposite directions, allowing you to transmit and receive data on a single fiber.
Media Converter Applications
Media converters do more than convert copper-to-fiber and convert between different fiber types. Media converters for Ethernet networks can support integrated switch technology and perform 10/100 and 10/100/1000 rate switching. Additionally, media converters can support advanced bridge features, including VLAN, quality of service (QoS) prioritization, port access control, and bandwidth control. They can also facilitate the deployment of new data, voice, and video to end users. Media converters provide all these sophisticated switch capabilities in one small, cost-effective device.
About the Author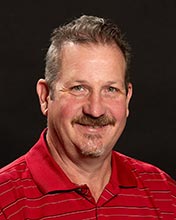 Dave Sefzik
Dave Sefzik has 30+ years' experience in the Networking and Datacom industry, serving 7 years in the U.S. Army Signal Corps as a COMSEC Repair and Communication Systems Installer before his time at Black Box. For the past 25 years, Dave has assisted Black Box customers in various roles, offering presales and post-sales support for 10 years before transitioning to Product Engineering for Networking and Datacom. Today, Dave is responsible for product compliance and quality control. He ensures products meet their performance criteria and teaches the internal engineers and sales team about technology.
Media Converters
Networking
TPS