How Are Industrial Devices Different from Commercial Devices?
Industrial devices can function perfectly in environments with extreme temperatures, humidity, dirt, and corrosive materials. They can protect against electromagnetic interference (EMI) in areas that contain large motors or mechanical switches that create electromagnetic fields that corrupt data transmissions. On the other hand, commercial devices are most often installed in controlled and safe environments like offices. They rarely offer protection from environmental conditions. So, how do industrial devices provide protection from the elements and EMI?
This article will explain the key features that differentiate industrial devices from commercial devices.
Extended Temperature Range

Commercial temperature range is 0 to 40 degrees C (32 to 104 degrees F). Normal industrial temperature range is -25 to 60 degrees C (-13 to 140 degrees F). For more extreme environments, there is a higher industrial temperature range available of -40 to 75 degrees C (-40 to 167 degrees F).


Resistance to Moisture and Contaminants

Commercial devices are housed in cases with openings and fans that provide airflow that cools components and prevents overheating. Industrial equipment is usually stored in sealed, fanless cases to prevent airborne particulates and moisture from getting into the electronic components. To prevent overheating and protect internal components, industrial devices use heatsinks and heat tubes. Devices in corrosive environments may require conformal coating, which is a special film that's applied to electronic circuitry to provide additional protection.


Specialized Power Supplies

Commercial environments have standard 110-220 VAC power available that supports commercial-grade power supplies. Industrial locations can have a variety of power ranges available, so power supplies are sold separately from the equipment. This allows you to match power supplies to available power and the power requirements of the device. Industrial power supplies must also be able to withstand the same environmental conditions as the equipment.


DIN Rail and Panel Mounting

Commercial devices are designed to be mounted in a 19-inch rack, or they can sit on a desktop. You can mount industrial devices in an enclosure or on a wall using a DIN Rail or an industry-standard metal rail. They can also be panel mounted using tabs on the device.


EMI Protection

Commercial devices do not need extra EMI protection because of the stable conditions in their environment. Industrial devices require increased EMI protection because they are often installed in electrically noisy environments that contain motors or electrical switches that create large electromagnetic fields.
About the Author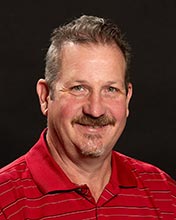 Dave Sefzik
Dave Sefzik has 30+ years' experience in the Networking and Datacom industry, serving 7 years in the U.S. Army Signal Corps as a COMSEC Repair and Communication Systems Installer before his time at Black Box. For the past 25 years, Dave has assisted Black Box customers in various roles, offering presales and post-sales support for 10 years before transitioning to Product Engineering for Networking and Datacom. Today, Dave is responsible for product compliance and quality control. He ensures products meet their performance criteria and teaches the internal engineers and sales team about technology.
Harsh Environment
Industrial
Networking
TPS