Black Box Recognized as CommScope Wireless Partner of the Year
PITTSBURGH — June 8, 2022 — Black Box®, an industry-leading provider of IT connectivity solutions, has earned DAS Partner of the Year recognition from CommScope, a leading global manufacturer of advanced wired and wireless networks. Black Back demonstrated excellence in designing, installing and managing CommScope solutions, with notable expertise in delivering sophisticated solutions for a variety of complex RF problems.
"As an Elite Partner, Black Box provides exceptional training, experience and ability to generate value while ensuring customer satisfaction," said Karen Pugliese, Partner Leader, Americas at CommScope. "We share a long and successful history working together, and Black Box continues to excel and deliver top-notch solutions that address critical challenges for key customers and markets. We're pleased to recognize the company as a 2021 DAS Partner of the Year."
CommScope and partners, including Black Box, have the capability to design projects for distributed antenna systems (DAS) and small cells. Through a global network of professionally trained and certified experts, they deliver new indoor DAS solutions for enterprise networks and large public venues, as well as outdoor wireless networks. Black Box's 5G business unit has designed and implemented systems for enterprise, government and community clients.
"Partnering closely with CommScope, we bring the technical expertise and business support processes that enable us to provide industry-leading wireless solutions to mutual customers so they, in turn, can better communicate and manage their business," said William Holman, VP/GM at Black Box. "We enjoy a great relationship with CommScope, and we look forward to many more successful years serving happy customers."
Black Box was honoured as a CommScope DAS Partner of the Year in March 2022 during the CommScope North America CONNECTed Partner event in Austin, Texas.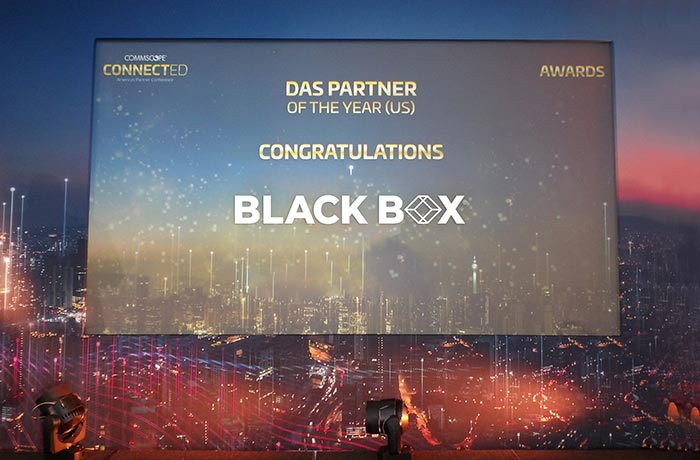 Black Box Recognized as CommScope Wireless Partner of the Year
# # #
About Black Box
Black Box® is a trusted IT solutions provider delivering cutting-edge technology solutions and world-class consulting services to businesses across the globe. The breadth of our global reach, continuous innovation, and depth of our expertise accelerate customer success by bringing people, ideas and technology together to solve real-world business problems. Our IT infrastructure solutions, services and products enable secure, flawless connectivity and meaningful collaboration for businesses in every major market across six continents.
To learn more, visit the Black Box website at www.blackbox.com. Follow the company on Twitter @BlackBox_ns. Black Box® and the Double Diamond logo are registered trademarks of BB Technologies, Inc.
All other trademarks referenced herein are the property of their respective owners.
Link to Word Doc: www.wallstcom.com/BlackBox/220608-BlackBox-CommScope-Partner_of_the_Year.docx
Black Box Contact
Melissa Bradley
Marketing Communications Manager
Tel: + 724-873-7013
Email: melissa.bradley@blackbox.com
Agency Contact
Carolyn Archambault
Wall Street Communications
Tel: +1 801 266 0077
Email: carolyn@wallstcom.com