Benefits of Using KVM Trays
Back in the 1990s and early 2000s, server technicians pushed around a crash cart with a monitor, keyboard, and mouse so they could physically connect to backend servers to manage them. These servers were headless, meaning they typically do not have monitors connected to them. If these servers needed maintenance, the technician had to physically connect the monitor, keyboard, and mouse to each server so that they could perform the required tasks and/or updates. This took a lot of time when every system needed attention. Today there are other options to gain access to backend servers. This includes Hardware and Software options, but each has their own pros and cons.
Software Solutions
Software solutions do not take up any real estate in the server room and the client can easily be used on existing laptops and computers. You can find a mix of free and paid software available in the market, some even offer free licenses for personal / private use but charge for business use. Software options can be good depending on your application, but what happens when the operating system (OS) of the server crashes and you are left to work in EUFI / BIOS screens? Software won't be an option here.
Hardware Solutions
Hardware solutions have been the tried-and-true method: when the software is in a "state," most times you can manage the system using a local keyboard, mouse, and monitor. There are two main hardware options to access your backend servers, again both will have their pros and cons and we will compare both of them.
Hardware Option 1: Server Crash Cart Adapters
There has been an influx of Server Crash Cart Adapters that can plug into the server via USB only, or using VGA / DVI and USB (and sometimes even PS/2). The other side of the adapter would plug into a laptop that runs a special client software so that the technician can not only view the server video output, but also control the USB or PS/2 control interface. This method is good if you are doing one-off servers, but not good if you need to perform maintenance on over 100 servers, so this is where the KVM Tray will be beneficial.
Hardware Option 2: KVM Trays
The typical KVM tray is a Keyboard / Video / Mouse clamshell that can be rack mounted into a 19" cabinet or rack where the servers reside. They will typically take up 1RU of cabinet space which isn't much if you compare the benefits of it. The KVM tray typically has a 17" LCD panel that can fold up, and the tray itself can be connected directly to a server, computer, or a KVM switch that accesses many servers and computers. From the KVM Tray console, a technician can easily slide out the panel and begin accessing and managing the servers. Some of the KVM trays offer USB 2.0 pass-through so that external flash drives can be connected.
Black Box has launched a new 17" LCD KVM Tray that can support VGA, HDMI, and DisplayPort inputs and local outputs along with USB communication. This KVM tray can connect directly to a server or to another KVM switch for easy local access. What makes this KVM tray even better is the fact it has the NRTL compliance so that it can be installed in data centers more easily. The KVM Tray also complies with the India BIS requirements along with many other countries' certifications.
Ready to Take the Next Step?
To find out more about our new KVM Tray (part number KVT617A-US), please visit our website at blackbox.com or give us a call at 877-877-2269.
About the Author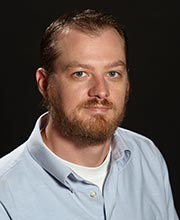 Garrett Swindell
Product Engineer
Garrett Swindell has 20+ years' experience programming, implementing server to client communications, and designing intricate control system. As a product engineer, his primary focus is developing connections between users and computers/servers though the use of hardware and software. Garrett assist local and international projects from start to finish with compliance regulations and performing product compliance testing with recognized test houses.