MPO Pinning Methods
If you're thinking about migrating to 10-, 40- or 100-Gbps Ethernet, you'll most likely consider using MTP/MPO-style fiber trunk cables. The beauty of these cables is that you get multiple fibers, typically 12 or 24, in one pull. A single pre-terminated MTP/MPO-style cable replaces up to 12 or 24 cables in the equipment rack enabling easier installations. This very high density means lower space requirements and reduced costs for your installation. Just plug it in and you're ready to go.
But, it's not always as simple as that. MTP/MPO fiber cable networks take a lot of planning and can be derailed by methods and polarity.
The ANSI/TIA 568-D.3, (Optical Fiber Cabling and Components Standard, October 2016) defines three pinning or types for multi-fiber array systems: Method A, B and C. While one method is not preferred over another, it is recommended that you choose the correct method for your installation. To maintain the proper polarity, there are three connectivity methods—A, B, C—that mirror the cable types. Each polarity method handles the transition from transmit to receive in a different manner.
Method A, straight-through, is the most commonly used. It uses a Type A (key up to key down) pin 1 to pin 1 MPO trunk cable.
Method B is a crossover method. It uses a Type B (key up to key up) pin 1 to pin 12 MPO trunk cable. This method is commonly used in 10-Gig to 40-Gig fiber applications.
Method uses flipped pairs in the trunk cable. It uses a Type C (key up to key down) pin 1 to pin 2 MPO trunk cable. This method crosses the TX and RX fiber in a 10-Gig backbone enabling use of a standard zipcord assemblies in the installation.
The perils of polarity
Here's where MPO connectivity gets confusing. You need to mind your pinning and polarity for transmission. We'll focus on Method A and Method C in 10-Gig fiber applications.
12-Strand
Method A refers to pin 1 to pin 1 connectivity.
Method B refers to pin 1 to pin 12 connectivity.
Method C refers to pin 1 to pin 2 connectivity.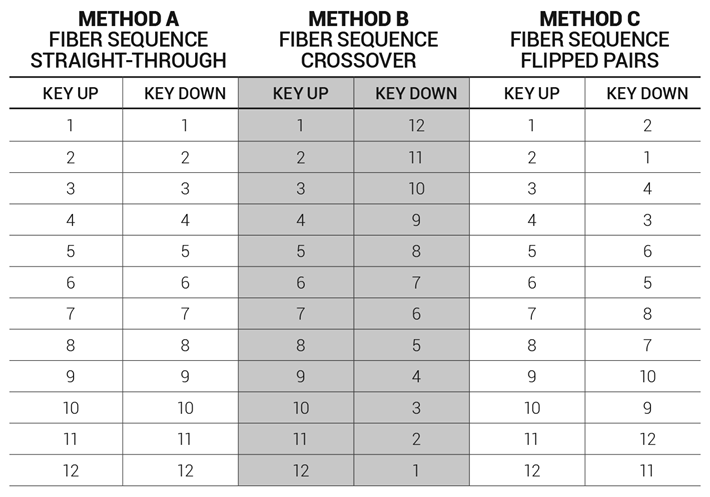 In 12-strand channels, you always need to have an odd number of flips depending on your application and what you are connecting.
Method A

Method C

MTP/MPO (24 strand) connectivity is a "little" more complex than 12 strand connectivity. In addition to watching your polarity, you must watch your TX/RX and keep an odd number of flips end to end. You also need to watch your rolls and end up with an even number end to end.
12-Fiber: Connectivity Method A supporting multiple duplex signals
24-Fiber: Connectivity Method A supporting parallel signals for one-plug two-row transceivers and array connector patch cords and cables.
If you have questions about polarity, please contact the technical experts at Black Box.
How to forget about polarity
To eliminate the problem of maintaining the proper polarity in your channel, Black Box is now offering proprietary MTP/MPO trunk cables with either straight pinning or cross-pinning. Depending on your application, there's no guessing about flips or rolls.
*For more information on the differences between MTP and MPO please click here.