Patch Cable Crimp Terminations
When buyers purchase patch cables, they first think about the length, color, and style of the patch cable, but don't really give much thought to the overall termination of the assembly. Many people may just assume that these patch cables work and for the most part, this is true. If the patch cable is pinned straight-through and uses a category-grade cable and RJ-45 plug, you might take for granted that everything is OK.
At some point during the manufacturing process, the cable must be terminated to the RJ-45 plug, usually through an automated crimping process. Crimping is performed by pressing down evenly on the eight contact blade drivers of the RJ-45 plug. The contact drivers are the gold-colored blades in the front of the RJ-45 plug. These contact driver blades must pierce and make good contact with the individual wires underneath, inside the connector. A great deal of firm and evenly downward pressure must be applied. Just crimping the RJ-45 plug does not guarantee that the termination is correct even if there is good continuity.
An industry standard called IEC 60603-7 defines everything about the RJ-45 connector, including all dimensional, electrical, and mechanical specifications. This standard ensures that any manufacturer's RJ-45 connector will work with any other manufacturer's RJ-45 connector. There must be interoperability between all manufacturers. This industry standard covers too much to discuss here, but for the purpose of patch cable termination we can discuss the importance of mechanical crimping.
According to the standard by definition, an RJ-45 male plug is referred to a "free" connector and an RJ-45 female socket is referred to as a "fixed" connector. An RJ-45 male plug is referenced as a "free" connector since it's usually found on a cable and it's not bound to any device. An RJ-45 female socket is referenced as a "fixed" connector because it's usually bound to a device such as a networking switch or port on a patch panel.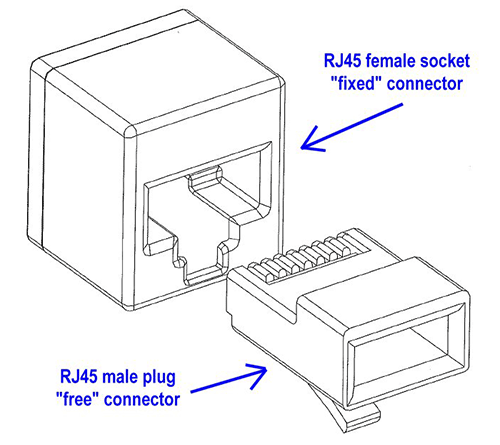 A very important mechanical requirement for the RJ-45 "free" connector is that it always mates properly to an RJ-45 "fixed" connector. One critical factor is that all eight of the contact driver blades of the "free" connector must have the proper crimping height after termination. The contact driver blade's height is measured from the base of the plug after termination and must be between 0.232" maximum and 0.242" minimum. This guarantees that when the RJ-45 plug mates with an RJ-45 socket, it makes a "good" connection.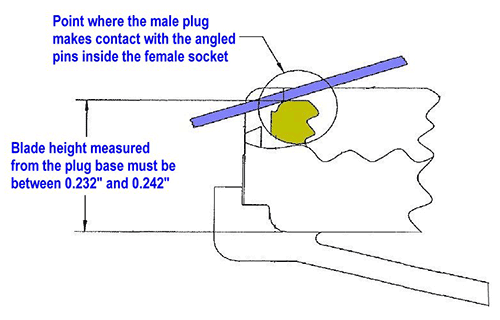 If the plug blade termination is too deep and the blade height is less than 0.232", the probability of having poor connectivity is high. The problem will be that the blade may not make a good or strong enough connection with the angled pins inside the RJ-45 female socket. Also, if the plug termination is NOT deep enough and is higher than 0.242", then when the RJ-45 plug mates with an RJ-45 female socket, it can put unwanted force or stress on the angled pins inside the female socket. This can cause premature wearing of the gold coating on the contact driver blades and angled pins of the RJ-45 female socket, reducing the number of insertions that can be made, which is also defined in the IEC 60603-7 standard.
If you begin to notice that you have a mysterious connectivity loss after several connect and re-connects from a certain patch cable, you might have a patch cable crimping problem. These are usually quite rare and most users just swap out the questionable patch cable with a new one. Most all good-quality patch cable assembly houses understand that RJ-45 blade crimp height is very important. They usually have processes in place to check that their crimping machine dies are always in tolerance. Obviously, there can be many factors for cable connectivity loss, but crimp termination is one that many users don't necessarily think about.
About the Author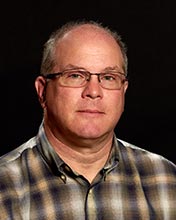 Steve Molek
Product Engineer
Steve Molek has 27 years' experience in the cabling and connectivity data communication industry. He started his career as a Technical Support Representative and now works as a Project Engineer for Black Box. As a Product Engineer, his primary focus is evaluating and testing all new cabling and connectivity products for sale by Black Box and training our inside technical support and sales teams. Steve also works directly with our domestic and international OEM suppliers as well as several nationally recognized third-party testing labs. Steve holds a B.S. degree in Mathematics and Computer Science from California University of Pennsylvania and an MBA from Waynesburg University.
Cabling & Connectivity
Cables
Data Center
Network Copper Cables
Structured Cabling