2-Post Vs. 4-Post Racks
Think you're ready to pick out a rack for your IT equipment? You might not be if you don't understand the different products on the market. To help you make an informed decision, we wrote this blog that details the difference between 2-post racks and 4-post racks. As a bonus, we will discuss wallmount frames and brackets and their benefits. Let's start by explaining 2-post racks.
Freestanding 2-Post Racks

Freestanding 2-post racks are also known as telco racks or relay racks. They are commonly used to mount light IT equipment, such as punch down panels and switches. These racks have a frame with two vertical upright rails equipped with M6 or tapped rail holes to mount equipment. Most users bolt them to the floor to increase stability. Below are the reasons end users choose 2-post racks:
Top Benefits of 2-Post Racks
Perfect solution for mounting patch panels, hubs, shelves and more
Great for secure computer rooms where access is restricted and locking cabinets aren't needed
Made of rugged, economical steel to ensure reliability
Super-easy to assemble and disassemble
Affordability: A 2-post rack can be half the cost of a typical 4-post rack
Every Black Box 2-post rack supports standard 19-inch TIA/EIA mounting and features tapped holes for mounting equipment
Freestanding 4-Post Racks
So how does a 4-post rack differ from a 2-post rack? Besides the obvious difference in the number of posts, 4-post racks are made to carry heavier IT equipment, such as full servers, large routers and switches. They feature a frame with four vertical upright rails, often with adjustable depth to work with a variety of IT equipment. Here are the main reasons end users choose 4-post racks:
Top Benefits of 4-Post Racks
Solid aluminum or steel construction with four vertical upright rails
Can hold up to 19-inch servers, panels, routers, large switches and other components
Four stable beams provide better protection for equipment
Better cable management with secure runs that prevent damaged cables and outages
Adjustable depth up to 41 inches
Weight capacity up to 2400 pounds (1100 kilograms)
Ships unassembled with all mounting hardware included for safe and cost-efficient transport
EIA 310-D compliant
Browse Black Box's catalog of Freestanding Racks
Now that you have a good understanding of 2-post and 4-post racks, we are going to detail some other useful tools for storing IT equipment: wallmount frames and brackets.
Wallmount Frames and Brackets
Wallmount frames and brackets are used in smaller installations where network equipment (small switches, access points or patch panels) needs to be stored. They are also often found on test benches for temporary installation. And, as expected, here's a list of their other benefits:
Top Benefits of Wallmount Frames and Brackets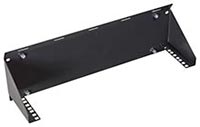 Ideal for installing patch panels
Feature universal left- or right-hinging design for easy handling
TIA/EIA spacing allows for easy mounting in 2U, 3U or 4U
But that's not all. Wallmount frames up to 25RU can hold 19-inch equipment that weighs 75 pounds (34 kilograms). They provide an extremely stable design with four steel-made uprights. They also boast quick-release pins that allow the rack to swing open easily and give simple rear access for punching down cable or troubleshooting any issues you may have.
A variation of typical wallmount brackets are flushmount wall brackets. These brackets are the best option for installations with limited space, as they allow you to vertically mount equipment against a wall. They offer tapped rail holes to accommodate 19-inch equipment in 3U or 6U high rack space.
Which Rack Is Right for You?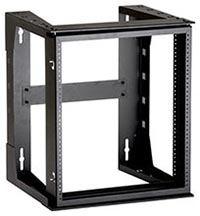 You need to consider the space in your data center, the amount and type of IT equipment you want to store, your budget and future storage requirements before purchasing a rack. Browse our wide range of racks or contact us now to find the perfect product for your application.

Shop our entire line of wallmount racks today!
Still Have Questions?
Schedule a call with a Black Box expert or email us at info@blackbox.com.
Data centers
Infrastructure Hardware
Racks
TPS